SAXON Heavy Metal Thunder (Bloodstock Edition)


By Andrew Depedro, Ottawa Corespondent
Thursday, August 27, 2015 @ 5:24 PM


| | | |
| --- | --- | --- |
| | | |
SAXON
Heavy Metal Thunder (Bloodstock Edition)
UDR Recordings




Legendary NWOBHM (New Wave Of British Heavy Metal) stalwarts SAXON have been thundering strong on their nearly 40-year heavy metal crusade and have yet to show any signs of slowing down any time soon. This compilation album summing up their extensive career as one of the pioneering bands of the early British metal scene remains proof of their tenacity as well as their longevity - even if the occasion arises to touch up a couple of their past and best-known songs. The results vary and in some cases one has to wonder whether the remakes of some songs were necessary but the end results still show a band still on top of their game after close to four decades of flying the flag for pure unabashed metal. The original Heavy Metal Thunder compilation album was previously released in 2002 featuring choice cuts from SAXON's first six discs ranging from their self-titled debut to 1984's Crusader but its recent re-release has an added bonus this time around: Live footage from the band's set at last summer's Bloodstock Open Air festival which showcases SAXON's high-intensity live performance in a more broader light than some of the revamped studio versions of the best-known thundering heavy metal classics such as "Wheels Of Steel", "Princess Of The Night", "Denim And Leather" and, naturally, "Heavy Metal Thunder" among others.

Disc One kicks off with an energetic rendition of the aforementioned "Heavy Metal Thunder" which maintains the same fast tempo as the original and vocalist Biff Byford even delivers a more sonically energetic performance on the remake for good measure. The tone is further set for most of the studio version of Heavy Metal Thunder with the maniacal dual harmonized guitar work of Paul Quinn and Doug Scarratt crafting the shape and form of each song while Byford's powerful and pronounced voice levitates the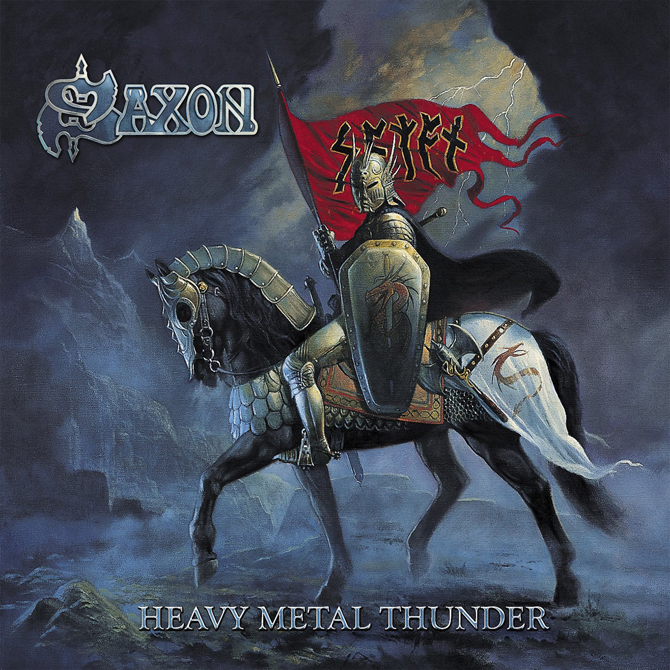 songs to astronomical heights of raw power. At times he tends to overcompensate his energy with suppressed chants to rile up excitement in preparing for the song that sound more at place in the live arena rather than in the confines of the studio (the intro to "Heavy Metal Thunder" being the main example) and sometimes the dark cryptic vocal effects heard on the original version of "Crusader" just do not seem to have that much of an impact on the revamped version. On the other hand, the gunshot sound and break heard before the solo on "Dallas 1 P.M." still provide the resonating effect that the song intended. By the climax of the closing number "Backs To The Wall" you're already imagining those songs being played live.
Disc Two's live set at Bloodstock kicks off with the title track from 2013's Sacrifice as SAXON are greeted by a sell-out crowd, feeding off from the excitement and the endorphins as they only get stronger with each song. Biff conducts the crowd with war cry-sounding chants of "let's go fucking crazy Bloodstock!" and the crowd responds back in turn, even singing some of the lyrics on his command. Not that they really need to as Byford's voice is as strong as it's been since '79 and still carries a massive punch. Both the classics and the newer material are riveting crowd pleasers but it's the closing number "Denim And Leather" that features a surprise guest in the form of MEGADETH frontman Dave Mustaine who joins the band during the number and closes the show and the CD in true form.
In all, SAXON might have set themselves up for a challenge in re-recording new studio versions of some of their most cherished songs at a first listen but in meeting the challenge they did display the determination and spirit that had set themselves apart from much of their lesser-known NWOBHM contemporaries, many of whom have either strayed far from their roots or have faded from view. Even with the landscape of metal changing quicker than anticipated, SAXON have never needed to divert course towards the path of least resistance in their career. Heavy Metal Thunder further proves just how damn good SAXON have been in weathering the storm both in the studio and in the arena.
4.0 Out Of 5.0




Please log in to view RANTS

If you don't have a username, click here to create an account!