The Best Cathouse In Town: An Exclusive Interview with Cathouse Founder RIKI RACHTMAN


By Charlie Steffens aka Gnarly Charlie, Writer/Photographer
Thursday, August 27, 2015 @ 5:38 PM


| | | |
| --- | --- | --- |
| | | At Cathouse Live! August 15, 2015, Irvine, California |
"The Sunset Strip is dead," says Riki Rachtman . "And we can blame everything that we want. But the reason that these things are dead is because people don't go. If people were going to rock clubs every night, supporting local music, then they would stay open."

Four years before Rachtman gained prominence as the host of MTV's Headbangers Ball from 1990-1995 (replacing Adam Curry ), he was known in the Hollywood rock scene as founder of the Cathouse. Rachtman's vision when he started the Hollywood nightclub was to have a place where people could watch rock and roll bands play and have a good time. Shortly after it opened, the Cathouse gained notoriety as the place where emerging bands performed and good-looking women congregated. The phrase "party like a rock star" might have been born there. The Cathouse closed its doors in 1993, but the spirit has lived on.

Though its been over a week since the Cathouse Live concert event took place at Irvine Meadows Amphitheater in Irvine, California on August 15, Rachtman is still beaming about his one-day rock and roll party.

"The feeling I'm getting for this is completely not what I expected," he says. "God, I hate to say this without sounding corny, but I'm overwhelmed with the people that are thanking me—which I don't feel is deserved. I didn't do shit. You know, I just threw this party and, thankfully, enough people are coming." The draw for many who attended was the party-hard vibe and the look of what is so often dubbed hair metal, glam or sleaze rock. Some of Rachtman's expectations were already exceeded when people showed up for the event's pre-party in Hollywood on August 13th. "We did the Cathouse Live pre-party, and I wanted it to be like 1986. Everybody walked in and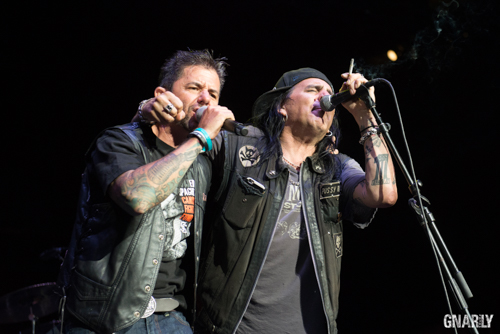 went, 'There's way more girls than guys here.' I thought there would be old ladies, but everybody looked fuckin' hot."
Most of the bands in the lineup at Irvine Meadows Amphitheater, one of Southern California's premiere outdoor concert venues, had played at Rachtman's decadent nightspot during its seven-year reign. On the festival stage: TUFF , LITTLE CEASAR , PRETTY BOY FLOYD , BANG TANGO , JETBOY , ENUFF Z' NUFF , TRACII GUNS , and GILBY CLARK . The main stage hosted BULLETBOYS , TRIXTER , BLACK 'N BLUE , AUTOGRAPH , JUNKYARD , SAIGON KICK , L.A. GUNS , DANGEROUS TOYS , FASTER PUSSYCAT , Stephen Pearcy , DOKKEN , Sebastian Bach , EXTREME , and Gilby Clarke 's All Star Band. A couple hours before the festival kickoff, Rachtman expressed apprehension about being in the All Star Jam finale, where he would be singing THE STOOGES ' classic "Search And Destroy" with his buddy Taime Downe of FASTER PUSSYCAT . "Me and Taime. Straight out, I am scared shitless."
Kicking off the concert were THE AVIATORS and SWAMPHAMMER ; these talented, yet relatively-unheard bands won spots on the Festival Stage and Main Stage, respectively.
Cathouse gave fans a chance to meet the bands in the designated tent area near the various concession stands. An obvious downside of the day was the triple-digit Los Angeles temperature with limited areas of shade until twilight. Bands clad in the black leather regalia characteristic of the era may well have regretted their commitment to that fashion statement. Another challenge was that the bands' performances split between two stages from 2:30 to 7:45 PM, so being able to see each band's set was a challenge. Each band's set averaged 30 minutes until the Festival Stage closed.
KNAC.COM on-air personality DJ Will made the earlier bands' introductions. Just before DOKKEN took the main stage at sunset, some former disc jockeys from the late, lamented Los Angeles FM radio station KNAC (105.5) including Gonzo Greg , Thrasher , Dangerous Darren , Jack Trash , Stew , Philthy Phil , and Remy Maxwell , got up on stage to raise a toast to the appreciative audience. It's likely that everyone in attendance, with the exception of those too young to remember, had been KNAC listeners back in the day. With the exception of THE AVIATORS and SWAMPHAMMER --each relatively new—all of the bands in the Cathouse lineup received major airplay on KNAC .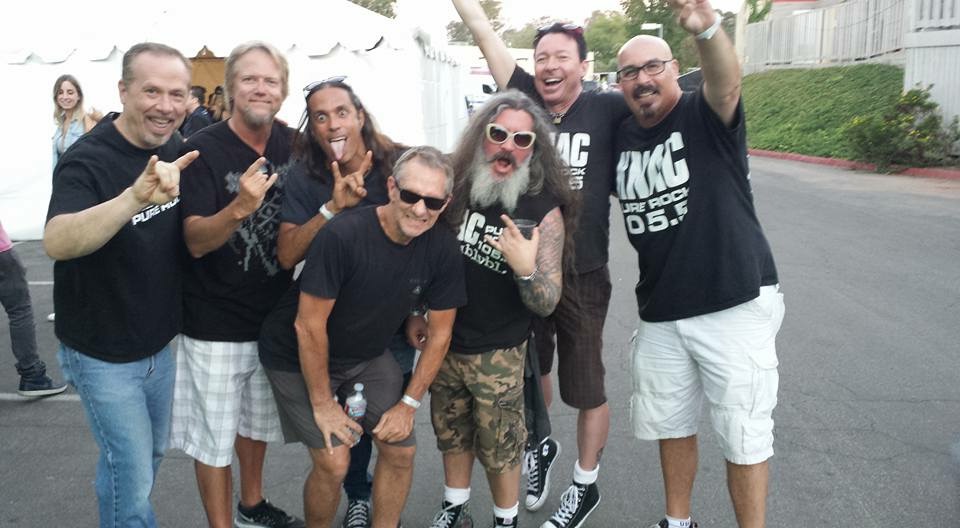 The Cathouse closed its doors in 1993, around the time of the surge of grunge music, and negative connotations toward bands who donned the look of POISON or MOTLEY CRUE were commonplace. Instead, Yo! MTV Raps was the order of the day.
"It was a lot of work", Rachtman says, recalling the previous decade of rock when bands tirelessly put in the time and sweat just to get a few minutes onstage at clubs like Coconut Teaszer, Gazzarri's, or the Cathouse. "I think bands had to pay their dues more than–they had to work harder. They didn't have the beauty of the Internet to be able to promote everything, so we had to work our asses off to get all this stuff out there. You can only watch a band play that has a USB so long. If you want to see a video by SLAYER you just hit YouTube and you can see one within five seconds. People go, 'We had to go out and meet girls by meeting them in person. And it was decadent and it was crazy.' And it really was like that. And now people are saying that that was so much fun that they all want to be part of that. I don't think bands (today) are out there with everybody. That's one thing about me—I've never been a velvet rope guy. I've never been like, 'I need my posse.' The friends that hang out with me are the sane friends that hung out with me before I was on MTV, before I did the club, before I did everything. I just like being out there with everybody, talking to everybody."
Rachtman moved to North Carolina nine months ago. "If anybody asks, I'm still from Hollywood," he insists. "I will always be from Hollywood. I love North Carolina. I like the people there, I like the environment, I like the seasons, I like the lack of traffic. I like that NASCAR is based out of there. I moved to Charlotte to do more work with NASCAR . And the second I get to North Carolina there's no more NASCAR work and there's rock and roll out the ying yang. But that's okay."
"Even though now I work in NASCAR and have all these other jobs and all these things I'm doing, Cathouse has always been a very, very important part of my life. I wouldn't live in a big house with a boat and stupid stuff if I didn't have the Cathouse. So the fact that so many people really like this is so flattering and it brings back the Cathouse, I mean, what the Cathouse was. I just decided to take it to the next level and keep the Cathouse brand alive and keep this fun, decadent lifestyle going. I know that people are not here to see me. But it's a Cathouse festival and people are really into it and that makes me feel really good."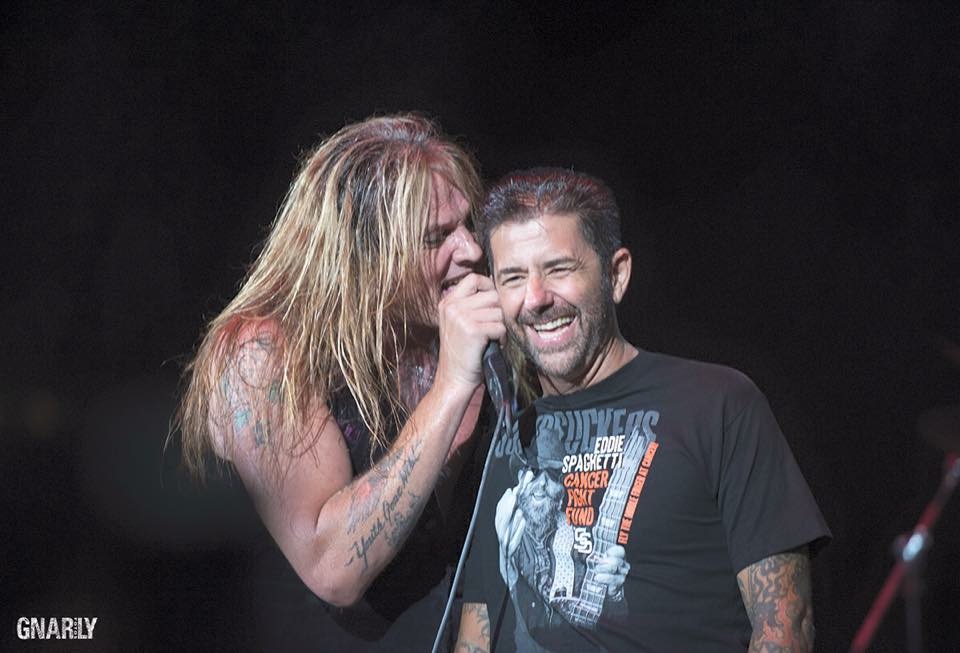 "Like I said, whenever anybody says thank you for all these things, I'm like, 'Thank you!' It's still blows me away. It's mind-blowing what's happening for me today. When people thank me, I should be thanking them. It's like, I'm not a rock star, I don't have any skills. I just help put on these little things that are fun. And because you guys showed up is what made it special."
It's a shame that people don't look at things as being fun and that's all I'm trying to do. I'm trying to have fun. When we make ticket prices 15 dollars—if I would have made lawn seats 20 dollars, which is still inexpensive, I would have made so much more money. But I didn't want to. We wanted to keep ticket prices low because we want people to have fun."
"We've already had a lot of mistakes—things I'm learning. No matter what, I never want to be thought of as a concert promoter. I like to have fun and I want people to have fun with me."




Please log in to view RANTS

If you don't have a username, click here to create an account!