Rockers MOTORHEAD and Lovehoney have joined forces to launch an exclusive range of MOTORHEAD branded pleasure products (aka, sex toys).

MOTORHEAD - The Official Pleasure Collection boasts four bullets and classic torpedo shaped vibes, all decorated with the band's iconic logo and branding - and delivers the sort of power and pleasure you'd expect from the 'loudest band on Earth'.

The deal was brokered by Global Merchandising Services, Inc. who represent MOTORHEAD exclusively for retail, tour and licensing. The range is now available to the public.

"One of the songs on our debut album was called "Vibrator", so we had to have our own one day, right?!," said MOTORHEAD singer Lemmy. "Apparently, it was worth the wait!"

Lovehoney's co-founder Neal Slateford said: "We designed these classic vibes for both fans of MOTORHEAD and rock lovers, as well as those who just want a cool looking toy to add to their collection. The range captures the rock and roll lifestyle of the band perfectly, and offers a unique counterpoint to the traditionally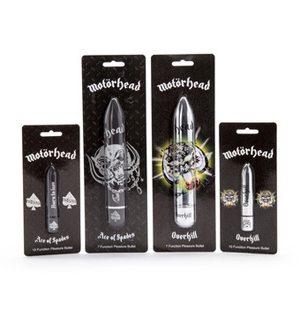 pink and purple toys that currently dominate the market."
Global Merchandising's CEO Barry Drinkwater said: "Global is excited to be rockin' our clientele in such a fast growing industry. We like nothing better than making the fans happy... and we're thrilled to be partnering with Lovehoney."
Lovehoney's Commercial Director Ray Hayes said: "MOTORHEAD's massive fan base is a testament to their popularity, with the band having sold more than 15 million albums worldwide. With the announcement of the band's 22nd studio album Bad Magic in August and their warmly received Glastonbury Festival appearance this year, we are certain that MOTORHEAD - The Official Pleasure Collection will become a firm favourite for lovers and rock fans alike."
More info at Lovehoney.com.