HUNTRESS
Static
Napalm Records




Review By Halo

Static, the anticipated 3rd album by HUNTRESS will be released by Napalm Records on Sept. 25 2015.

Not only does this album sucker punch you right off the bat by the strong 4 octave vocal range of Jill Janus, its strong lyrics make you want to live a day in her head.

This entire album was being written during a very dark time in Jill's life. She came forward with an admission of mental illness that has caused time away from the band and she is just shy of 3 months being deemed cancer-free. She also underwent a hysterectomy in June. Due to this and recommendations by her doctors, the band had to cancel their upcoming dates with GEMINI SYNDROME And FIRST DECREE. The band is, however, due to be on the Motorhead Motorboat cruise Sept. 28 - Oct. 2 with other metal gods such as ANTHRAX, SLAYER and more.

I have to admit that I was taken aback by this CD.

The first song released was "Flesh", along with its lyric video. This song was morbidly seductive. I found myself drawn to some of the lyrics, "Fall to your knees, crawl to me" and "craving your flesh". It's a song that can be taken in different directions. Jill's premise of it is based on a female serial killer, killing other women. I, however, listen and think it can be an anthem for powerful women in control. I found myself banging my head and replaying the song, wanting to hear more of this one!

"Static" is the title track and tells a tale of the torture of mental illness. This song talks of the confusion one feels and drugs can't fix; "lost in a maze where life and death blur", " static is the sickness no one ever survives".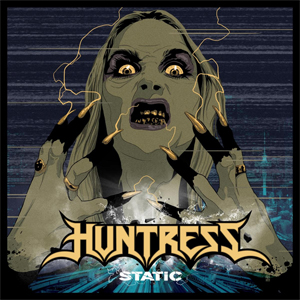 The track on the album I kept going back to was "Mania", the 5th track on the album. Great guitar solo along with pounding drums. It starts off slow and leads into a great line, "if you ever spent a night in my head, by morning you'd be dead". She's fighting her own demons and has two sides to her personality. "I lose control, she takes hold". It's the reality of many...she explains it well through music.
A video for the album's opening track, "Sorrow" should be released soon. All I can say about this track is it freakin' Rocks! I listened to it over and over. "Done with getting old" lyrics get you on this one then the guitar takes over..holy crap it's a Heavy Metal anthem!
If it's possible for Heavy Metal to have a sensitive side, the 3rd track on this album, "Brian", is it. It's a love song about someone that is a positive force in her life, possibly bordering on obsession. But this track is something many can relate to.
Despite obstacles and apprehension due to the acclaim of the last album, Starbound Beast in 2013, HUNTRESS have managed a kick ass album. It doesn't disappoint.
4.0 Out Of 5.0
Pre-Order your copy of Static in the KNAC.COM More Store right HERE.