HALESTORM
Into The Wild Life
Atlantic Records




As New Year's Eve approached, music fans everywhere were waiting in anticipation for 2015's long- awaited releases from major rock bands like SHINEDOWN, DISTURBED, FIVE FINGER DEATH PUNCH and IRON MAIDEN, just to name a few. Many of us also had our eye on the month of April, not only as the beginning of the World's Loudest Month (http://worldsloudestmonth.com/ ), but April also meant that HALESTORM would release their third full length studio album, Into The Wild Life.

After producing an album that reached the #1 spot on the US Hard Rock Album Chart in July of 2012, The Strange Case Of…, HALESTORM returned with a release that crosses multi musical genres and multi-generations and shows the band's continued growth and versatility. Guitarist and vocalist Lzzy Hale gets in your face with her "take no prisoners" and "I don't care what you think" attitude, who, once again, shines throughout the album in all aspects as a musician.

Starting out HALESTORM's 13-song album, Into The Wild Life is "Scream", which sets an aggressive tone at the beginning of the album with lyrics like:

"All you doubters and haters, actors, and fakers
I don't have time for you,
You're feeding the fire that's taking me higher
Coming like a cannonball."

"Scream" reminds me of SHINEDOWN's hit single, "Enemies", and that was no coincidence as "Scream" was co-written by hit-maker Dave Bassett. Bassett's work is everywhere in the rock world, accumulating song writing credits with SEVENDUST and multi #1 Active Rock chart hits with POP EVIL and the aforementioned SHINEDOWN.

Stadium anthems and singles are aplenty on Into The Wild Life as "I Am The Fire", "Amen" and "Apocalyptic" have all charted well already. Another is the power ballad, "The Reckoning". The tune kind of reminds me of FLEETWOOD MAC's "Gold Dust Woman". Due to the song's musical versatility, I anticipate that HALESTORM's "The Reckoning" will reach a broader listening audience across multiple stations, and could turn out to be this album's biggest hit.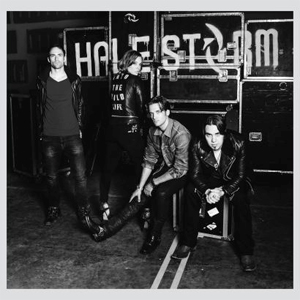 Into The Wild Life also showcases HALESTORM's country influences. I believe that this album will get plenty of support from country music fans, as Nashville's influence is evident on several songs like "Apocalyptic", "Jump The Gun" and "I Like It Heavy". During "I Like It Heavy" HALESTORM keeps to their rock roots by referencing some of the legends in BLACK SABBATH, Lemmy and ZEPPELIN and they also utilize some of the same recipes as KID ROCK has by successfully crossing over into another genre, that being southern rock.
Also on Into The Wild Life, Lzzy Hale's spirited lyrics and positive messages seem to be directed to a youthful female audience. Lzzy recently stated on an interview with Sirius/XM Octane that, due to the letters and support that she receives from her young fans, she feels like she has become a role model of sorts. You can hear Lzzy's powerful message of self confidence and encouragement to her young fans with lyrics in songs like "Bad Girls World" and "Dear Daughter".
Into The Wild Life also sounds like it was recorded in a live setting with another anthem in "Mayhem". HALESTORM opened with this song in Orlando and it sticks to their metal roots and influences and is a catalyst for moshing when played lived. The energy of this "live sound" is also heard clearly on "I Am The Fire" and "Sick Individual". These two songs also showcase drummer Arejay Hale and guitarist Joe Hottinger's heavier side with bombastic drums and screaming guitar sounds.
After listening to Into The Wild Life numerous times, HALESTORM has achieved what it seems they set out to do which is expand their musical horizons while maintaining their base. They also have taken an educated risk and have provided a musical message of personal empowerment for not only themselves but also for their fans new and old.
3.75 Out Of 5.0
Grab a copy of Into The Wild Life today from the KNAC.COM More Store right HERE.