In anticipation of their first full-length album in nearly 20 years, UGLY KID JOE has premiered their new single "She's Already Gone", and you can check it out below.

The single can be found on the group's forthcoming album entitled Uglier Than They Used Ta Be, scheduled for release in North America October 16th via Metalville/UKJ Records.

Whitfield Crane (Vocals) and Klaus Eichstadt (Guitars) teamed up with Sonny Mayo (Guitars), Shannon Larkin (Drums), Zac Morris (Drums), Cordell Crockett (Bass) and Dave Fortman (Guitars) to form the now 7-member line up a.k.a. "Seven Headed Monster"and write/record UKJ's most cohesive sounding album to date.

In addition to the nine newly written original songs, the album features a couple of cover songs including RARE EARTH's version of "Papa Was A Rolling Stone" with Australian chart-topping vocalist Dallas Frasca lending her unmistakable vocals behind Crane, and the MOTORHEAD classic "Ace Of Spades" with a very special guest appearance from MOTORHEAD guitarist Phil Campbell who lends his signature sound to the timeless track. Campbell also appears on the tracks "My Old Man" and "Under The Bottom".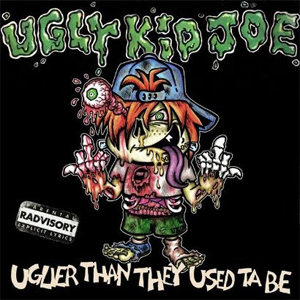 Uglier Than They Used Ta Be Tracklisting:
"Hell Ain't Hard To Find"
"Let The Record Play"
"Bad Seed"
"Mirror The Man"
"She's Already Gone"
"Nothing Ever Changes"
"My Old Man"
"Under The Bottom"
"Ace Of Spades" (feat. Phil Campbell of Motörhead)
"Enemy"
"Papa Was A Rolling Stone"
Pre-Order The Album Now On Amazon Right HERE.

The band is currently touring the UK and plan on finishing with two shows at the Underworld in London towards the end of the month.

More on UGLY KID JOE:

Having first garnered success with the song "Everything About You", which peaked at number three on the Billboard Top 100 Singles chart [enjoying 20 weeks on the charts] and was later used in the movie Wayne's World, the group's debut EP As Ugly As They Wanna Be sold two million copies making it the highest selling debut EP of all time.

The positive response to the band's live performance of Harry Chapin's "Cat's In The Cradle" prompted a studio version and was subsequently released as a well-received single that sold over 500,000 copies in the United States alone and spent 20 weeks on the BB Top 100 Singles chart, peaking at number six.