THE BLACK DAHLIA MURDER Abysmal


By Peter Atkinson, Contributor
Friday, September 18, 2015 @ 1:14 PM


| | | |
| --- | --- | --- |
| | | |
THE BLACK DAHLIA MURDER
Abysmal
Metal Blade Records




Since stumbling a bit with 2009's overly fanciful Deflorate, Michigan's THE BLACK DAHLIA MURDER not only got itself back on track, it's been on quite a roll ever since. 2011's Ritual tidied up some of Deflorate's technical indulgences as guitarist Ryan Knight joined the fold and the songwriting became more collaborative, 2013's Everblack brought more crunch and thunder into the mix and the momentum continues here with Abysmal, which is anything but.

BLACK DAHLIA's seventh album, Abysmal may be its most ferocious yet - certainly since the band's first two comparatively rough-and-tumble releases, Unhallowed and Miasma, a decade or more ago. From its ample black metal tinges to its drag-race pace and frontman Trevor Strnad's spray-gun caterwaul, Abysmal is as aggressive as it is relentless, with eerie violin intros to the opening and closing tracks, "Receipt" and "That Cannot Die Which Eternally Is Dead", respectively, and the doomy slog of "Stygiophobic" providing nearly all of what respite there is.

After the aforementioned Psycho soundtrack-like violin screech at its outset, "Receipt" attacks like Norman Bates during the shower scene with a death metal tumult of cascading guitar, galloping drums and Strnad's rabid wail. "Vlad, Son Of The Dragon" follows by melding black metal and hardcore with its clipped riffing, soaring bridges and Strnad's shriek-and-growl that echo CRADLE OF FILTH being offset by its gang-sung "Murder, Murder" rallying cry and resounding "Kill them all" chorus. It is the album's most punishingly catchy song.

From here, Abysmal careens through an ever-varying combination of these sonic themes. The title track is pure melodic death metal majesty until its opulent guitar harmonies and solos are countered by a teeth-grinding midsection where Strnad declares "you're dead to me" in a menacing snarl. "Re-Faced" offers a bit more muscle and less elegance - and busts out a big ole breakdown to boot. "The Fog" mashes up thrash, death and black metal with more Spartan strings laid over the top, but some nifty hooks tie together what could easily have been a disjointed mess.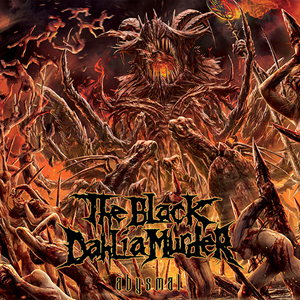 There's not much here that sticks to a single script all the way through - and what does could not be more different. As noted, "Stygiophobic" is grim and droning – though surprisingly brief. At 3:15, a doom epic it is not. It's a chance to grab a quick gulp of air before BLACK DAHLIA heads off to the races again with "Asylum", which pares epic black metal tremolo with Strand's guttural roar.
In a 180-degree turn from the deliberate "Stygiophobic", the frantic is pure speed, with Strnad's breathless vocal lines chasing Knight and Brian Eschbach's darting riffs like a hound after a hare. "Advent" ends up somewhere in between, with its very "Swedish" sweeping melodies and anthemic bombast recalling ARCH ENEMY.
Working with the same lineup that recorded Everblack – and rare luxury for BLACK DAHLIA, which has been beset by lineup changes from the get-go – pays big dividends on Abysmal. The performances are air tight, and despite the relative complexity of the material – not to mention its velocity, drummer Alan Cassidy definitely earns his keep here – the technicality and dexterity are deftly incorporated into the whole instead of standing out and seeming showy. The songs flat out rip, and only dazzle when they need to.
Abysmal is all business. Even the band's wry – some would argue silly – wit is toned down here, with songs taking on weightier fare like sexual predators, Vlad the Impaler's reign of cruelty and the fear of Hell, among other things, and the sometimes whimsical flightiness of the music honed to almost battering ram bluntness. It's probably not the most fun BLACK DAHLIA album, but it is brutally effective and satisfies on a more primal, visceral level.
4.0 Out Of 5.0
Grab your copy of Abysmal in the KNAC.COM More Store right HERE.




Please log in to view RANTS

If you don't have a username, click here to create an account!