Armored Saint A Trip Through Red Times DVD


By Frank Meyer, Contributing Editor
Friday, January 24, 2003 @ 12:27 AM


| | | |
| --- | --- | --- |
| | | (Metal Blade) |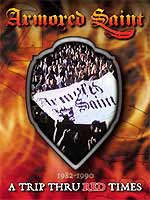 This re-issue of the Armored Saint retrospective has been updated to include new interviews, upgraded sound, more rare clips and unseen videos by this underrated band.

From the vintage early '80s clips of them in their Road Warrior meets Excalibur outfits to the power-metal era of Raising Fear to the post Dave Prichard Symbol of Salvation era, this comprehensive documentary covers it all. You get all the videos, including the hilariously cheesy "Can You Deliver," plus some choice live clips of the band in action. Best of all is a clip of them from their first ever gig at Billy Barty's Roller Rink. Amazingly, even back then, they still smoked.

Current interviews with the band from their Revelation reunion tour help catch fans up with what the guys have been doing (Well, we all know John Bush is in Anthrax, but many may not know what a prolific producer bassist Joey Vera is) and put their music in context. It's also quite fun to see the original interviews the band did when this was first released on VHS in the earl '90s versus their current looks and personalities. Let's just say everyone is a bit mellower and a little less stoned… a little…

More than anything this collection just reminds fans what a great band these guys are and how many solid songs they have amassed over the last coupla decades. Can they deliver? Fuck yeah, they can.

* * * * *




Please log in to view RANTS

If you don't have a username, click here to create an account!





ALICE COOPER Paranormal

HENDRIX: The Illustrated Story

L.A. GUNS The Missing Peace

ENSLAVED E

UFO, SAXON, JARED JAMES NICHOLS In Akron, OH With Photos!

ACT OF DEFIANCE Old Scars, New Wounds

JACKYL 25

REVOLUTION SAINTS Light In The Dark

TESLA, WEAPONS OF ANEW, VOICES OF EXTREME In Orlando, FL With Photos!

THE BLACK DAHLIA MURDER Nightbringers

SONS OF APOLLO Psychotic Symphony

OBITUARY, EXODUS And POWER TRIP In Ottawa, Canada

EVERY MOTHER'S NIGHTMARE Grind

FOZZY Judas

LYNCH MOB In Saint Petersburg, FL With Photos!

DIAMOND HEAD In Ottawa, Canada

VENOM, INC. Ave

NOCTURNAL RITES Phoenix

EXIT EDEN Rhapsodies In Black

MARDUK, INCANTATION In Ottawa, Canada

NIGHT RANGER In New Braunfels, TX

AVATARIUM, THE SLAYER KING In Sieburg, Germany

STEELHEART Through Worlds Of Stardust

SATYRICON Deep Calleth Upon Deep