RICHARD FORTUS, guitarist for GUNS N' ROSES and THE DEAD DAISIES, was seriously injured in a motorcycle accident on September 17th which will cause him to miss the upcoming Australian/New Zealand tour for THE DEAD DAISIES.

Richard posted the following message on his social media page:

"Since THE DEAD DAISIES have now announced that I am not going to be able to do the Australian tour, I'd like to share my statement here… On September 17, 2015, I was involved in a motorcycle accident. As a result, I broke my shoulder blade, collar bone, six ribs, a toe, I have a bruised lung, lacerated liver and a concussion.

Amazingly, my doctors have assured me that I will make a full recovery. I have never missed a show in my entire career and unfortunately, I will have to miss the entire Australian and New Zealand leg of this tour. I am devastated that I will not be able to play for the Australian and New Zealand fans, who have been so supportive and loyal.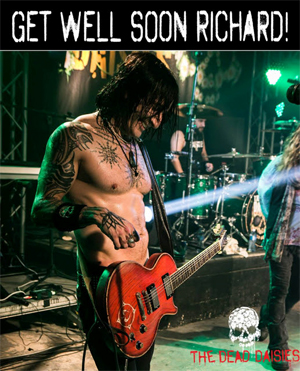 I am healing quickly and getting stronger by the day. I'm looking forward to rejoining the DAISIES for the KISS Kruise as well as the WHITESNAKE tour and our own tour of the UK and France. I'd like to thank everyone for their well-wishes and can't wait to be back in Australia very soon."
THE DEAD DAISIES message was as follows:
"Unfortunately Richard Fortus has had a bit of a motorcycle accident recently and will not be able to make the Australian KISS tour. We wish him a speedy recovery and he will definitely be 'back on deck' for the KISS Kruise. Amazing rock player extraordinaire from the BABY ANIMALS, Dave Leslie, will jump in and play these dates. Dave is busy learning the tunes and can't wait to get out there and play with THE DAISIES."
"Richard Fortus is an amazing guitar player and I'm really thrilled to be asked to cover for him. I am going to have to pack an extra bag of socks, because his are extremely big shoes to fill!"- Dave Leslie