CHILDREN OF BODOM
I Worship Chaos
Nuclear Blast Records




I kinda lost my taste for CHILDREN OF BODOM somewhere around 2005's Are You Dead Yet? After the melodic/symphonic death metal majesty of its first few albums, it was about here that the Finnish band fell into a rut of power/thrash histrionics and overindulgence, lackluster even lazy songwriting, banal lyrics and dubious remakes.

Despite some notably triumphant tracks – like the crunching "Blooddrunk" and "Living Dead Beat" or the catchier "Smile Pretty For The Devil" – it felt like COB was treading water. Then came 2011's Reckless Relentless Forever, which was downright terrible, a low-point for the band – even after the cringe-worthy cover compilation Skeletons In The Closet in 2009 featuring Kenny Rogers and Britney Spears tunes, among others.

Here it seemed like the band had simply shit the bed altogether. And while 2013's Halo Of Blood brought back some of COB's missing spark, its mish-mash of styles lacked direction and was more forgettable than not.

Given that, I approached I Worship Chaos with pretty low expectations, ready to give it a quick spin and move on. So imagine my surprise when not only did it turn out to be decent effort worth repeated listens, it's COB's best album since 2003's Hate Crew Deathroll, even though it's an entirely different animal - not nearly as "reckless and relentless".

Despite its title, I Worship Chaos strips away a lot of excesses and irksome trappings that have plagued the band for a decade in favor of a more direct, and certainly more accessible, melodic death 'n roll. It's as catchy as it is heavy, tightly composed and played, and, more importantly, focused.

The loss of guitarist Roope Latvala, just as the band was about to go into the studio, may have actually helped in that regard. If nothing else, it forced the now-foursome to close ranks and pick up the slack— especially guitarist/vocalist Alexi Laiho, who handled all the guitars, not to mention the main songwriting and, of course, singing.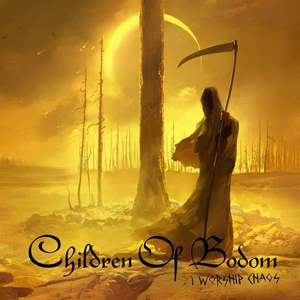 Thus there is nothing forced or slapdash here. Where the band used to be a bit too loose for its own good, everything is in its place on I Worship Chaos, and the material is performed with purpose and conviction. The songs themselves, while perhaps a bit listener-friendly for some, are rock solid and offer a nice variety, with the surging opener "I Hurt" being followed by the hooky chug of "My Bodom (I Am The Only One)", the head-bobbing anthemics of "Morrigan", the thrash-and-burn fury "Horns" and the power ballady "Prayer For The Afflicted".
So a pretty good spread there, and there really aren't any of the usual throwaways bogging down the back end of Chaos. The title track gets the second half of the album rolling with the velocity of "Horns" and rally-cry moshability of "Morrigan", and the brash "Hold Your Tongue" and ferocious "Suicide Bomber" keep up the momentum.
Laiho's nails-across-the-chalkboard screech remains here, but are less grating given the strength and likability of the songs. They blend better in this riffier context and even seem to have a somewhat throatier delivery that lends a bit of heft and isn't so shrill, though by a matter of degrees.
By the same token, he and Janne Wirman's keyboard/guitar interplay/dogfighting - another COB signature and occasional source of irritation – feel less showy and more natural and integral, perhaps because they don't also have to also accommodate Latvala this time around. Their tradeoffs add just the right amount of spice – especially on the relatively epic "All Or Nothing" - while not going overboard or going on forever, making for tauter, beefier sounding songs.
So there really isn't much to complain about with I Worship Chaos. It's a well-crafted, ably performed effort from top to bottom that is smart enough to show some restraint – only dazzling when dazzle is called for - yet ballsy enough to still kick plenty of ass. It's as enjoyable anything as COB has done in a very long time and shows that the band either learned a thing or two from its previous mistakes or was forced to abandon its usual modus operandi in Latvala's absence. Regardless, COB is better for it here, for sure.
4.0 Out Of 5.0
Order your copy of I Worship Chaos from the KNAC.COM More Store right HERE.