The career of Swedish heavy metal pioneers HAMMERFALL is one amazing march of triumph: After revolutionizing the genre by the end of the 90s, the Gothenburg based quintet released a total of nine studio albums, several compilations, live-releases and toured the globe relentlessly. HAMMERFALL is more than a name; they are the sole reason the traditional heavy power metal genre is what it is today, forget about any other act, it is HAMMERFALL that lead and continues to lead the way in the genre.

FINALLY, for the first time ever, HAMMERFALL will perform in Australia and it will be for ONE exclusive, no holding back, feature packed fan favourite show in Melbourne on Tuesday 13th October at 170 Russell.

This will be a one off show that will leave no stone unturned in what HAMMERFALL will give on the night. They will perform ALL their classic and fan favourite tracks across their entire discography. They will captivate all that attend with their charismatic and enthralling stage show and will deliver a live performance that will live in the memory bank for all time.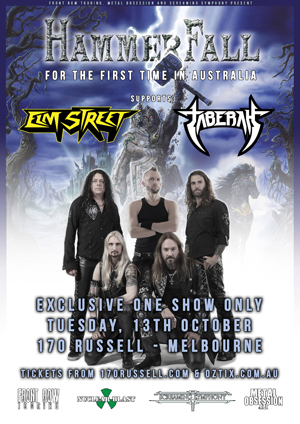 Do NOT miss out on this momentous occasion. Be part of history and be part of the reason by showing up in numbers to give HAMMERFALL no option but to come back for a national tour.
UPDATE:
Exciting news has emerged overnight from HAMMERFALL's management; this show will be officially filmed!This is sensational news for this show and for Australia and, for the patron attending this show, or planning to attend the show, this is your chance to be immortalised in HAMMERFALL history!
The band went on to say via their management: "We have a good feeling about Australia, and we think we'll be pleasantly surprised. It might be cool to have that on video. All going well, we will be able to use parts of it on our next video release and may even get enough for a film clip for one of our new single releases."
This really is exciting news and it is a privilege that HAMMERFALL want to do this for this show. Do not miss out on being part of history and if you have not done so already then grab your HAMMERFALL tickets.
HAMMERFALL Melbourne (r)Evolution 2015 – Exclusive One Show Only
Tuesday 13th October – 170 Russell, MELBOURNE (18+)
w/ Elm Street and Taberah
TICKETS ON SALE NOW FROM: www.170russell.com / www.ticketscout.com.au / www.oztix.com.au