Unabashed: An Exclusive Interview With MARTINA EDOFF


By Charlie Steffens aka Gnarly Charlie, Writer/Photographer
Monday, October 19, 2015 @ 5:09 PM


| | | |
| --- | --- | --- |
| | | "The first time when I held a microphone in my hands, it was a magic moment." |
Photo By Gnarly Charlie
It's a sweltering hot afternoon in Southern California, and inside the Fonda Theater, singer Martina Edoff and her band are in the dark, air-conditioned backstage area before their 7:30pm set. Her band has been touring several U.S. cities with Swiss folk metal band and headliner, ELUVEITIE, as well as the Canadian melodic death quintet THE AGONIST.
Martina, casually dressed in jeans and sandals, appears relaxed as she speaks: "Nobody knows me here. We're facing the audience here for the first time. Nobody knows what to expect at all. They came here because they wanted to see the headliner. This is a good start to show the people who I am, who we are. Probably after the release we would love to come back. Then people will know at least the music more than they do today." Though relatively unknown in the States, Martina is considered a veteran of the music business in her native Sweden, having written, recorded, and toured with a variety of artists in pop, hip-hop, and hard rock. ACE OF BASE, DR. ALBAN, and E-TYPE are some of the names on her resume; Martina was also a founding member of the Swedish glam metal band THE POODLES. "You know, I've been freelancing for 20-plus years and I've been doing all kinds of stuff. I've always kept it in my heart that If I'm going to do something solo or put my name on it—it's going to be rock music. (She cites HEART singer Ann Wilson as her biggest influence.) I've always been reaching to do my own thing."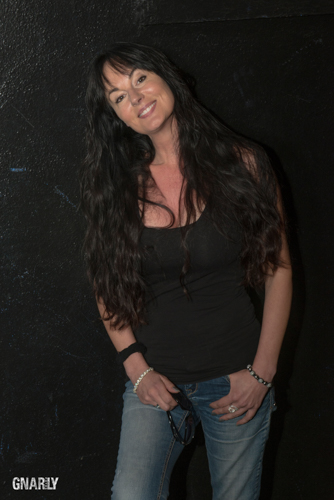 Martina's second solo album, Unity, was released on October 16, 2015. Unity was engineered and mixed by Justin Niebank, whose credits include Taylor Swift's Fearless album, an album that has sold nearly nine million copies to date. For her sophomore record, Martina wanted a co-writer and enlisted H.E.A.T. keyboardist Jona Tee. They recorded at Bohus Sound Studio in Gothenburg, Sweden. "We recorded everything together in an old fashioned way," says Martina. "Everybody goes into the studio at the same time."
Unity's songs are '80s-sounding hard rock with a positive message. Fond of the era which influenced her the most, Martina insists that she isn't stuck in the past: "I told these guys that I worked with, 'It's very important that you guys make it sound like 2015. Because I don't want to be a retro.'" Unabashed, Martina admits she's 47, which makes her the eldest member of her band, and she alludes that she's the eldest in the group by several years. To her band mates, most of whom she hadn't worked until the Unity recording sessions began, Martina expressed, "'You were born in the '80s when I was listening to this kind of music, so I depend on you now to put out the modern sound.' (Laughs) And we did that."
The rocking title track conveys a message of love and harmony, which is Martina's credo. "I love to give people hope, to give people strength. And that's why I ask my band members sometimes, 'Do I smile a lot when I sing?' This is not good for my image. But I'm sunny. (Laughs) I guess it shows in the music," implying that she doesn't see herself as an unruly performer. "I've been through a lot and many people have, so I like to write about things that matter to me. And even if it's sometimes very dark, I think it's important to make a twist in the end to make it something positive. It's a little bit of my philosophy. To give hope to people who listen and maybe they'll feel, 'It sounds like me. I've been through the same things.'"
"When I was a child I was just fascinated by music," Martina says. "The first time when I held a microphone in my hands, it was a magic moment. I still remember exactly how I felt, and something inside me said, 'I want to be a singer when I grow up.' Finally, I'm doing what I want to do."
http://www.martinaedoff.com/
https://www.facebook.com/martinaedoffmusic




Please log in to view RANTS

If you don't have a username, click here to create an account!