UK Grindcore pioneers NAPALM DEATH and Germany's Metal powerhouse HEAVEN SHALL BURN have teamed up for a very special Split 7" EP release.

Entitled The Mission Creep, this limited vinyl-only Split 7" EP will be released on December 11th, 2015 via the bands' longtime label Century Media Records and it will include both an unreleased song by HEAVEN SHALL BURN called "Battle Of Attrition" as well as the unreleased NAPALM DEATH track "An Extract (Strip It Clean)".

The EP comes packaged with artwork design (Both bands have an A side with own front cover artwork - See picture below) created by Frode Sylthe (THE HAUNTED, NAPALM DEATH, AT THE GATES, etc.) and is limited to 2,000 copies in the following vinyl versions/colours:
800x Black (CM Mailorder/Distro Europe & North America)
400x Red (CM Mailorder/Distro: Europe & North America)
200x Clear (CM Mailorder Europe)
200x Yellow (Impericon)
200x Blue (Impericon)
200x White (Impericon)
The pre-order for the EP is going on now via CM Distro HERE.

Here are comments from both bands about The Mission Creep:

"It is a huge honour for us to be releasing this split 7" EP. It not only is the first 7" in HEAVEN SHALL BURN's career, but also shared with a band that has been an influence on all levels of our band's development. NAPALM DEATH have been a constant inspiration and will always remain innovators. We are as happy as young kids, again! Our song "Battle Of Attrition" deals with the happenings on the battlegrounds of Flanders from more than a 100 years ago and the unfortunately repeating tragedies for all Nations, which are misled into devastating war scenarios." - HEAVEN SHALL BURN

"Split recordings are a great opportunity to explore something a little different, and with the voice that HEAVEN SHALL BURN have out there in the world, we thought it was a nice route down which to spread our own tentacles of music and ideas. The convergence of ideas between our two bands on the design side of the EP was quite seamless, so as good a meeting of minds as there should be." - Mark 'Barney' Greenway / NAPALM DEATH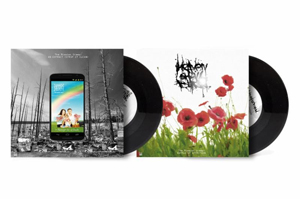 The Mission Creep Split 7" EP - Tracklisting:
HEAVEN SHALL BURN - "Battle Of Attrition"
NAPALM DEATH - "An Extract (Strip It Clean)"
Upcoming NAPALM DEATH live dates:

CARCASS, OBITUARY, NAPALM DEATH, VOIVOD & HEROD - "Deathcrusher Tour 2015"
11.16.15 Munich (Germany) - Backstage
11.17.15 Bologna (Italy) - Estragon Club
11.18.15 Pratteln (Switzerland) - Z7 * (Without Obituary!)
11.19.15 Wiesbaden (Germany) - Schlachthof
11.20.15 Berlin (Germany) - Astra Kulturhaus
11.21.15 Eindhoven (The Netherlands) - Speedfest
11.22.15 Saarbrücken (Germany) - Garage
11.23.15 Paris (France) - La Cigale
11.24.15 Lyon (France) - Le Transbordeur
11.26.15 Madrid (Spain) - Sala Riviera
11.27.15 Lisboa (Portugal) - Cine Teatro Corrois
11.28.15 Bilbao (Spain) - Sala Santana 27
11.29.15 Barcelona (Spain) - Sala Razzmatazz
06.17-19.16 Clisson (France) - Hellfest
Upcoming HEAVEN SHALL BURN live dates:
06.03.-05.2016 Mendig (Germany) - Rock Am Ring
06.03.-05.2016 Nürnberg (Germany) - Rock Im Park:
06.17-19.16 Clisson (France) - Hellfest