Hard rock vocalist David VanLanding has died after an auto/garbage truck collision in Florida on November 17th. The singer had performed multiple tours with MSG and briefly with CRIMSON GLORY.

The following was posted on his Facebook page:

"it is sad to say to this day my good friend david vanlanding has passed away today due to a traffic accident with a another car ..im am so floored by this news i just talked to him on my bday nov 13th you will always be in our hearts my good friend ..i will keep you all posted on the news ///i loved you dave ..you were my good friend
prayers to you family and pam your wife"

That was followed up with this post:

"the immediate family of dave vanlanding asks for your understanding and respect as we deal with the loss of david ..the family will make an announcement once more details are known and arrangements are made ..it is my own words to say that he was a great friend and touched so many millions of lives thur his music and his kindness …love you bro"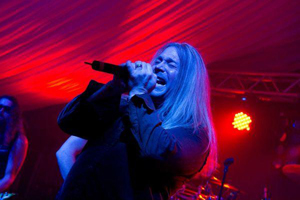 And finally this one:
"ANNOUNCEMENT FROM DAVIDS FAMILY............the family would like to say thanks for all the kind words and support though this terrible time it is truly amazing how many lives he touch with his kind soul , for those of you who would like to attend the services here in florida are as follows ....thomas b. dobies funeral home 8825 old cr 54 new port richey, fl 34653 viewing from 3-5 service 5 pm if you would like to send a video or send photos for a video tribute email them to utsoftball19@gmail.com they will be played on saturday thank you and god bless there will also be a service in arizona on tuesday will post details when we have them"
Michael Schenker had this message:
"We are all lost for words at such a sudden tragic event taking David away from us. We last performed together in the USA, 2012, but had planned a special show together on the -Axes & Anchors cruise in February 2016. He will be deeply missed. A great voice and a charming man. My condolences go out to his family and many friends."
QUEENSRŸCHE vocalist Todd La Torre, who was close firends with David, posted this:
"I am beyond devastated to learn that one of my best friends, David VanLanding, has passed away [Tuesday] from a car accident. He was full of life, love, and laughter. He is notably known for singing with Michael Schenker, and has a lifelong professional music career, but those who knew him best know him as a loving friend, husband, and sibling. My deepest condolences to his wife and family."
VanLanding had just recently mourned the death of his ex-wife, Rhonda Kay VanLanding, who passed away in August from cancer.