The 4th year of Nordic Noise Festival offers the most ambitious artist line-up so far, with a wide range of rock and hard rock bands from all over the world. The headliner Friday is the living rock-legend MIKE TRAMP with backing/support band LUCER. Saturday the Swedish rockers MUSTASCH are headlining with an exclusive show in Denmark. On top of that, international names like THE TREATMENT (UK), KICKIN VALENTINA (US) and NOW OR NEVER (FR/DK) will deliver the goods along with some of the best bands the Danish rock scene has to offer.

Michael H. Andersen, spokesman for Nordic Noise: "I'm proud of the programme we have to offer his year. MUSTASCH have always been a topnotch live act and they haven't played in Denmark for some years, so it's quite a scoop to have them closing the festival with an exclusive show Saturday night. MIKE TRAMP and LUCER will prepare a very special headlining show for Friday, which no doubt will be fantastic and with the rest of the artists we have booked, I'd say we have a pretty good thing going for rock & hardrock fans"

Michael H. Andersen continues: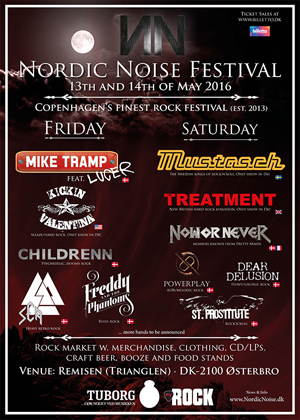 "In line with the bigger artist line-up, we are moving Nordic Noise Festival to an equally sized venue. Remisen, based in Copenhagen Ø, is a sports hall perfect for the classic rock festival. We promise fantastic musical experiences along with a wide selection of beer, booze and food and a rock-market with stands offering various clothing, craft beer, music equipment and CDs and LPs".
Nordic Noise Festival 2016 will take place at the venue Remisen (Trianglen) in Copenhagen Ø Friday the 13th of May and Saturday the 14th of May 2016.
Artist line-up for Nordic Noise Festival 2016:
Friday the 13th of May 2016
MIKE TRAMP (feat. LUCER)
KICKIN VALENTINA (US)
CHILDRENN (DK)
SEA (DK)
FREDDY AND THE PHANTOMS (DK)
Saturday the 14th of May 2016
MUSTASCH (S)
THE TREATMENT (UK)
NOW OR NEVER (DK/FR)
ST. PROSTITUTE (DK)
POWERPLAY (DK)
DEAR DELUSION (DK)
More bands to be announced.

Ticket price is 300 DKK per day and 500 DKK for Partout tickets.

Up until the 23rd of December Early Bird Partout Tickets at 400 DKK are available.

Tickets can be bought at www.billetto.dk

Further information about Nordic Noise Festival 2016 at www.nordicnoise.dk