BLAZE BAYLEY Announces New Album, 50 Tour Dates


By Larry Petro, News Monkey
Tuesday, December 1, 2015 @ 2:31 PM


| | | |
| --- | --- | --- |
| | | Pre-Order Available Now |
Former IRON MAIDEN vocalist Blaze Bayley has announced that his new, as yet untitled new album (working title Album 8) will be released next March. In addition, he has confirmed a string of tour dates in support of the album. More dates will be added soon.
3.1 - Newcastle, England - Trillians
3.2 - Glasgow, Scotland - Ivory Blacks
3.3 - Kendal, England - Bootleggers
3.4 - Grimsby, England - Yardbirds
3.5 - Manchester, England - Sound Control
3.6 - Wakefield, England - Snooty Fox
3.16 - Cardiff, Wales - Fuel
3.17 - Hastings, England - The Carlisle
3.18 - Verviers, Belgium - Spirit of 66
3.19 - Lotenhulle, Belgium - Wizzfest
3.20 - Deinze, Belgium - Cafe Elpee (acoustic)
3.24 - Erica, Netherlands - The Spot
3.25 - Leiden, Netherlands - Gebr De Nobel
3.26 - Grossefehn, Germany - Schlappohr Rockkneipe
3.27 - Geleen, Netherlands - De Meister
3.31 - Arras, France - Blue Devils Bar
4.1 - Fismes, France - La Spirale
4.2 - Notre Dame De Gravenchon, France - L'Arcade
4.3 - Roeselare, De Verlichte Geest
4.8 - Grenoble, France - L'Amperage
4.9 - Luynes, France - Le Korigan
4.10 - Barcelona, Spain - Venue TBA
4.14 - Versoix, Switzerland - Le Caves De Bon-Sejour
4.15 - St-Maurice, Switzerland - Manoir Pub
4.16 - Pagney-Derriere-Barine, France - Chez Paulette
4.17 - Renchen, Germany - Come Inn
4.21 - Hamburg, Germany - Bambi Galore
4.22 - Herdorf, Germany - Rattenloch
4.23 - Balingen, Germany - Sonnenkeller
4.24 - Konstanz, Germany - Rockbar
4.28 - Tychy, Poland - Underground
4.29 - Stalowa Wola, Poland - Labirynt Club
4.30 - Olsztyn, Poland - Andergrant
5.4 - Helsinki, Finland - PRKL Club
5.5 - Kuopio, Finland - Henry's Pub
5.6 - Lappeenranta, Finland - Totem
5.7 - Mantyharju, Finland - Bar Krouvi (full metal)
5.8 - Mantyharju, Finland - Bar Krouvi (acoustic)
5.11 - Sandviken, Sweden - Folkets Hus
5.12 - Stockholm, Sweden - Harry B James
5.13 - Fosser, Norway - Oak Metal Bar
5.14 - Falkenberg, Sweden - Downtown Rockbar
5.15 - Flensburg, Germany - Roxy Concerts
5.19 - Brno, Czech Republic - Melodka
5.20 - Dolni Cermna, Czech Republic - Under Dark Moon Festival
5.21 - Klatovy, Czech Republic - Music Club U Kosile
5.26 - Merthyr Tydfil, Wales - New Crown Inn
5.27 - Winchester, England - The Railway
5.28 - London, England - Underworld
5.29 - Bromsgrove, England - Breaking Bands Festiv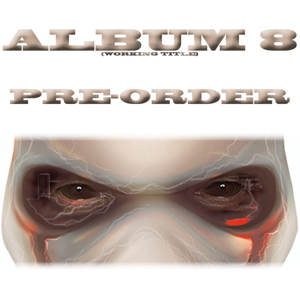 After touring the world for many years and making many highly acclaimed albums, Blaze Bayley has started to create his eighth, and he hopes, his greatest ever studio album. For the first time he wants to offer his fans an insight into the creative part of this process.

Writing this project started in March of 2015. It is an album based on a science fiction story that Blaze is writing. He is still in the early stages of putting together the huge concept for this studio album, so he felt it would be a right time to give his fans the opportunity to get involved.

Fans have the opportunity to opt in on an exclusive membership. As members, they will receive exclusive items and monthly email updates on the new album. These monthly updates will contain information on the development of the artwork, the album and song titles, videos of writing and recording sessions and rehearsals, and interviews with the musicians involved. When the album is released on March 1st, 2016, the members will also receive a printed magazine and a making of DVD. These items will be created by Blaze for the exclusive members to celebrate the journey he has taken with them.

Blaze will also give those fans a chance to talk with him during this process. For a few hours each month, he will be available for personal calls with the members to discuss the progress of the album and any other questions those fans may have. Some lucky fans will even have they're voices on the album! Fans that are ultimate members will be able to take part in an exclusive competition. The winners voices will be a part of the dream song on the album.

Even though Blaze Bayley has always strived to keep his fans as involved and informed as possible, he is now taking it to a whole new level.

"Ive always had a strong interest in science and cosmology and A.I. and those subjects have featured in a lot of my songs on past albums. Now I'm taking this to the next level by having a complete concept album set 100 years into the future. This is a story that follows on from the ideas and songs I had on my first two solo albums, Silicon Messiah and Tenth Dimension. Im really excited about being able to have some of my fans involved so much at this stage of the process. There are always struggles, great moments, little bits of magic and some kind of crisis that happens during the process of making every one of my albums so far. I'm sure this one will be no different. I can't wait to share these moments with the fans. I want to say a massive thank you to all my fans. Your support has made it possible for me to be independent and to continue making music. Now I will attempt make the best record I have ever made."

Preorder information can be found HERE.




Please log in to view RANTS

If you don't have a username, click here to create an account!