Rock vs Cancer, Music Saves Lives Collaborate On Ribbon Art Project


By Larry Petro, News Monkey
Wednesday, December 2, 2015 @ 2:12 PM


| | | |
| --- | --- | --- |
| | | Top Musicians Share Canvas And Lyrics With Those Battling Cancer And Families |
This very special event to celebrate in the fight against cancer awareness and brought to you by musicians, artists and supporters together to fight cancer and celebrate life in the name of cancer survivors and those we have lost. To that cancer can affect everyone, we have went to all lengths to reach musicians of all genres. The December 10th event will host a silent auction with 45 paintings by different bands and musicians sharing canvas with cancer survivors, patients and families of those we have lost. It's been a long road to collect 45 paintings from artists / musicians such as QUEENS OF THE STONE AGE, LINKIN PARK, RICK SPRINGFIELD, INCUBUS, SUBLIME WITH ROME, EAGLES OF DEATH METAL, DEFTONES, BLINK 182, SEETHER, DOKKEN, KIDZ BOP, MACHINEHEAD, ANDREW WK, BRING ME THE HORIZON, PEACHES, RISE AGAINST, COUNTING CROWS, TAKING BACK SUNDAY, PENNYWISE, NOFX, ALL TIME LOW, SHINEDOWN, ATTILA, SILVERSTEIN, FISHBONE, THE VANDALS, PEPPER, KORN, ADLER and more. All will be on eBay Giving Works with 100% going to the charities. Check it out HERE.

December 10th at the Gibson/Baldwin Showroom in Beverly Hills will be the backdrop for music and the auction. Top DJ's and live performances, special guests, and great food from one of the top food trucks in LA, "Let's Be Frank". Red Carpet will be at 7pm.

Fact: With advances in medical treatments and an aging population, the demand for donated blood continues, as fewer people are becoming lifelong donors. Donating platelets is a two-hour process, and it provides as many of these blood-clotting cells as 12 to 18 whole blood donations.

About Rock Vs. Cancer and Emily Nielsen

In 2006 at a young age trying to understand the battle I had before me including fighting cancer, accepting chemotherapy and radiation and understanding that everyday I lived... could be my last.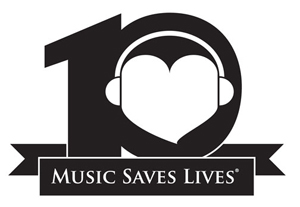 I decided to try my hardest to turn the battle of Hodgkin's Lymphoma into a positive lesson for all. That April I reached out to my friends in the band STRUNG OUT and raised over $5,000 with one show when they donated their time and talent so my sister and I could run the rock 'n roll marathon during my chemotherapy to show the we do have one life to live.
That fall I realized that now only did medicine save my life but... MUSIC SAVED MY LIFE. RISE AGAINST has a song called "Survive" and this song helped me survive my battle. That fall front man Tim Mcilrath and myself collaborated on a piece of art I still own and has travelled this globe with me. I painted the ribbon on behalf of my battle with cancer and Tim painted the lyrics of "Survive". Not less than 6 months later ROCK VS CANCER was truly born.
Now, the fourth Rock VS Cancer across the world we are here to make a stand that states that you too can effect those battling cancer. We can better the lives of those fighting, we can show them hope and we can show them that as a survivor, life has never been more amazing and we have never been more grateful to live. Cancer is a battle that has now turned into my largest blessing in my life.
This December 2015 I wish to give hope to those fighting this disease, to remember those we have lost and to give strength to those that may come across this battle in their OWN life. The outpour of support from bands, musicians and people I hardly known closest to me have been unbelievable. From rock to jazz to hip-hop... from all walks of music we are truly portraying the fact that cancer affects us all.
Take life day by day because you never know when it will turn into a battle or into a blessing. http://romanticrock.net/
Emily Treasure Nielsen - CANCER FREE 8 ½ YEARS - NOVEMBER 10, 2015




Please log in to view RANTS

If you don't have a username, click here to create an account!