AMORPHIS Under The Red Cloud


By Cary Gordon, Metal Geek
Monday, December 7, 2015 @ 4:48 PM


| | | |
| --- | --- | --- |
| | | |
AMORPHIS
Under The Red Cloud
Nuclear Blast




I will preface this review by gleefully admitting that I have been a fan of AMORPHIS for a very long time and I will also gleefully admit that current vocalist Tomi Joutsen is my favorite AMORPHIS vocalist of all time. I say this on every single release from the band, but this time, they have crafted a masterpiece. I think this is one of the best albums of their career, even though it took a few spins to reach there for me. Under The Red Cloud is the 12th studio album from Finlandís stalwarts, once again proving that you can combine extremity with atmospheric folk rock and chuggy yet melodic metal. AMORPHIS is the epitome of progressive Death/Doom and wear it with pride! This is definitely a return to form for the band after a couple of lackluster releases, although there is that danger of falling into a rut with some of the songs sounding too close together.

The album has a thematic feeling very much close to Tales From The Thousand Lakes which is celebrating itís 20th anniversary this year. It almost feels as it is a spiritual successor. The album is not a concept album, per se, like so many of their recent albums based on the Finnish national epic Kalevala and the lyrics are once again written by Pekka Kainulainen with an original story of living underneath a Red Cloud, hence the album title. As previously stated, this is definitely a perfect blending of early Death Metal AMORPHIS material and their more modern sounding albums. There is definitely that tinge of Elegy and Tuonela era AMORPHIS that features sitar and keyboard ladened melodies. That is the important thing to take away from the album, and AMORPHIS in general, melody. Even when they are being brutally heavy, there is still an underlying lushness to their sound.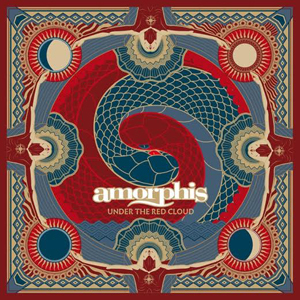 Tomi Joutsen is the epitome of a great vocalist to me. He can skillfully blend articulate brutal death growls with clean vocals that are mesmerizing and emotional haunting at the same time. The album melds atmospheric piano, traditional Finnish instruments, lush keyboards, thundering bass, chugging and melodic guitar melodies with the sometimes brutalness and sometimes haunting vocals of Tomi into an almost perfect concoction. "Tree Of Ages" has a great Folkish feeling to it and works well with the gruff growls. My absolute favorite track on the album has to be "Bad Blood", which was my least favorite song the first few listens. It has intensely grown on me and has become my earworm for the album. I absolutely can not get this song out of my head.
AMORPHIS has delivered a contender for album of the year for me and once again have proven why I adore this band so much. They are leaders in their field and deserved to be treated with all the accolades and respect we can throw at them. If you are looking for a hook filled, heavy as hell, catchy, Melodic Death album with tinges of Folk Metal, then please, look no further than AMORPHIS.
4.5 Out Of 5.0
Pick up a copy of Under The Red Cloud in the KNAC.COM More Store right HERE




Please log in to view RANTS

If you don't have a username, click here to create an account!