TWISTED SISTER Movie Cover Artwork Revealed


By Larry Petro, News Monkey
Tuesday, December 8, 2015 @ 2:12 PM


| | | |
| --- | --- | --- |
| | | We are Twisted F*cking Sister! Out In Europe January 29th |
The TWISTED SISTER movie We are Twisted F*cking Sister!, a documentary film by Andrew Horn, will be released in Europe on January 29, 2016 via Monoduo Films. The film, length 137 minutes + over 2 hours bonus material will be available on VOD (iTunes & Vimeo on Demand) and as DVD (Amazon Europe and Monoduo Films Shop). The DVD cover and movie trailer can be viewed below.

Featuring: TWISTED SISTER, Dee Snider, Jay Jay French, Eddie Ojeda, Mark "The Animal" Mendoza, A.J. Pero. Produced by Andrew Horn How fitting that 2016 marks the release of the documentary film, We Are Twisted F*cking Sister!, a documentary film by german filmmaker Andrew Horn, which recounts the untold story of TWISTED SISTER's beginnings, at the same time that the band mounts their last ever tour, making their final farewell to performing after 40 years. As the band gears up for the big finish, the movie shows how it all began.

Once upon a time, they were the GRAND FUNK of Glam and the NY DOLLS of Metal. Some considered TWISTED SISTER a joke, others called them the greatest bar band in the world. While the microcosm of Punk/New Wave was taking over NYC in the mid 70s – early 80s, TWISTED SISTER was battling their way to the top of a vast – and unique to it's time – suburban, cover-band bar scene that surrounded NYC in a 100 mile radius, yet existed in a parallel universe. Guitarist Jay Jay French says, "the history of TWISTED is really our 10 years clawing our way through the bar scene. It's who we are, and it's why we are, and why we do what we do."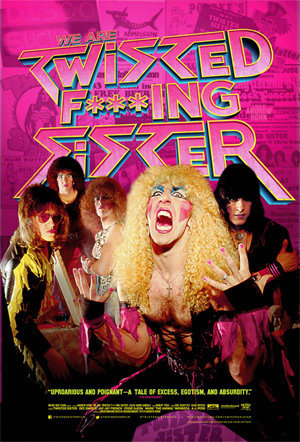 The film follows the band from their beginnings as a cross-dressing glam band playing 4 shows a night, 6 nights a week in New Jersey bowling alleys and Long Island beach bars, to the suburban mega-clubs of the late 70s/early 80s, to their bust-out appearance on the UK rock TV show, The Tube. Through it all, TWISTED stood ready to do or die for the sake of "the show", giving their all to the crowd, and demanding full attention in return. They refused to play the usual bar band role of "human juke box for drunk and horny teens" – you were going to be entertained whether you liked it or not.
They regaled their audiences with comedy rants, dragging them on stage for vomit inducing drinking games, engaging them in fits of disco record smashing and, at their most extreme, whipping them into club-destroying frenzy. The performances were low on style and heavy on the humour and attitude – but behind it all, always smart and full of self-awareness. SPINAL TAP may have been clueless but TWISTED SISTER knew exactly what they were doing!
If you think you know them from their hit songs, the MTV videos and their massive stadium shows, this is the story of how they became that band – full of strange, and often hilarious, twists and turns. It's about Rock 'n Roll and the business of Rock 'n Roll. It's about perseverance and things blowing up in your face. It's about finding yourself, finding your audience and doing literally anything, however wild, to connect with them. And even though we know how it ends, the roller coaster ride of getting there is what it's all about. A mesmerizing, and wickedly funny story of a 10 year odyssey to overnight success.
www.monoduofilms.com
www.facebook.com/monoduofilms
www.facebook.com/TwistedSisterTheMovie
www.facebook.com/Twisted-Sister-138018010313
Twisted Fucking Sister Trailer from Monoduo Films on Vimeo.




Please log in to view RANTS

If you don't have a username, click here to create an account!