CAGE Ancient Evil


By Alex Yarborough, Orlando Contributor
Monday, December 14, 2015 @ 4:45 PM


| | | |
| --- | --- | --- |
| | | |
CAGE
Ancient Evil
2015 SMG Records




American power metal kings CAGE have returned in 2015 with an amazing and ambitious concept album entitled Ancient Evil, one of the first releases for the upstart Swedish label SMG Records.

If you are in the mood for a good horror tale similar to something KING DIAMOND might release, then you will love Ancient Evil. Fans will be impressed with the amount of work that has gone into this album; there is a lot of story told here. In fact, the album is based on the novel of the same name (also available for sale) written by vocalist Sean Peck. The Victorian-era tale begins in a London prison in the year 1869 and follows the characters to Egypt to the tomb of Osiris, the Egyptian god of the afterlife. From there, the characters return to England. The protagonist is a man named Elliot Worthington, whose life is unwittingly invaded by a creature (the "ancient evil") that utilizes mind control and soul absorption to do his bidding and eventually takes over the mind of his infant son. He tries to reshape the world in his own image.

The album is epic in length, featuring 18 tracks and over 76 minutes. There are a ton of lyrics to these songs, which are never repetitive or boring. The album also contains some interesting voice work. It opens with a spoken intro by former IRON MAIDEN singer Blaze Bayley, who effectively portrays Worthington throughout the story. Also noteworthy is Joseph Tuttle's voice work as the character Allistar, who is Elliot Worthington's friend. The first proper song is the title track, a warning about allowing an evil into your life. The song grabs you by the throat and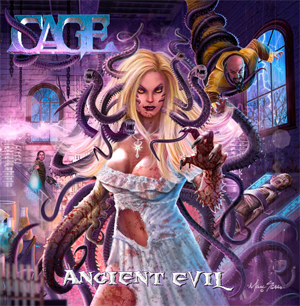 doesn't let go for over five minutes. In fact, CAGE create "drama" with this album without sacrificing the power metal aggression they are known for. They don't waste time being melancholy here. The only slower song is really "To Save Love", which is fairly short. Noteworthy tracks on Ancient Evil include "Behind The Walls Of Newgate", "The Appetite", "The Expedition", "Beholder", "Sinister Six", "Symphony Of Sin" and the song featured in the first video "Across The Sea Of Madness". This video is incredible and is worth searching for on YouTube or the band's Facebook page.
New drummer Sean Elg's playing is punishing and full of awesome double bass and killer fills. A total display of power for sure! Guitarist Dave Garcia is spectacular once again, as is his new partner in crime, guitarist Casey Trask. Bass is provided by Dwight Magic, who fretless playing accentuates these tracks well. The production and mix of this album is among the best I heard in 2015. Speaking of 2015, has anyone dominated metal as much as vocalist Sean Peck has this year? Here is a guy that the average metal fan could not identify, yet he has produced masterpieces this year with DEATH DEALER, DENNER/SHERMANN, and now CAGE. All of these albums are must-haves for the true metal fan!
Cover artwork for the album is once again provided by the great Marc Sasso. The layout of the digibook and huge 16-page booklet is awesome and extensive including lyrics, photos and additional illustrations. I can't recommend this CD enough. It is amazing and one of the year's best releases!
5.0 Out Of 5.0
Grab a copy of Ancient Evil in the KNAC.COM More Store right HERE.




Please log in to view RANTS

If you don't have a username, click here to create an account!