AMARANTHE, BUTCHER BABIES Live In Houston, TX With Photos!


By Larry Petro, News Monkey
Monday, December 14, 2015 @ 5:41 PM


| | | |
| --- | --- | --- |
| | | At Scout Bar |
All Photos By Larry Petro/Petrofyed Photography
Being the Managing Editor for KNAC.COM is a lot of work. Between managing around 20 part-time writers' assignments, posting all the daily rock news and my writers' pieces, not to mention my own articles (all in my spare time, mind you), things can sometimes fall through the cracks. Such was the case with this review. Between the Thanksgiving holiday, having to catch up on all the news posts and then getting the crud that's been going around everywhere it seems, this review ended up getting posted way later than I like, so my apologies to the band in advance for that.
The week before Thanksgiving, Swedish rockers AMARANTHE swung through Houston, Texas for a stop at Scout Bar as their latest North American headlining tour was winding to a close. This run saw support from none other than BUTCHER BABIES and LULLWATER. Having missed AMARANTHE when they played H-Town earlier in the year on their first headline run of 2015 was a definite bummer for me, especially given the fact that their most recent album, Massive Addictive, made my 2014 year-end Top Ten list at #2, beaten only by the Metal Gods JUDAS PRIEST and Redeemer Of Souls. I would not be denied this time around, even though the show was a), on a Thursday night and b), at the aforementioned Scout Bar, a place, if you've been following my reviews at all, that I rarely go to for shows even on weekends given its distance from my house and the dreaded traffic having to drive through the heart of Houston to get there. As it was, I made it and even showed up early so that I could interview the band prior to the show. Look for the exclusive video interview on KNAC.COM soon!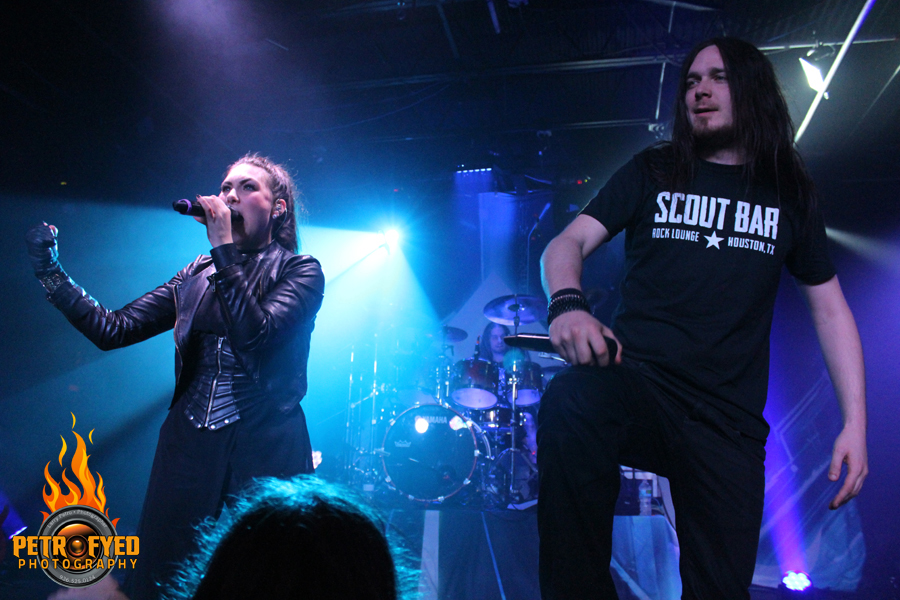 Besides the tour support mentioned above there were also two local Houston openers as well, APOTHICA and BLACK MARKET TRAGEDY. Both of these bands were female-fronted, making it 4 of the 5 bands that would play on this night. The former was a heavier, more metalcore style act while the latter was more melodic in nature with nice, clean vocals. Both bands played great sets and having never heard of, let alone seen, either, I was quite impressed.
Tour opener LULLWATER was next, the only all-male band on the bill, and their style was almost out of place in the midst of all the heavier bands that played. They were more of a straight-ahead rock sound and it was a nice, brief change of pace in the midst of the heavier rock.
By now the crowd had filled in quite nicely in anticipation for the next act, BUTCHER BABIES. Quite a few of those in attendance were there solely for this band and their twin vocal attack of Heidi Shepherd and Carla Harvey, and the band did not disappoint. Hitting the (rather small) stage with "Monster's Ball", off their brand new album Take It Like A Man, the band was off and bludgeoning. The band rolled through what seemed like a longer than 10 song set with tracks like "Never Go Back", "Igniter" and "Mr. Slowdeath", with Harvey and Shepherd all the while jumping around and carousing the close quarters as much as possible, exhorting the crowd to jump, mosh and basically get crazy. It was a sight to behold as these two beautiful women sang with a vocal style that would make Cookie Monster envious. Even though not my personal favorite when it comes to singing, the spectacle they performed was indeed gratifying. The band closed their nightly set with a cover of NAPOLEON XIV's "They're Coming To Take Me Away" and then "Magnolia Blvd", from 2013's Goliath album before calling it a day. The band made it a point shortly after their departure to head to the merch table to meet with fans, sign autographs and take pics.
Setlist:
"Monster's Ball"
"Never Go Back"
"The Cleansing"
"Igniter"
"Jesus Need More Babies For His War Machine"
"Mr. Slowdeath"
"Gravemaker"
"Thrown Away"
"They're Coming To Take Me Away" (NAPOLEON XIV Cover)
"Magnolia Blvd"
Given that there was no barricade in place to provide a safety zone for photographers such as myself, I made the decision to try and get as close to the stage as possible early so that some good shots could be had and ended up finding myself just to the right of center stage about 2 feet back. AMARANTHE took the stage to a now packed house of loyal fans, kicking things off with "Digital World" and then one of my personal favorites, "Trinity", both a part of the 8 or so songs that they would perform from the Massive Addictive release. If you've never heard of this band before, they employ a three-headed monster for the vocal duties (no, not Ghidorah, the monster from the Godzilla movies). Front and center is the beautifully talented and uber-sexy Elize Ryd, in collaboration with clean singing male vocalist Jake E and relative newcomer Henrik Englund, hereafter known as "The Growler". All three styles are represented in almost every one of their tunes and surprisingly, it works. It should be noted here that Jake E was actually not on this particular tour run to spend time with his family and was replaced by Chris Adam (SMASH INTO PIECES), who not only did a standup job as the fill-in, but was most impressive in his Houston debut!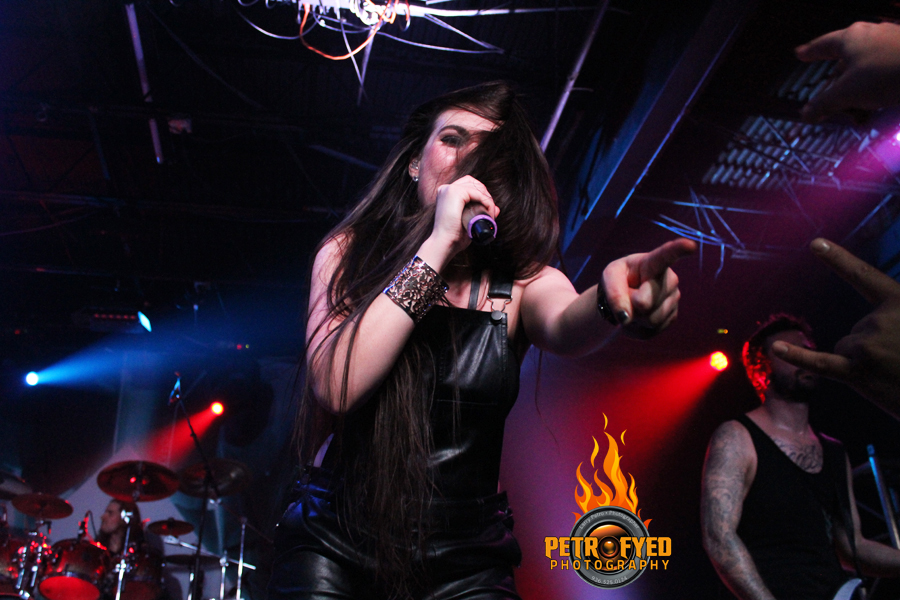 The band rolled along through their 19 song offering with other gems such as "1,000,000 Light Years", "Invincible", from the 2013 album The Nexus, "Amaranthine" and a pair of slower tracks, "Over And Done" and "True", both of which showcased Elize and Chris' voices. Having met them prior to their performance, it can be safely said that the personable and humble attitudes displayed on the tour bus were no act; they are every bit as personable onstage, as evidenced by the constant interaction with their audience. From Elize Ryd occasionally reaching out to hold a fan's hand while singing to the now crop-locked bassist Johan Andreassen fist-bumping others, the whole front line of AMARANTHE engaged the throng of fans every chance they got, much to the attendees' delight. It also brought a smile to this reviewer's face to see each of them acknowledge my presence near the front at different times throughout the show. The chemistry between the band members, particularly that of Elize Ryd and guitarist/mastermind Olof Morck, is undeniable.
The band closed out the high energy, explosive performance with "Call Out My Name", from the debut album Amaranthe before returning for a 4 song encore of "The Nexus", "Razorblade", "Dynamite" and "Drop Dead Cynical", the last two being the lead off track and the first single/video from Massive Addictive. The band had revealed that immediately following the conclusion of this tour they would be heading back to begin work on their next album and would definitely be returning to the States again next year. This is one band you have to check out if you like great rock shows!
Setlist:
"Digital World"
"Trinity"
"Hunger"
"Invincible"
"1,000,000 Light Years"
"Mechanical Illusion"
"Over And Done"
"Massive Addictive"
"True"
"Unreal"
"Afterlife"
"Electroheart"
Drum Solo
"Leave Everything Behind"
"Amaranthine"
"Call Out My Name"
Encore:
"The Nexus"
"Razorblade"
"Dynamite"
"Drop Dead Cynical"
Check out some more photos from the show!
All Photos By Larry Petro/Petrofyed Photography




Please log in to view RANTS

If you don't have a username, click here to create an account!






TRIVIUM, AVATAR, LIGHT THE TORCH In Portland, OR Photo Gallery

DEVILDRIVER, JINJER In Cleveland, OH With Photos!

CORROSION OF CONFORMITY In Dublin, Ireland

CAULDRON New Gods

STEVE GRIMMETT'S GRIM REAPER In Ottawa, Canada

JUDAS PRIEST, KREATOR In Quito, Ecuador

CAL JAM '18 Photo Gallery

BLOODBATH The Arrow of Satan Is Drawn

STRIKER Play To Win

NIGHT RANGER "Dawn Of Madness" Show In Waukegan, IL

BUTCHER BABIES, KOBRA AND THE LOTUS, SKARLETT RIOT, IGNEA, MAERTYRIUM, In Siegburg, Germany

HOUSE OF LORDS In New Bedford, MA

GRETA VAN FLEET Anthem Of The Peaceful Army

IMPELLITTERI The Nature Of The Beast

ALICE COOPER In Houston Photo Gallery

ICARUS WITCH Goodbye Cruel World

TARJA, STRATOVARIUS, SERPENTYNE In Cologne, Germany

CLUTCH, SEVENDUST, TYLER BRYANT & THE SHAKEDOWN In Portland, OR With Photos!

ACCEPT In Houston, TX With Photos!

U.D.O. Steelfactory

SKULL FIST Way Of The Road

SOULFLY Ritual

ANTHRAX State of Euphoria 30th Anniversary Deluxe Edition

FIFTH ANGEL The Third Secret

STEVE GRIMMETT'S GRIM REAPER In New Bedford, MA

ANAAL NATHRAKH A New Kind of Horror

PRIMAL FEAR Apocalypse

BEHEMOTH I Loved You At Your Darkest

DORO Forever Warriors, Forever United

SLASH FEATURING MYLES KENNEDY AND THE CONSPIRATORS In Houston, TX Photo Gallery

BILLY MORRIS AND THE SUNSET STRIP Holdin' All The Aces

VINCE NEIL In Houston, TX Photo Gallery

DEE SNIDER For The Love Of Metal

UNLEASH THE ARCHERS, STRIKER, HELION PRIME In Houston, TX W/Photos!

DREAM CHILD Until Death Do We Meet Again

SCORPIONS, QUEENSRYCHE In Tampa, FL With Photos!

HUMBLE PIE Live At The Ottawa CityFolk Festival

BEHEMOTH Album Listening Party In Los Angeles For I Loved You At Your Darkest

THE DEAD DAISIES, HOOKERS 'N BLOW In Ottawa, Canada With Photos!

DRAGONLORD Dominion

STONE BROKEN Ain't Always Easy

BRANT BJORK Mankind Woman

KORPIKLAANI Kulkija

BRAINSTORM Midnight Ghost

SLEAZY WAY OUT, INSUFFICIENT FUNDS In Ottawa, Canada

DEEP PURPLE, JUDAS PRIEST In Jacksonville, FL W/Photos!

HELLOWEEN In Worcester, MA With Photos!

RED TIGER Evolution