AUTOPSY Skull Grinder


By Peter Atkinson, Contributor
Wednesday, December 16, 2015 @ 2:49 PM


| | | |
| --- | --- | --- |
| | | |
AUTOPSY
Skull Grinder
Peaceville Records




Since resurrecting in earnest in 2010, Oakland death metal legends AUTOPSY have been a busy and productive bunch, delivering three full-lengths, an EP and a DVD following a decade-plus hiatus when drummer/vocalist Chris Reifert and guitarist Danny Coralles toiled with ABSCESS along with now-AUTOPSY bassist Joe Trevisano.

That productivity reaches new and ridiculous extremes with the release of a career-spanning four-disc, 80-plus-track retrospective, After The Cutting, crammed full of old demo material, the "greatest hits" of AUTOPSY's seven albums and assorted EPs, live stuff and seven new songs. The new tracks also are being issued as the standalone EP Skull Grinder, which will be the focus of our attention here. Initially available only on vinyl, the new songs also lead off the After The Cutting package, instead of being treated as throwaways and tacked on at the end, which is typically the case with these "box set"-type releases. And given that they are being released separately, the band must feel the new tunes deserve the attention of more than just the hardcore fans willing to pony up for the Cutting catalog in its massive entirety.

And for the most part, this proves to be the case. At 28-some minutes, the EP doesn't offer much in the way of surprises – which isn't so bad given the dubious covers and hackneyed remixes that so often turn these things into a dog's breakfast. The Skull Grinder tracks, instead, echo the surge-and-slog gnarliness of AUTOPSY's post-reunion work, and are as militantly unpolished and primal as ever, making the EP a logical bridge from 2014's Tourniquets, Hacksaws And Graves to whatever comes next.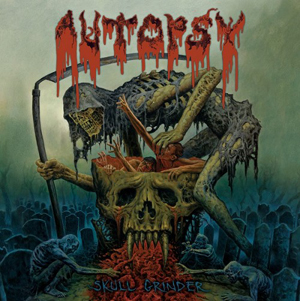 "Strung Up And Gutted" opens things with a familiar ragged, chugging groove whose catchiness is countered by Reifert's maniacal vocals. Same goes for "Children Of Filth", with its deranged, gurgled rant during the brooding midsection. Reifert revisits this approach with a demon preacher's zeal over the entirety of "Sanity Bleeds", though with more clarity given the death march sparseness of the accompanying music, at least before the vocals devolve into a cascade of growls and screams, making it the EP's most effectively unsettling song.
The title track roils with a sludge/death back and forth punctuated by squealing leads from Coralles and Eric Cutler and tribal-like rhythms, and retains its comparative nuance as Reifert maintains a better handle on his histrionic impulses. Indeed, he actually sounds more menacing with the matter-of-fact snarl employed here and over the methodical slow-grind of "The Withering Death" or "Waiting For The Screams". "My triumph is your misery," he declares on "Screams" with a conviction that makes it sound much more of a promise than a threat.
Skull Grinder closes with the eerie instrumental "Return To Dead". Its relative calm can't quite disguise its underlying sense of dread, and it perhaps might have been better served as an opening/intro track, given the mood it sets. As the finale, it's more of an anti-climax than grim denouement, especially after the horrific shenanigans that preceded it.
Still, as a quick-hitter for ardent fans, Skull Grinder is a worthwhile addition to their AUTOPSY collection – especially those who already have everything else contained within the Cutting set. And, since 'tis the season, it makes for a fittingly grotesque Christmas gift by a band who helped write the book on sick and twisted death metal - and continues to do so after nearly 30 years.
3.0 Out Of 5.0




Please log in to view RANTS

If you don't have a username, click here to create an account!