The Sydney Morning Herald has reported that the 2016 Soundwave, Australia's biggest rock festival, has been cancelled after a headliner pulled out, another denied they were ever confirmed. In addition, apparently venues had not been booked for the touring show's Brisbane, Sydney and Melbourne legs which were set to kick off in just over a month.

The festival's promoter AJ Maddah had tweeted on Thursday evening that the festival was off "due to poor ticket sales", then tweeting that he'd unsuccessfully "tried to get RAGE AGAINST THE MACHINE back together" to plug the gaps in the lineup.

Veteran American rock act L7 pulled out of the huge touring festival with a short statement on Facebook. On Tuesday, British headlining act BRING ME THE HORIZON indicated they were not even confirmed yet, despite the band's name featuring prominently on the Soundwave website. The band is one of Soundwave's major drawcards, having hit no.1 on the ARIA charts with its last three albums, including the recent release, That's The Spirit.

You can read the initial report HERE. However, just when you thought there was no hope, a group of bands that were supposed to perform have banded together to create their own music festival, dubbed Legion Music Fest, led by DEVIL YOU KNOW guitarist John Sankey. Evidently the plan is to make the event the world's first fan-funded msuic festival.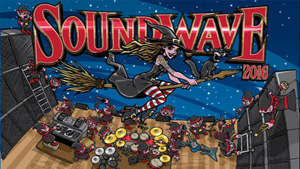 Sankey checked in with this update via the Legion Music Fest website HERE, with a video below as well:
"Hey guys,
There's so much to fill you in on so I just wanted to put together a note to let you know where everything's at.
Firstly, I just wanted to say that we have been absolutely blown away by your support! We already have a heap of brilliant bands that have reached out to us and will have confirmations soon so, hopefully, we will be able to start announcing the line up this week.
We're going to try really hard not to drip feed the line up to you but, because this is all happening pretty quickly, it might come through in bits and pieces because we want to get you the info as soon as we have it.
In terms of the lineup, I know a lot of you have asked if we'll be supporting local, Aussie bands and you can rest assured that we'll absolutely be doing that. There's way too much talent in Australia to overlook.
We'll be getting the official kickstarter campaign up and running this week. It's going to include information about pledging and more info about the event itself. We'll keep adding info to the kickstarter and the website over the next few weeks, including the full event budget. We want to be really transparent with you guys and we wan't you to know exactly where your money will be going. We thought it would be best to let you get through Christmas and everything first so we won't be accepting pledges til the 2nd January. We know its really important to everyone that they feel confident that these shows will go ahead. That's why we're doing the kickstarter campaign: so you can become a founding member of LEGION and pledge your support to the festival without actually handing over any money until we're all 100% sure that we can fund it and it can go ahead.
I know a lot of you guys are still trying to sort out ticket refunds for SW. Because we can't put this event on without ticket sales, unfortunately we can't do free tickets, but we're going to figure something out to look after you. Still working it all out but will let you know more really soon.
About the dates….I know a lot of you were hoping that we'd keep it on the same dates as SW because you've already got flights, accom etc booked. While we're reaching out to a lot of the bands on the SW lineup we're basically creating a new festival from scratch and there's a shit load of work to do. We'd love to have made it happen on the same dates for you guys but it's just not possible to get it all together in time. We want to make sure we put on the best gig possible for you so we need to allow enough time to make sure it's awesome. LEGION will happen in MARCH 2016.
At this stage we're still nutting out the exact dates and locations but we're still looking at all options and will be able to let you know more really soon.
We've had phenomenal support from the industry have had a number of companies come on board to help handle the event logistics. Only a few days into this thing we already have a team of industry leading professionals that can handle event production, site management, ticketing and more. Australia has really risen to the challenge and are 100% behind us and this band/fan driven concept.
For now I'm going to get back to it so I can get you more info over the next few days but please keep up the awesome positivity and support. The more you can share this around, the better chance we have of pulling this thing off.
Let's do this!
Cheers,
JS"