ART OF ANARCHY, the band that featured Bumblefoot, John Moyer, Jon Votta, Vince Votta and the late Scott Weiland, are now offering a free digital copy of their album during the holiday season in Scott's memory.

Says the remaining band members:

"We hope everyone enjoys listening as much as we enjoyed creating it."

Get your free download right HERE.

Scott's STONE TEMPLE PILOTS bandmates: Dean DeLeo, Robert DeLeo and Eric Kretz have honoured their fallen vocalist with the following letter and song, which you can check out below:

"Recently the three of us sat down together to share our memories of Scott and take a moment to reflect on the amazing times we shared. We put the master up of a song called "Atlanta" from the No. 4 record that we feel really highlights the true brilliance of Scott. We would like to share it with you.

Together let's honor Scott… "Memories Of Candles And Incense". Having the opportunity to listen to these tracks individually reveal the beauty of Scott's lyrical and melodic gift. This is one of the many musical moments we shared together. It is in this way we would like to remember Scott."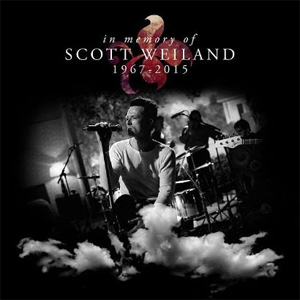 Website HERE has reported that according to the toxicology results, Weiland overdosed on cocaine, MDA (ecstasy) and alcohol. Heart disease and asthma were also "significant" condtions, and Scott's "multi-substance dependence" were also a factor.
As it was reported first here on KNAC.COM, Weiland was found unresponsive in the back bedroom of his tour bus before a gig on December 3rd in Minnesota. He was buried in Los Angeles, California on December 10th. STONE TEMPLE PILOTS and VELVET REVOLVER members attended the funeral service at the Hollywood Forever Cemetery.
You can now donate to MusiCares HERE in memory of Scott Weiland. When donating, for donation type select 'tribute'. On the second page, put "In Memory of Scott Weiland". You then have the option to write a personal message. Notes and donor names will be shared with the Weiland family. MusiCares provides a safety net of critical assistance for music people in times of need. MusiCares' services and resources cover a wide range of financial, medical and personal emergencies, and each case is treated with integrity and confidentiality. MusiCares also focuses the resources and attention of the music industry on human service issues that directly impact the health and welfare of the music community.