MOTORHEAd vocalist Lemmy's favorite establishment, The Rainbow Bar & Grill in West Hollywood, has announced a memorial service for the fallen metal icon:

"Join us Saturday, January 9th as we say goodbye a dear friend and loved one. We will open our doors at 2:00pm."

To keep up to date on the event, visit the Rainbow's official Facebook page HERE.

Lemmy Kilmister passed away on December 28th at the age of 70 following a brief battle with an aggressive cancer. His bandmates Mikkey Dee and Phil Campbell have posted messages about their fallen leader.

From Mikkey Dee:

"Lemmy!

My bandmate. My friend. My brother.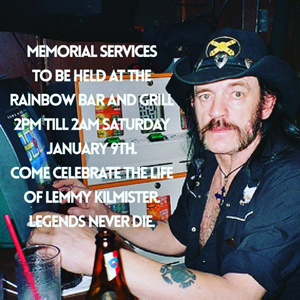 There are no words to describe the emotions running through my mind at this point but I could write thousands and thousands of words of all we created and experienced together.
It has been a true honor and a privilege to play with you and share all this time brother.
I celebrate every moment we shared…you bastard. I know I'll see you sometime in the future and maybe I'll join your band again…but this time, let's go a bit slower buddy.
There is a big black hole here now that no one can ever fill. No one...
Later Lem
Mikkey
P.S I am deeply moved by all the care and love that has come in from fans, friends and fellow band mates from all over the world. I appreciate each and every one of you. Now, let's make Lemmy proud and carry on his legacy."
From Phil Campbell:
"Unfortunately by now everyone reading this post will have found out that MOTORHEAD is no longer. I'm still trying to come to terms with everything but I've been totally overwhelmed with the well wishes and stories about how Lemmy & MOTORHEAD affected people's lives.
I genuinely would like to thank everyone who's supported MOTORHEAD over the last 40 years. Please turn it up to 11 and celebrate Lemmy's life to the full."