Influential and iconic heavy metal band DIAMOND HEAD have announced their first album of new material in eight years. Entitled Diamond Head, the album features an exciting new talent in singer Rasmus Bom Andersen.

DIAMOND HEAD invited London based, Danish-born Ras to join the band in 2014. Together they completed a European tour, which included appearances at Hard Rock Hell and Head Bangers Open Air in Germany.

The spark of creativity led the band to start working on the new album in January 2015. Brian Tatler, founder of DIAMOND HEAD, said: "When we began talking with Ras about making a new record he said we should write the songs as a band just like Diamond Head did at the beginning of our career. There's no substitute for writing together in the same room, we spark each other off and create something far bigger than we could have done individually."

Brian continued, "Ras has certainly renewed the energy within the band. I had no interest in doing another record but after working with Ras on the European tour that all suddenly changed. I wanted to make a record with him. He's a confident singer and he's not trying to fill anyone's shoes."

Brian Tatler joined members of METALLICA, MEGADETH, SLAYER and ANTHRAX at the UK's Sonisphere Festival in 2011, performing DIAMOND HEAD's classic song, "Am I Evil?". METALLICA drummer Lars Ulrich addressed the crowd, saying: "If it wasn't for Brian Tatler there's a pretty good fucking chance none of us would be here tonight. Would you give it up for Brian Tatler one more time?"

Speaking about this event, Brian said: "It was great. A nod towards DIAMOND HEAD to say, 'Respect. You're an important band. You might not have sold millions of records, but you're an influential band.' And it's nice to be influential". Brian continued, "But equally if it wasn't for METALLICA, then DIAMOND HEAD would not have had this second wind."

Speaking about the new album, Brian said: "This new album has an echo of the early albums but I always try to push our music forward somewhere new if possible."

Ras adds: "All in all this album was made with the band's first fans foremost in mind from start to finish. We wanted to write songs that would have ties to the best parts of the all the previous albums. We feel we have achieved what we set out to do and we hope everyone will hear and feel the DIAMOND HEAD spirit through this new eponymous record."

In general the album lyrics focus on political and environmental themes, specifically warning that our world is in many ways leaning towards self-destruction. The opening and closing songs encapsulate these themes, while the body of the album explores subtopics in more depth, along with songs dealing with lighter subjects that aren't so heavy on the heart.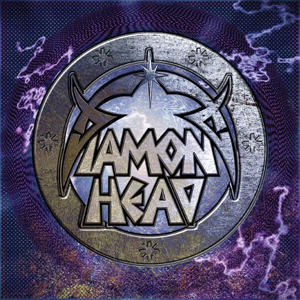 Tracklisting:
"Bones"
"Shout At The Devil"
"Set My Soul On Fire"
"See You Rise"
"All The Reasons You Live"
"Wizards Sleeve"
"Our Time Is Now"
"Speed"
"Blood On My Hands"
"Diamonds"
"Silence"
Band lineup:

Brian Tatler - Lead, Rhythm Guitar
Rasmus Bom Andersen - Vocals
Karl Wilcox - Drums
Eddie Moohan - Bass
Andy Abberley - Rhythm, Lead Guitar

Physical copies of the album on CD and vinyl will be available direct from diamond-head.net. Digital distribution in all mainstream stores.