With the release of their forthcoming fourth album, Earthbound, a matter of weeks away, BURY TOMORROW have revealed a video for the new single, "Last Light".

Speaking of the track and the accompanying video, singer Dani Winter-Bates says, ""Last Light" is about the acceptance of death, the video uses animation which is something we've never done and it's turned out awesome... It can be taken two ways - either the loss of sanity whilst grieving for a loved one or the literal descent into the after life. I feel like the song itself shows a lot more of our melodic side."

Earthbound will be released on January 29.2016 on Nuclear Blast Records. Watch the video for "Last Light" on KNAC.COM right HERE.

Earthbound track listing:
"The Eternal"
"Last Light"
"Earthbound"
"The Burden"
"Cemetery"
"Restless & Cold"
"301"
"Memories"
"For Us"
"Bloodline"
Watch the official music video for album's title track on KNAC.COM right HERE.

Earthbound certainly finds BT on a more concise form than ever before: ten tracks that get in, batter you across the face, and get out again with precious little time for respite or caught breath. Hardcore mentality for a metalcore generation.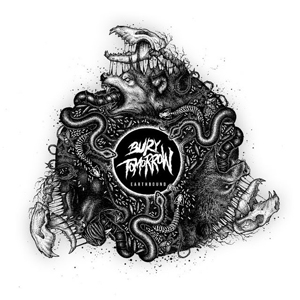 "A big thing for us this time around was to get down to the real nitty gritty of what our fans wanted from us and how to give them without wasting a single second," continues Dani. "With Earthbound we wanted pace, we wanted heaviness, and for me, personally, I wanted to write a record which was the sonic embodiment of a circle pit. I think we've done that."
With notable influences ranging from axe-slinging new wave of American heavy metallers UNEARTH and DARKEST HOUR to the apoplectic fury of TERROR and MADBALL, this is one that will get the pit spinning with such ease.
Fans of the heavy stuff will still find plenty to grasp onto here, it's the now trademark interplay between Dani and guitarist and vocalist Jason Cameron which sets Earthbound apart. "It's much more mature in the interplay between me and Jason," Dani notes. "We've been playing together for ten years now and it feels like we have an almost telepathic understanding of one another. We've always wanted to be like one vocalist in two parts and I think we've achieved that here."
One listen to the sky-scraping euphoria of "Last Light" or the call-to-arms swagger of the title track will tell you that Dani isn't lying: monstrous anthems from a band who is coming of age as a truly astonishing force of musical nature. Elsewhere, the chastising punch of "301" sees HATEBREED's Jamey Jasta lending his iron lungs to the shattering event.
"More than anything that song is about how our music belongs to our fans first, those first 301 people who run to Youtube who want to check it out and are excited about it. It's kind of a "fuck you" to all those people who go 'BURY TOMORROW aren't proper metal' or whatever. It's Jamey fucking Jasta and I know our fans are going to love it."
It's that focus on their fan base which has made BT not only one of the best, but one of the most well-loved bands working in the UK today, and, in Dani, one of the most charismatic frontmen imaginable.
With Earthbound looming on the horizon, BURY TOMORROW's fortunes look set to go through the roof and all the hard work pay off in spades..
"Where we are now is where we've always wanted to be," smiles Dani. "And now we're in the position to truly deliver on what we've promised so far. We aren't going to let anyone down."