Christian Metal Masters METATRONE have announced that they will be releasing their brand new album Eucharismetal on March 11, 2016 via ROCKSHOTS Music.

Priest Davide Bruno (keyboards) and Stefano Calvagno (guitar) teamed up with Joe Lombardo (vocals), Dino Fiorenza (bass), Salvo Grasso (drums) to write, record and produce themselves the most cohesive sounding METATRONE album to date.

Commented Stefano Calvagno:

"We are very satisfied, we've worked hard for many months on this record and it sounds great. We paid a lot of attention on the arrangements, we grew up a lot musically, it's a mature album and I think it could be a masterpiece of whitemetal/power prog genre".

Priest Davide Bruno added:

"Eucharismetal is the best picture of the fusion of our being musicians in Corpus Christi, in the Eucharist which our music is feeded. This is why we choose Him as the title of the album, it's very heavy sounding lyrically and musically. Lyrics are based on our live experiencies, our hopes, our wishes, our struggles and forgiveness: all of that connected with the Holy Scripture. Musically the fans could find a lot of surprises, more growl vocal parts and tons of heavy guitar riff bended with the great melodies sung by Joe (Lombardo). You will not be disappointed, METATRONE are back!"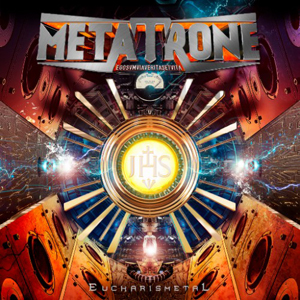 TRACKLIST:
"Alef Dalet Mem"
"Molokai"
"Beware The Sailor"
"Wheat And Weeds"
"Latest News From Light"
"In Spirit And Truth"
"Mozart's Nightmare"
"Keep Running"
"Salva l'Anima"
"Una Parte Di me"
"Regina Coeli"
"Alef Dalet Mem" (Italian Version - Bonus Track)
"Lascia Che Sia" (Bonus Track)
The new Video "Latest News From Light" can be seen on KNAC.COM right HERE.

Cover Art by Nello Dell'Omo (Art For Music), Mixed & Mastered by Riccardo Samperi at TRP Music Studios (www.trpmusic.com)

Along with Eucharismetal, new versions of the previous records The Powerful Hand (Remastered) and Paradigma will be released with Bonus Tracks!

PRE ORDER AVAILABLE - http://metatrone.bigcartel.com