CAVO To Release Bridges January 29th


By Larry Petro, News Monkey
Wednesday, January 20, 2016 @ 1:45 PM


| | | |
| --- | --- | --- |
| | | An Album Of All New Material |
After a four year hiatus St Louis rockers CAVO have returned to their original roots with their new effort Bridges to be released on January 29. The dozen-song set showcases the bands balance of rocking abandon, infectious melodic craft and raw-nerved emotional depth, boasting a compelling set of new compositions.

Four years is not that long, relatively speaking. But in the case of CAVO, four years speaks to more of an eternity than some may realize. It doesn't take much in this day and age for a band to break up. It takes a lot more effort to stay together, not to mention sustaining the want that got them together in the first place. So imagine a band, completely lost and void of the will to keep moving forward. In that reality, four years can seem like forever. And that's where CAVO's story really picks up. "There just wasn't anything left to give." Explains singer Casey Walker. They had tried everything. 'More guitars,' 'scream it don't sing it,' 'pick up the pace,' etc, etc. It didn't work. Not for CAVO. No one believed it anyway. So they decided to stop. It was time to put this aside. And they did.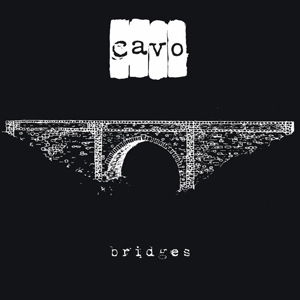 But then something happened a while later. The want slowly started creeping back in. Not quickly, but little by little, over time. But the want this time was different. It didn't feel the same. Something had changed. For once, it wasn't about what someone else wanted. It was only about the four of them and what they wanted. No label, no producer, no agent, no manager, no one but them. And it felt right.
The new album was crowdfunded by a Pledge Music campaign, produced BLUE OCTOBER's Matt Noveskey and contains 12 musically and lyrically pointed new tunes such as first single "Stay", "On Your Own", "Take Me Home" and "Fight This War", all carrying a familiar sonic and emotional punch and filled with a sense of perseverance. They decided to call it Bridges because they felt like they had crossed over to someplace new. A place where CAVO could just… be CAVO.
"This record is completely ours," Walker adds. "If other people like it, great. If they don't, that's fine too. The fans will understand this record, and we feel we have to honor their support by creating something that is 100% CAVO. They would see right through it if we didn't."
In their own words, with no expectations. Just a new beginning.




Please log in to view RANTS

If you don't have a username, click here to create an account!