Symphonic metal act XANDRIA have checked in with the following update:

"Yes all of us have recently counted down to welcome 2016 but there is another cownt down that starts right now! And that is that towards us boarding the nightliner again and driving across Europe for the "Symphonic Metal Nights" tour! Together with our friend from SERENITY (Austria) and JADED STAR (Greece) you will find us in:

GERMANY | AUSTRIA | SWITZERLAND | ITALY | FRANCE | UNITED KINGDOM | THE NETHERLANDS | CZECH REPUBLIC | BELGIUM

Now for those who did not yet buy their tickets: here are two extra reasons why you should not miss out on this tour:
VIP - upgrades
Premiere of 4 never performed before XANDRIA songs!
VIP - upgrade!

Those lucky 20 (per city) who can get their hands on a VIP-upgrade will have the unique experience to.. Meet the bands! | Receive a VIP laminate pass! | Have an early entry and... | Witness an acoustic session of all bands performing 2 songs. The 2 songs performed by XANDRIA will be 2 of the 4 songs that we have never performed before and that won't feature in the show setlist.

Premiere of 4 never performed XANDRIA songs!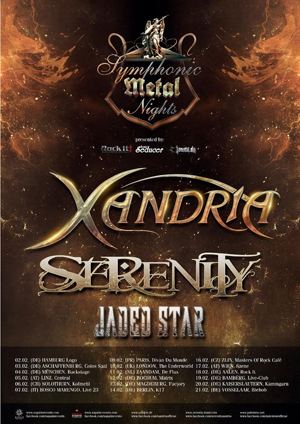 Next to the 2 acoustic songs that we will perform we also asked our fans on Facebook which songs that had not yet featured in our setlists they would like to hear live! The response we received whas overwhelming and thanks to all their comments we we able to add 2 new, never performed before, songs to our live set. Give it up for:
"Little Red Relish" from our Sacrificium album
"Call Of The Wind" from our Never Worlds End album
Convinced? Then your next steps are to: purchase a ticket for the show and to get your VIP-upgrade!

The "SYMPHONIC METAL NIGHTS" tour
02/02 Logo - Hamburg - DE
03/02 Colos Saal - Aschaffenburg - DE
04/02 Backstage - Munchen - DE
05/02 Central - Linz - AT
06/02 Kofmehl - Solothurn - CH
07/02 LIVE23, Bosco Marengo - Alessandria - IT
09/02 Divan Du Monde - Paris - FR
10/02 Underworld - London - UK
11/02 De Flux - Zaandam - NL
12/02 Matrix - Bochum - DE
13/02 Factory - Mageburg - DE
14/02 K17 - Berlin - DE
16/02 Masters of Rock Cafe - Zlin - CZ
17/02 Szene - Wien - AT
18/02 Rock it - Aalen - DE
19/02 Live-Club - Bamberg - DE
20/02 Kammgarn - Kaiserslautern - DE
21/02 Biebob - Vosselaar - BE