Photos By Halo
The large medieval-esque chandeliers hanging overhead made this large venue feel a sense of intimacy. Warehouse Live in Houston, Texas on December 30th, 2015 was the place to be if you truly love metal. I'm not talking about a mild soft-core, warm fuzzy crowd. I'm talking about true badass metalheads that were there to bang heads and throw horns in the air. Quite honestly most of this audience I wouldn't want to piss off. I was there to interview Jill Janus, lead vocalist of HUNTRESS. HUNTRESS was direct support to BLACK LABEL SOCIETY on a six city tour and was celebrating their third album release, Static, the third album of the trilogy. The first album was Spell Eater. Starbound Beast was the second of the trilogy which gained them a large appreciation from the metal world. All three albums were released under Napalm Records. Jill was very appreciative and complimentary of HUNTRESS' relationship with Napalm.
After my one on one interview with the most gracious and open Jill Janus, I left the dressing room having made friends with one of the most progressive women in metal. She truly surprised me.
THE SRHINE was due to play before HUNTRESS but had to cancel due to weather conditions. HUNTRESS took the stage about 8:15 p.m. with great command. If you have never seen Jill Janus/HUNTRESS in person you truly would have no idea of the stage presence she possesses. Her opera and theater background makes for a wickedly mesmerizing performance. Her vocal range is unreal and in person watching her theatrics sends you into a celestial trance. The first song the band started their set off with was "Sorrow" from the newly released album, Static. "Sorrow" has kickass guitar solos and lyrics containing phrases such as "My hate feels the pain, I get trashed to fuck my brain" sucks the audience in. The crowd was growing by this point and drawing new fans in.
The next two songs, "Senicide" off of Spell Eater and "Destroy Your Life" from StarBound Beast showcased this quintet's abundance of talent. Rhythm guitarist Blake Meahl, his brother Tyler Meahl on drums, lead guitarist Eli Santana and Spencer Jacob Grau on bass, mixed with Jill's enigmatic presence, were proving to this audience they truly belong, have been understated and that they are a force to be reckoned with. "Brian" off of Static was the next on the list, a sentimental song of sorts that is closest to a love song if I was to classify it.
The 6th song was the title track from the new release. The bass guitar and heavy drums on this song made this one of the hardest in my opinion. The next few songs paid respect to the first and second albums of the trilogy. A little later in the set was the second love song, "Fire In My Heart" from Static, which was written by Jill with Glenn Danzig as the inspiration. She said he's someone she's always had a thing for. Next came "Flesh", my favorite from the Static album. Some of the most bizarre and intriguing lyrics off the album are "what makes me want you bad? Well, I can't stop craving your flesh". This song is about a female serial killer hunting women for their flesh. Hell, you can't get more metal than that!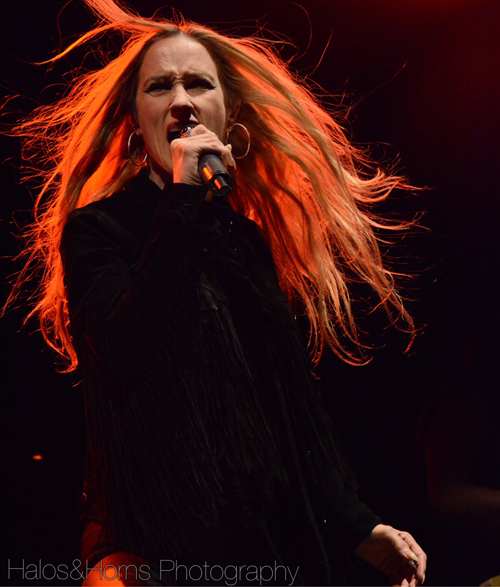 One of the last songs performed was titled, "I Want To Fuck You To Death". This was an emotional break in the show. The song was written by Lemmy Kilmister of MOTORHEAD, who had passed away just two days before. Jill explained that Lemmy had written the song. He handed her a piece of paper with this song on it and she said it was the most romantic thing a boy ever did for her (Seriously). The crowd laughed but she truly meant it. After she told this story, the audience paid a heartfelt homage to the late great Hellraiser led by Jill raising her hand up with a shot of Jägermeister and the crowd followed suit.
The last of thirteen songs performed was "Eight Of Swords" from the Spell Eater album. This song encompasses all things metal. It spotlighted vocals, guitar, drums and was absolute electricity. After the kickass set, the number of HUNTRESS fans undoubtedly grew to include a large number of those who came to see BLACK LABEL SOCIETY. HUNTRESS fans are anxiously awaiting what's next. The trilogy is complete. I would not be shocked to see HUNTRESS as the headliner on their next tour.
Jill thanked BLACK LABEL SOCIETY and Zakk multiple times for inviting them onto the tour and HUNTRESS delivered and made their presence known. Jill's octave range and operatic vocals are from another planet. Eli, Blake, and Spencer all feed off each other with Tyler keeping the beats and making the show a dark theatric heavy metal odyssey.
Check out some more photos from the show!
Photos By Halo/Halos & Horns Photography