Roxx Records is extremely excited to be re-releasing one of classic Christian metal's most celebrated artists, RECON. This March the label will deliver a special 25th anniversary Limited Edition pressing of Behind Enemy Lines on both CD and vinyl.

RECON burst on to the metal scene in 1988 with a 4-track cassette-only demo, which was the norm back when file sharing was mix tapes sent through the mail to and from tape traders. The band soon followed this up with two classic tracks that were released on the Regency Records compilation, California Metal 2. Then, in 1990, Intense/Frontline Records released the band's full-length debut, Behind Enemy Lines.

RECON was originally launched by DELIVERANCE axe master, George Ochoa, who also produced the melodic power metal album. The album was originally released on CD and cassette tape, both of which are extremely rare and hard to find today. There was even a one-time CD reissue from M8 records, which is equally as rare to find. Collectors might have been lucky enough to get their hands on a copy of a small run of a European-only release on vinyl. Traders in rare Christian metal will tell you that this vinyl release is "next to impossible to find" today. All that changes with this Limited Edition re-release on Roxx Records.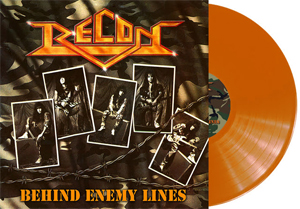 This special one-time Limited Edition vinyl reissue of this classic metal album features all the original tracks completely remastered for vinyl on both coloured and black vinyl. The album is set to feature the original album art, completely restored and enhanced for this special pressing. This one-time pressing features 100 copies on orange vinyl and 200 on black vinyl, for a total pressing of only 300 pieces.
There will also be a very special Limited Edition CD pressing of only 300 copies, which is set to feature all of the original tracks from the album completely restored and remastered. The CD will also include 4 additional bonus tracks. These tracks will be both tracks from the original California Metal 2 compilation and 2 of the original 4 demo tracks that helped launch RECON.
These bonus tracks also get a special re-release treatment. George Ochoa located the original master reels of these demos and had the tapes baked, digitized and completely restored and re-mastered for this special release. These recently found and restored demos sound crisper and better than ever before. No one has ever heard these demos like this before.
RECON Behind Enemy Lines is scheduled to be released on March 18th. This coming year is set to be an excellent year for Christian metal fans and Roxx Records are just getting started. "We have much more in store for you as this year goes on," promises Bill Bafford, "so stay tuned!"