OPERATION:MINDCRIME Live In Arizona With Photos!


By CrpnDeth, Staff Photographer/Writer
Sunday, March 6, 2016 @ 1:05 PM


| | | |
| --- | --- | --- |
| | | The Key World Tour 2016 |
All Photos By Lisa Legz Photography LLC

The vast majority of us who have listened to the same band throughout the years undoubtedly feel that the band members do not belong in any other band, other than the one we are used to. Bruce Dickinson. Rob Halford. And yeah, Geoff Tate too.

While the entire gig showcased a stellar performance by all musicians, and I do mean stellar, in a sense it was still very disappointing. True, Geoff is showing signs of not being able to hit those trademark notes like he used to, but he compensates well for it. It doesn't really stand out unless you truly have the songs of old engraved in your brain, note for note. Sadly, we do and that was all the band seemed to want to play. There was very little to promote solo or OPERATION:MINDCRIME work, which shows the band is missing the boat. While the band is obligated to play certain songs, the set list needs to be changed up radically to also allow room for growth of the new lineup. Several songs could have been dropped to make room for newer material. Otherwise, they are doomed to be a QUEENSRYCHE coverband for the rest of time. They definitely have the talent to widen a few eyes musically if they change things up.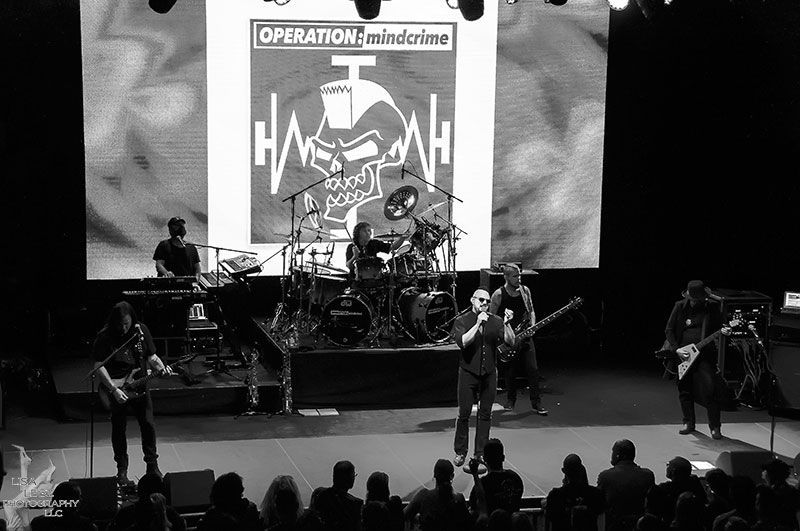 Direct support came from Arizona locals the PETE CUMMINGS BAND. The band did a phenomenal set getting the crowd riled for OPERATION:MINDCRIME. Within their arsenal was "Bad Motor Scooter", "Cult Of Personality", "Ramble On", "Won't Get Fooled Again", "Bark At The Moon" and "Highway Star".

OPERATION:MINDCRIME Set List
"Neue Regel"
"Screaming In Digital"
"I Am I"
"One More Time"
"The Hands"
"I Don't Believe In Love"
"sp00L"
"At 30,000 Ft."
"Jet City Woman"
"Take Hold Of The Flame"
"Silent Lucidity"
"The Weight Of The World"
"Re-Inventing The Future"
"The Stranger"
"Burn"
"The Fall"
"Damaged"
"Walk In The Shadows"

"Tribe"
"Eyes Of A Stranger"
"The Thin Line"
"Empire"
Check out a few photos from the show!
All Photos By Lisa Legz Photography LLC




Please log in to view RANTS

If you don't have a username, click here to create an account!






CRADLE OF FILTH Existence Is Futile

BEAST IN BLACK Dark Connection

MASSACRE Resurgence

DREAM THEATER A View From The Top Of The World

JAY JAY FRENCH Twisted Business: Lessons from My Life in Rock 'N' Roll

BLACK LABEL SOCIETY, PRONG And OBITUARY In Portland, OR With Photos!

GEMINI SYNDROME 3rd Degree - The Raising

DORO/WARLOCK Triumph And Agony Live

BETWEEN WORLDS Between Worlds

ALCATRAZZ V

BEHEMOTH Sventevith (Storming Near the Baltic) Reissue

ALICE COOPER, ACE FREHLEY In Nashville, TN With Photos!

CARNIFEX Graveside Confessions

BLOOD RED THRONE Imperial Congregation

GUS G. Quantum Leap

BILLY IDOL The Roadside EP

AVATAR, MAGIC SWORD In Houston, TX With Photos!

APRIL WINE, MONKEYJUNK At The Ottawa Bluesfest

MINISTRY Moral Hygiene

CRYPTA Echoes Of The Soul

SKILLET In Houston, TX With Photos!

Immortal Axes: Guitars That Rock Book

IRON MAIDEN Senjutsu

GRINDER BLUES El Dos

GEORGE LYNCH Seamless Review #2

IN THIS MOMENT, BLACK VEIL BRIDES In Houston, TX With Photos!

WARLANDO Festival 2021 Photo Gallery

KISS In Ridgefield, WA With Photos!

LAURENNE/LOUHIMO The Reckoning

TREMONTI Marching In Time

ROCKLAHOMA 2021 Day 3 Photo Gallery

ROCKLAHOMA 2021 Day 2 Photo Gallery

ROCKLAHOMA 2021 Day 1 Photo Gallery

CARCASS Torn Arteries

SETH La Morsure de Christ