All Photos By PEter Atkinson
SLAYER, TESTAMENT and CARCASS would have been a wet dream of a bill for metalheads 25 years ago, when the bands were all in their relative primes. That it still is today says something not only of the remarkable staying power of each, despite their many travails – indeed CARCASS split up for a decade before coming back stronger than ever in 2007 – but also thrash/death metal's enduring audience, something SLAYER frontman Tom Araya alluded to during one of his unusually whimsical addresses to a sold-out Fillmore crowd.
"You're never too old for music," he said, after noting the many other "old farts" amid the writhing sea of relatively younger faces packing the Fillmore's floor space. All three bands proved that with abandon.
CARCASS led things off before an already pretty packed house with a brutally efficient 40-minute set evenly split between their triumphant 2013 comeback album Surgical Steel and some older nuggets – though nothing from the gore-grind early days of Reek Of Putrefaction or Symphonies Of Sickness. They reached as far back as 1991's transitional Necroticism – Descanting The Insalubrious, one of "melodic death metal's" pioneering albums, for the gritty but groovy "Corporal Jigsore Quandary" and "Incarnated Solvent Abuse".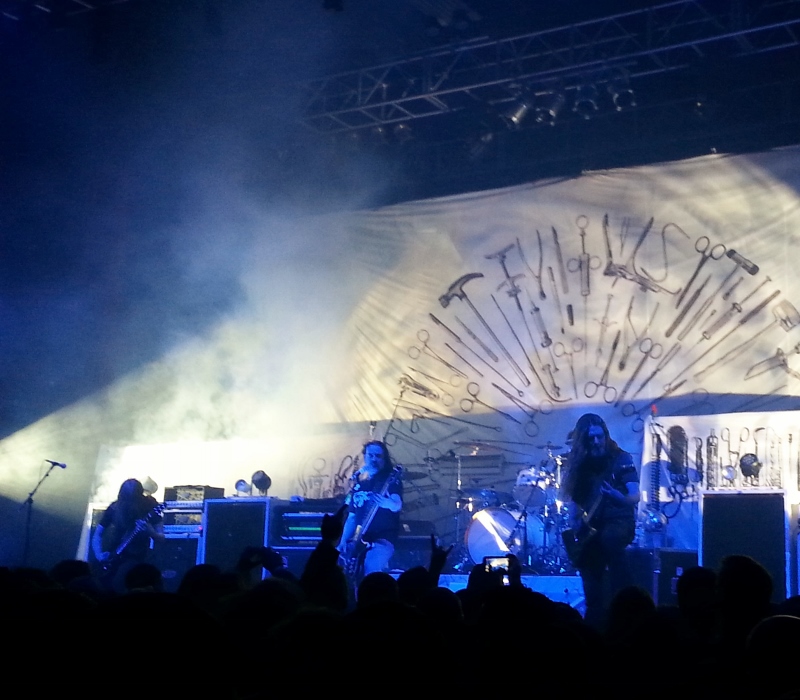 New tracks like "Unfit For Human Consumption" and "Captive Bolt Pistol" were dispatched with equal vigor, led by the rivet-gun drumming of Dan Wilding and snarling vocals of bassist Jeff Walker. The sleek lead work and crunching hooks of guitar tandem Bill Steer and Ben Ash added depth and dexterity, and the band's set was a catchy as it was concussive.
TESTAMENT, too, were all business and balls out during their hard-charging 40 minutes. They picked up where CARCASS left off and never let the electricity ebb, tearing through a nicely mixed set that included several deep cut rarities - "Dog Faced Gods" and "Legions Of The Dead" - newer barn-burners "Rise Up" and "The Formation Of Damnation" and the inevitable classics "Practice What You Preach" and "Into The Pit".
Drummer Gene Hoglan was every bit the "Atomic Clock" of his nickname, flawlessly driving things along with his galloping double-bass rolls and athletic fills that ensured the pace was never anything less than punishing. Even though TESTAMENT's overall sound seemed a bit mushy, they made up for it with sheer aggression – which no doubt had something to do with CARCASS nipping at their heels and, of course, SLAYER coming on next. But these guys are "old pros" and proved it, and when frontman Chuck Billy promised "a good night of metal," he wasn't kidding.
As for SLAYER, their thrash metal machine just keeps rolling. The band have overcome the potentially calamitous gut punches of the death of guitarist Jeff Hanneman, who crafted many of SLAYER's classic tunes, and the almost simultaneous departure – yet again - of original drummer Dave Lombardo, and soldiered on seemingly through the sheer force of will of Araya and guitarist Kerry King. And while the band's first post-Hanneman album Repentless from last fall was something of a mixed proposition, when it comes to the live stage there are still few, if any, acts that can match SLAYER's almost otherworldly intensity.
And this night was no different. The band's 22-song, 100-minute set was perhaps the most generous, and longest, of the ump-teen – or rather ump-twenty – times I've seen them going back to 1986, just after Reign In Blood had come out. I certainly qualify as one of the "old farts" Araya spoke of.
But this wasn't a matter of quantity over quality. SLAYER were as fearsome and commanding as always, whether serving up new numbers "You Against You" or "Take Control" or making the Fillmore go ballistic with revered standards "Angel Of Death", "Chemical Warfare", "Hell Awaits", "Raining Blood", "War Ensemble", ad infinitum.
Repentless was given a pretty fair nod, with the band airing in five new tracks, while Diabolus In Musica, Divine Intervention and Christ Illusion were ignored. But that was nothing to complain about as the new album's title track got things off to a rousing start and the more brooding "Pride In Prejudice" and "When The Stillness Comes" helped vary the pace – along with more legendary counterparts "South Of Heaven" and "Seasons In The Abyss" - of what was a well-balanced and quite satisfying set.
EXODUS guitarist Gary Holt has been filling Hanneman's spot for five years now, and returning drummer Paul Bostaph has been back for three, and both are obviously comfortable and confident as part of the SLAYER juggernaut - and have energy to burn. The band never really lost a step when either came onboard, and despite the looming presence of Hanneman in the many songs of his they still perform, this SLAYER lineup are a more familiar, natural unit now – not to mention, looser.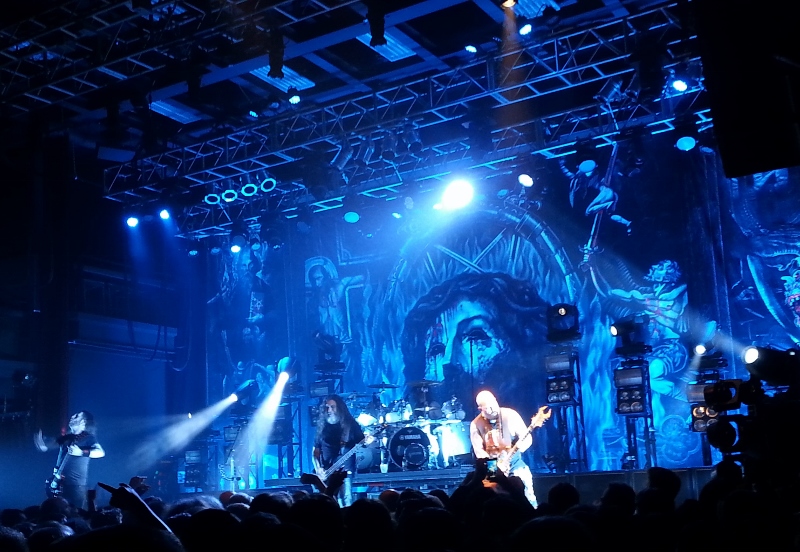 Indeed, while King remained his usual attack dog self, striding around stage left like he was guarding his turf, Araya - who I overheard someone describe as "Satan's grandpa" - not was only in fine voice at the Fillmore, but in good, even mischievous humor. He spent one break jawing with a fan he recognized from the previous gig in Philadelphia, while then telling everyone the dude had spent most of that show in a drunken stupor draped over the security barrier.
"Glad to hear you're fucking all right tonight," Araya laughed.
And that probably summed it up for everyone at the Fillmore. After a three-plus hour battering by three veteran bands who are still at the top of their respective games after more than 30 years, new fans and old farts alike left feeling "fucking all right" - and maybe needing some clean pants.