Classic Pennsylvania band ASSASSIN will see their 1983 album, License To Kill, reissued by Heaven And Hell Records on CD for the first time ever.

Formed in the early 1980s, ASSASSIN appeared onto their local circuit quick and precise. The band's execution NWOBHM flavored US hard rock/heavy metal took no time to start gaining them a reputation as one of the most happening bands in their area.

In 1983 they would independently release a two song 7" single with the tracks "Feels So Good" and "Fools Don't Know" that would garnish a fair amount of radio play in surrounding states. It would not be long until word would begin to travel leading to the band picking up supporting gigs for bands such as DERRINGER, HEADPINS, QUIET RIOT, and even going out as tour support for other acts of the era.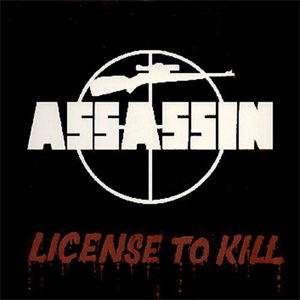 In 1983 the band would release their eight song debut full-length album License To Kill through small local Pennsylvania label Micro Mix.
ASSASSIN would later disappear as if their job was done. Their name and releases would become circuit legend and cult heroes for many. As the heavy metal revival would move from the late 1990s into the next millennium demand for their releases would increase and the records began to fetch hefty prices as interest in all that is '80s heavy metal would grow, especially US heavy metal.
Time is now to pull the trigger on this album that is well overdue to see a reissue and a first time release on CD. This release will include the full eight track License To Kill, the 1983 single all remastered from the best possible sources, an eight page booklet including never before seen photos, essay about the band, and full lyrics. There could possibly even more. Release will be limited to 500 units.
More information and release date as it comes available.