Help Solve MALICE Stolen Guitar Mystery, Reward


By Larry Petro, News Monkey
Monday, March 14, 2016 @ 2:50 PM


| | | |
| --- | --- | --- |
| | | Guitarist Battling Cancer Offers Cash Bounty For Stolen Guitar |
Calling all Detectives! All those living in the Northwest Portland, Oregon rock scenes.

MALICE Guitarist Mick Zane is offering a cash bounty for the return of his stolen 1977 Custom Black Beauty Les Paul. $1000 cash reward if you can help him find it. Mick is battling terminal cancer and it's his bucket list wish to find it and pass it onto his son.

Here's the story:

Mick's guitar was stolen in Portland, Oregon around Summer 1979 or 1980. Mick and his roommates threw a jam keg party at his house located on the corner of 82nd Street and Johnson Creek. Mick's band along with another band played that night on a concrete porch slab in the backyard. Your usual rock n' roll keg party with tons of people all over the house and the front and backyard drinking, having a good time. When they finished playing, Mick and his bass player (Michael Roser) put their guitars in Mick's room on the bed so they could load out some gear. It was his 1977 Gibson Les Paul Black Beauty and Michael's Fender P Bass. Mick asked a girl named Kelly to watch the bedroom door and to make sure no one went into the room until they were done loading out. Mick finished loading gear and he see's this girl (Kelly) roaming around the street. He says "Hey what are you doing? You're supposed to be watching our guitars!" He raced back upstairs and both guitars were gone. Mick suspected someone snuck them out the window so no one would see them.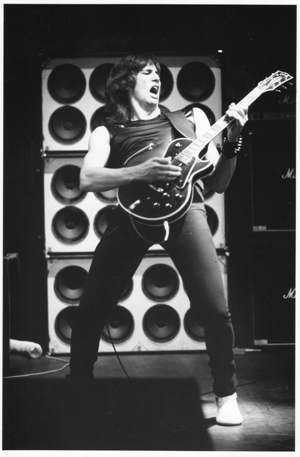 Mick searched forever for his Les Paul with no luck. He had an attachment to that guitar because he worked to save up $800 to buy it fresh out of high school. Just about that time, MALICE was chosen to be on the first METAL BLADE compilation record. Shortly after they made their record debut. Mick along with Guitarist Jay Reynolds, Vocalist James Neal, Bassist Mark Behn and Drummer Pete Laufmann all left Portland, Oregon and moved down to Los Angeles as MALICE began their assault on Sunset Strip in the 1980's.
This all began after Mick's first surgery. During his recovery time gathering his memory and collecting his thoughts, Mark Behn (Bassist MALICE) shared old band photos from their high school days. The one that stood out to Mick was the photo of his Les Paul. He remembered every time he went out to see bands at local clubs, he always looked for his missing guitar. It became an endless search unresolved. When you're faced with a serious illness and terminal cancer, you begin to seize the moments and do everything you want today, not tomorrow. Mick's search for his ax has been a lifelong obsession. No matter how much time has gone on, Mick always remembered that guitar. Now he really wants it back, and it's out there somewhere. Ca$h reward, no questions asked!
Anyone who knows any of these people mentioned like Michael Roser or Kelly is welcome to reach out to them or investigate on your own if you have law enforcement and serial number data base connections. If that guitar has ever been pawned since it was stolen, it's in a data base somewhere and can be traced. View the attached photo of Mick with his Les Paul, these are the original b/w promo shots taken of MALICE at The Portland Theater for METAL BLADE. Mick still has the original card from Gibson with the Serial Number and his name and proof of ownership. The guitar was purchased from Music Village in Portland, Oregon on April 19, 1977. If the person who has the guitar has a heart, they'll be a kind soul and return it. Mick does not care who stole it! He just wants it back.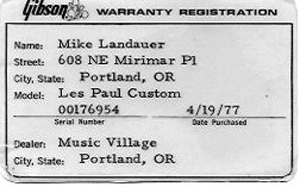 If you have any information please contact Larry Petro @ KNAC.COM (petrofyed@knac.com) and leave your information, any information you may have and your best call back contact number and e-mail.
Guitar Details:
1977 Gibson Custom Les Paul - Black Beauty
Serial Number #00176954 - Registered to Michael Landauer
Purchased at Music Village, Portland, Oregon, April 19, 1977

MALICE Guitarist Mick Landauer Cancer Fund
MALICE Official Facebook.




Please log in to view RANTS

If you don't have a username, click here to create an account!