NIGHT RANGER In Lake Charles, LA With Photos!


By Duane Vickers, Houston Contributor
Wednesday, March 16, 2016 @ 2:19 PM


| | | |
| --- | --- | --- |
| | | At The Golden Nugget Hotel And Casino |
All Photos By Sandra Gray/Gray Rockwear Photography
With the arrival of Spring and Summer fast approaching, that can mean only one thing: America's summertime, driving with your windows down and ultra fun Stainless Steel Rock Band, NIGHT RANGER! The boys from the Bay Area came in to Lake Charles, LA for a one-off Friday night show and a packed house at the Golden Nugget Hotel and Casino's Grand Ballroom to send us all back to the 80s. For me it began 32 years prior just across the lake at the Lake Charles Civic Center where I saw my first NIGHT RANGER show when the band came thru on their Midnight Madness Tour, and I was forever hooked. And so when this show was announced, of course I was going to make the short drive over from Houston to see some old friends in the crowd and on the stage.
The challenge for me in reviewing a NIGHT RANGER show, having seen the band some twenty-two times from one side of the country to the other, meeting and talking with the guys numerous times and having a connection with and relating to their music more than any other band's is 'how do I remain objective?' Like many bands with the longevity of NIGHT RANGER's (Some 34 years), the catalog runs deep and over the span of their career, they have for sure had their hits but also many rarely played fan favorites. I'm always holding out hope to hear some of the deeper tracks like "Passion Play" off of Midnight Madness or "Halfway To The Sun" off of Man In Motion, just to name a couple. But as a band, you always want to play to your audience and while there are a few of us diehards in every audience that would love to hear those deeper tracks and B-Sides, the majority of the crowd came to hear the hits and no band delivers to their audience better than NIGHT RANGER. We've all seen bands that have been around since the 70's and 80's that come out and just mail it in with low energy performances and stumble thru their hits, often times letting the audience do half of the singing. When you come to see a NIGHT RANGER show, you're going to hear songs that take you back, make you stand up and sing along and blow you out of your seat. This was certainly the case Friday night. After a meet 'n greet with a few fans the band hit the stage at 8:30 pm for an hour and forty-five minute set.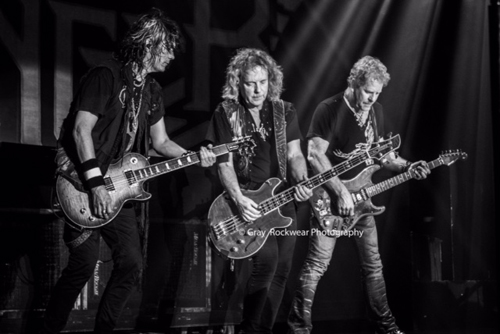 The band stuck with what has become a traditional opener, coming out with "Touch Of Madness", off of Midnight Madness with the "ageless one", founding member(lead vocalist, bassist) Jack Blades hitting the stage like a man with his hair on fire, fully animated as ever and sounding every bit as good as he did in 1984. The highlight of this song is always the insane whammy bar clinic performed by founding member (lead guitarist) Brad Gillis at the end. It's become cliché to say that certain guitarists have their own signature tone, however there are a group of players out there that clearly have cemented their place within that group and Gillis is one of those guys that when he picks up his guitar and you hear what comes out of it, it's undeniably Brad Gillis.
Switching vocals over to founding member (lead vocalist, drummer) Kelly Keagy, the band went into "Sing Me Away" off of Dawn Patrol with Keagy's vocals equally as sharp as Blades'. Handing vocals back to Blades, next up was their hit "Four In The Morning" off of 7 Wishes. Taking a break in the set for the first time, Blades announced to the crowd that "it was great to be back in Louisiana for the third time in the last two years" and that they had just flown down from Nashville, TN (the home of drummer Kelly Keagy), "Why were we there"? "We're recording a new album", Blades announced to the crowd and received a roaring applause. NIGHT RANGER has never been a band to rest on their past success and in fact the band actually announced last week that they'll be recording a live CD/DVD on May 7 in Chicago at the House of Blues so suffice it to say that there isn't a busier band in the world right now than NIGHT RANGER as 2016 is shaping up to be a huge year for the band.
Next up it was time for the band to pay homage to Jack Blades' time in DAMN YANKEES with their cover of "Coming Of Age", which to me has always been a NIGHT RANGER song. Next up were the hits "Secret Of My Success" and "Sentimental Street" featuring the talents of (keyboardist) Eric Levy. It was now time for the part of the set that I've been on the fence with over the past couple of years, with the band paying tribute to (guitarist) Keri Kelli's time in Alice Cooper's band with their cover of "School's Out", and Brad Gillis' stint as Randy Rhoades' replacement with Ozzy Osbourne covering "Crazy Train". As a diehard fan I'd of course love to hear more NIGHT RANGER, however gauging from the crowd's reaction to these songs, you can easily see why they're in the set. No band ever wants to look out and see just a handful of people singing along and with adding these two rock classics into the set where they are the audience was on their feet and eating it up. By this time hundreds of people had left their seats and were crowding the aisles and leaning on the stage.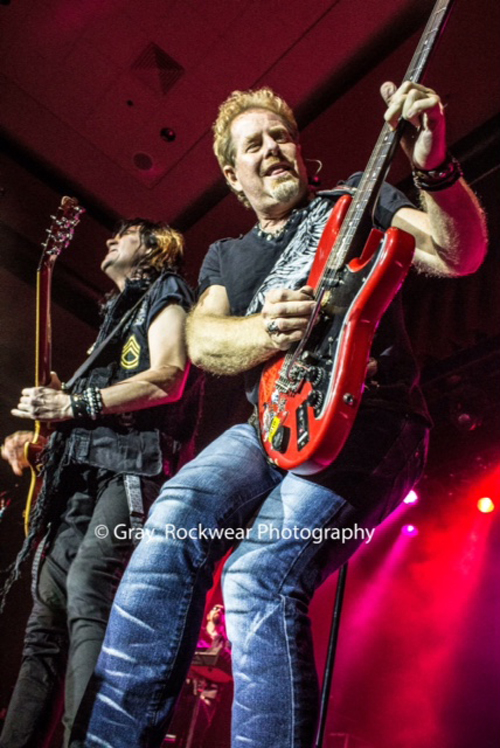 Blades then encouraged the audience to sing along to "High Road", the title track from their 2014 release. This was followed up with the guitar heavy fan favorite "Eddie's Commin' Out Tonight" and the DAMN YANKEES cover "High Enough". Blades then announced that in 2012 NIGHT RANGER released and acoustic album called 24 Strings And A Drummer and that one of their favorite songs on that album was the Don Henley cover "Boys Of Summer", which the band performed flawlessly with much appreciation from the audience. This transitioned nicely into the hit "Goodbye" off of 7 Wishes. After performing the hits "When You Close Your Eyes" and "Don't Tell Me You Love Me" it was time for the band's mega hit "Sister Christian". Now, I'd never be one to try and diminish the impact that "Sister Christian" had on the band. It's a hit that has lived well beyond it's time and has given the band sustainability well past probably even more than they ever thought possible. But for me, what defines NIGHT RANGER as a great American rock band is their whole body of work. Well beyond the hits is where you'll find some of their best work and that includes the music that they continue to make. Getting back to "Sister Christian", it's clearly a song that has a life of its own, but I would've liked to have been downstairs in the casino as I'm sure you could hear the chorus "Motorin" being sung by the crowd.
As always the band ended their set with their rock anthem "You Can Still Rock In America", with Gillis and Kelli delivering blistering dual guitar solos and leaving everyone wanting more. It was a great night, with a band doing what they do best, connecting with their audience while delivering a high energy performance that was second to none.
I connected with NIGHT RANGER's music 32 years ago and I've carried their music with me all over the world in that time. There's always a NIGHT RANGER CD in my car and when everyone was digging the new stuff in the 90's I was still jamming to NIGHT RANGER. They seem to show no signs of slowing down with a new album on the horizon, and a live album coming. They have a lot of dates booked and new tour dates are being added almost weekly so check out their site www.nightranger.com, get to a show and have some fun with NIGHT RANGER!
Setlist:
"Touch of Madness"
"Sing Me Away"
"Four in The Morning"
"Coming of Age" (DAMN YANKEES Cover)
"Secret of My Success"
"Sentimental Street"
"School's Out" (ALICE COOPER Cover)
"Crazy Train" (OZZY OSBOURNE Cover)
"High Road"
"Eddie's Commin' Out Tonight"
"High Enough" (DAMN YANKEES Cover)
"Boys of Summer" (DON HENLEY Cover)
"Goodbye"
"When You Close Your Eyes"
"Don't Tell Me You Love Me"
"Sister Christian"
"You Can Still Rock In America"
Check out some more photos from the show!
All Photos By Sandra Gray/Gray Rockwear Photography




Please log in to view RANTS

If you don't have a username, click here to create an account!