PRONG
X - No Absolutes
SPV/Steamhammer




The story of PRONG is something of an anomaly in that they've always been a band that could appeal to all fans, from Hard Rockers to Punkers to Metalheads as well. Their influences ranged from KILLING JOKE to DISCHARGE, to SLAYER & VENOM. Even Decibel Magazine named Beg To Differ to their Thrash Hall Of Fame!

Forming in NY, only original member Tommy Victor even worked at the infamous New York club CBGB's, mixing bands 6 nights a week. PRONG has never been a band you could quantify with a genre, as they really hit on so many but never staying in that direction completely.

Such is the case with their latest album X - No Absolutes. Starting with a punishing riff for opener "Ultimate Authority", it never relents with Tommy riffing hard & hard, but the gang vocals for the chorus are very Punk/Hardcore influenced.

"Sense Of Ease" is an out & out Thrasher, a guaranteed mosh pit maker. Drummer Art Cruz definitely earns his money on this one! A monster breakdown at the end of the track just solidifies itself as my personal fave on the album.

"Without Words" takes things down a notch with more rifftastic melody but make no mistake, still heavy as a tank.

"Cut And Dry" is just more relentless riffing by Tommy. If you're a Metalhead, I defy you to not enjoy this album! An uptempo midsection just adds to the flavor of the track, with a great hook in the chorus as well. A badass solo too showing Mr. Victor is more than a rhythm guitarist.

The title track has a more Hard Rock edge and could actually see some radio airplay if there were any stations left worth a shit. Crystal clear production by Tommy and his trusted co-collaborator Chris Collier just ups the ante that much more.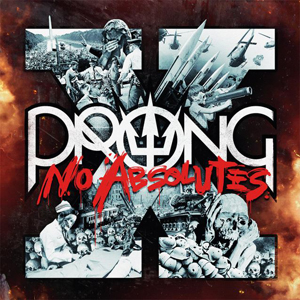 "Do Nothing" starts out almost ballad-like and stays very much in that vein. So many colors & variations with PRONG. As I said, never pigeonholing themselves into any formula or genre.
"Belief System" goes back to a crunching, heavier direction, almost bordering on Doom Metal. Downtuned, it's so heavy it makes your face grimace! Brilliant!!!
"Soul Sickness" is midtempo with bassist Jason Christopher coming to the fore with some fine thumping as well. This has an almost Industrial/Alternative edge to it to these ears.
Lest you think PRONG has just gone weak, "In Spite of Hindrances" gets back to Thrash, with some machinegun riffing by Mr. Victor and skin pounding by Mr. Cruz. Bang Thy Head!!
"Ice Runs Through My Veins" does a complete 180 and goes back in a slower, more introspective way. This is classic PRONG if you've followed them any at all.
"Worth Pursuing" gets back to that Victor riffing machine, guaranteed to make you grit your teeth and throw those Metal horns! And Tommy's real life lyrics are always thought provoking. No Dungeons & Dragons here if that's what you're into.
"With Dignity" is another track that could see some serious airplay if given the chance. And the bonus track (if you get a version with it included) is "Universal Law", an uptempo song with classic PRONG riffing and melody, and another impressive solo by Tommy.
PRONG has always been a 3 piece, and I don't think Tommy has ever gotten the credit for his playing. Maybe this album will be the one for him to get his just desserts. I recommend this album to anyone who has an attention span over 5 minutes and loves variety in their life & music. Even better is that PRONG starts their U.S. Tour later this month so you can see what these guys can do live and in person!! Check for dates in your area NOW! And for my vinyl loving Brothers & Sisters, PRONG has for years been putting their tunez to wax, and this album is no exception. Buy or Die!!!
4.6 Skulls Out of 5.0
Grab your copy of X - No Absolutes in the KNAC.COM More Store right HERE.