Updated! Nashville Pussy Live in Santa Ana, CA


By Tokemaster General, Contributor
Thursday, April 10, 2003 @ 10:07 PM


| | | |
| --- | --- | --- |
| | | Nashville Pussy Live at the Ga |
REVIEW BY: Killbox13 A second outing in Southern California (Santa Ana), for the Atlanta based band called Nashville Pussy. Now, why would a band from Atlanta have a name like Nashville in them when they're not even from Nashville, Well, I guess that's beside the point. Normally these are not my typical shows but I wanted to experience something a little different and have some kind of different fun. I sure got what I asked for.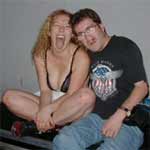 A friend of mine and I got to the Galaxy theater very early just to hang out in the loading area and check out to see what was happening. I was worried about not being on the guest list so luckily we had no problems getting in since it was sold out through Ticketmaster the night before. .Anyway, we got to the venue and the Black Label Society bus was already in front but with none of the band members to be found. Nashville Pussy was there loading in all their gear so we just kind of hung out there for a while to see what would happen. I got to meet Blaine Cartwright who happened to be very cool. I told them I was supposed to do an interview with them later, which I kind of doubt was going to happen because it was wall to wall people and packed. You couldn't find anyone if you wanted to. Well, the one local band, X Ray Freedom or something like that, warmed up the crowd pretty well. I had no clue who this band was, but they were very interactive as their vocalist took over the audience by running around the theater shaking hands and singing at the same time. Too bad bands don't do that nowadays. This band wasn't my favorite of the night by any means but they certainly weren't a bad band. Next came Meldrum, who is an all female hard rocking band from Sweden other than their drummer -- Quite good if you like rough female vocals with kind of an AC/DC-ish sound. Then the band that I came to see mainly came on next. Nashville Pussy. I won't go into details because it was pretty much the same thing as the Hollywood review. But nonetheless, Ruyter and her husband Blaine and the rest of the band put on one hell of show. Nashville Pussy may not be everyone's style and if I may say so, they are a kick ass, down to earth, southern, good home kicking hard rock band. Ok, so maybe some AC/DC to them with their own brand of sweat and sticky smell. But they do it quite well and being that Ruyter is a female guitar player, this girl can sure play -- and what's sad is most of the guys at the show probably wouldn't even give a shit that she could play. She's one of the most beautiful ladies in the industry.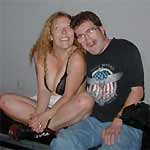 After their set, I had the fortune of meeting Ruyter out in back and she was still in her underwear. Lucky me… And I am fortunate enough to have had a picture or two of her as well. Being one of the few female guitar players in the industry she told me she does this because of Courtney Love. Not because that's her idol, but for the opposite reason. "Courtney gives women a bad name in rock 'n roll and uses her guitar as a necklace not as an instrument." She also goes on saying that, "Being a woman in a band can be hard sometimes because people will never look at me for my musicianship, they'll always look at the boobs, ( in the meantime she's playing with them and my face is getting red) and that's how it always will be." For the entire interview you can read it at http://www.glennsmetal.net. I really had a great time watching Nashville Pussy and meeting Ruyter, which was the whole purpose of me going to the show. Not too many guys get that easy of a chance to meet someone like that like I did so I consider myself lucky. She was very cool to me as the rest of the band was. As for Black Label Society… Man, you talk about a kick ass band live and with one of the most gifted guitar players in the world, Zakk Wylde… you simply cannot leave one of their shows regardless if you like their music or not and say that you didn't have a good time. That would be ludicrous. All in all I had a great time last night and have to say thank you to my friend who I did go with. I think she had a great time as well.
---

Send your live reviews to submissions@knac.com




Please log in to view RANTS

If you don't have a username, click here to create an account!






SONIC TEMPLE Photo Gallery (124)

SONIC TEMPLE Photo Gallery (123)

SONIC TEMPLE Photo Gallery (122)

SONIC TEMPLE Photo Gallery (121)

SONIC TEMPLE Photo Gallery (120)

SONIC TEMPLE Photo Gallery (119)

SONIC TEMPLE Photo Gallery (118)

SONIC TEMPLE Photo Gallery (117)

SONIC TEMPLE Photo Gallery (116)

SONIC TEMPLE Photo Gallery (115)

SONIC TEMPLE Photo Gallery (114)

SONIC TEMPLE Photo Gallery (113)

SONIC TEMPLE Photo Gallery (112)

SONIC TEMPLE Photo Gallery (111)

SONIC TEMPLE Photo Gallery (110)

SONIC TEMPLE Photo Gallery (109)

SONIC TEMPLE Photo Gallery (108)

SONIC TEMPLE Photo Gallery (107)

SONIC TEMPLE Photo Gallery (106)

SONIC TEMPLE Photo Gallery (105)

SONIC TEMPLE Photo Gallery (104)

SONIC TEMPLE Photo Gallery (103)

SONIC TEMPLE Photo Gallery (102)

SONIC TEMPLE Photo Gallery (101)

SONIC TEMPLE Photo Gallery (100)

SONIC TEMPLE Photo Gallery (99)

SONIC TEMPLE Photo Gallery (98)

SONIC TEMPLE Photo Gallery (97)

SONIC TEMPLE Photo Gallery (96)

SONIC TEMPLE Photo Gallery (95)

SONIC TEMPLE Photo Gallery (94)

SONIC TEMPLE Photo Gallery (93)

SONIC TEMPLE Photo Gallery (92)

SONIC TEMPLE Photo Gallery (91)

SONIC TEMPLE Photo Gallery (90)

SONIC TEMPLE Photo Gallery (89)

SONIC TEMPLE Photo Gallery (88)

SONIC TEMPLE Photo Gallery (87)

SONIC TEMPLE Photo Gallery (86)

SONIC TEMPLE Photo Gallery (85)

SONIC TEMPLE Photo Gallery (84)

SONIC TEMPLE Photo Gallery (83)

SONIC TEMPLE Photo Gallery (82)

SONIC TEMPLE Photo Gallery (81)

SONIC TEMPLE Photo Gallery (80)

SONIC TEMPLE Photo Gallery (79)

SONIC TEMPLE Photo Gallery (78)

SONIC TEMPLE Photo Gallery (77)

SONIC TEMPLE Photo Gallery (76)

SONIC TEMPLE Photo Gallery (75)

SONIC TEMPLE Photo Gallery (74)

SONIC TEMPLE Photo Gallery (73)

SONIC TEMPLE Photo Gallery (72)

SONIC TEMPLE Photo Gallery (71)

SONIC TEMPLE Photo Gallery (70)

SONIC TEMPLE Photo Gallery (69)

SONIC TEMPLE Photo Gallery (68)

SONIC TEMPLE Photo Gallery (67)

SONIC TEMPLE Photo Gallery (66)

SONIC TEMPLE Photo Gallery (65)

SONIC TEMPLE Photo Gallery (64)

SONIC TEMPLE Photo Gallery (63)

SONIC TEMPLE Photo Gallery (62)

SONIC TEMPLE Photo Gallery (61)

SONIC TEMPLE Photo Gallery (60)

SONIC TEMPLE Photo Gallery (59)

SONIC TEMPLE Photo Gallery (58)

SONIC TEMPLE Photo Gallery (57)

SONIC TEMPLE Photo Gallery (56)

SONIC TEMPLE Photo Gallery (55)

SONIC TEMPLE Photo Gallery (54)

SONIC TEMPLE Photo Gallery (53)

SONIC TEMPLE Photo Gallery (52)

SONIC TEMPLE Photo Gallery (51)

SONIC TEMPLE Photo Gallery (50)

SONIC TEMPLE Photo Gallery (49)

SONIC TEMPLE Photo Gallery (48)

SONIC TEMPLE Photo Gallery (47)

SONIC TEMPLE Photo Gallery (46)

SONIC TEMPLE Photo Gallery (45)

SONIC TEMPLE Photo Gallery (44)

SONIC TEMPLE Photo Gallery (43)

SONIC TEMPLE Photo Gallery (42)

SONIC TEMPLE Photo Gallery (41)

SONIC TEMPLE Photo Gallery (40)

SONIC TEMPLE Photo Gallery (39)

SONIC TEMPLE Photo Gallery (38)

SONIC TEMPLE Photo Gallery (37)

SONIC TEMPLE Photo Gallery (36)

SONIC TEMPLE Photo Gallery (35)

SONIC TEMPLE Photo Gallery (34)

SONIC TEMPLE Photo Gallery (33)

SONIC TEMPLE Photo Gallery (32)

SONIC TEMPLE Photo Gallery (31)

SONIC TEMPLE Photo Gallery (30)

SONIC TEMPLE Photo Gallery (29)

SONIC TEMPLE Photo Gallery (28)

SONIC TEMPLE Photo Gallery (27)

SONIC TEMPLE Photo Gallery (26)

SONIC TEMPLE Photo Gallery (25)

SONIC TEMPLE Photo Gallery (24)

SONIC TEMPLE Photo Gallery (23)

SONIC TEMPLE Photo Gallery (22)

SONIC TEMPLE Photo Gallery (21)

SONIC TEMPLE Photo Gallery (20)

SONIC TEMPLE Photo Gallery (19)

SONIC TEMPLE Photo Gallery (18)

SONIC TEMPLE Photo Gallery (17)

SONIC TEMPLE Photo Gallery (16)

SONIC TEMPLE Photo Gallery (15)

SONIC TEMPLE Photo Gallery (14)

SONIC TEMPLE Photo Gallery (13)

SONIC TEMPLE Photo Gallery (12)

SONIC TEMPLE Photo Gallery (11)

SONIC TEMPLE Photo Gallery (10)

SONIC TEMPLE Photo Gallery (9)

SONIC TEMPLE Photo Gallery (8)

SONIC TEMPLE Photo Gallery (7)

SONIC TEMPLE Photo Gallery (6)

SONIC TEMPLE Photo Gallery (5)

SONIC TEMPLE Photo Gallery (4)

SONIC TEMPLE Photo Gallery (3)

SONIC TEMPLE Photo Gallery (2)

SONIC TEMPLE Photo Gallery (1)

STEVEN ADLER In Houston Photo Gallery (15)

STEVEN ADLER In Houston Photo Gallery (14)

STEVEN ADLER In Houston Photo Gallery (13)

STEVEN ADLER In Houston Photo Gallery (12)

STEVEN ADLER In Houston Photo Gallery (11)

STEVEN ADLER In Houston Photo Gallery (10)

STEVEN ADLER In Houston Photo Gallery (9)

STEVEN ADLER In Houston Photo Gallery (8)

STEVEN ADLER In Houston Photo Gallery (7)

STEVEN ADLER In Houston Photo Gallery (6)

STEVEN ADLER In Houston Photo Gallery (5)

STEVEN ADLER In Houston Photo Gallery (4)

STEVEN ADLER In Houston Photo Gallery (3)

STEVEN ADLER In Houston Photo Gallery (2)

STEVEN ADLER In Houston Photo Gallery (1)

SLAUGHTER, LYNCH MOB In Houston Photo Gallery (20)

SLAUGHTER, LYNCH MOB In Houston Photo Gallery (19)

SLAUGHTER, LYNCH MOB In Houston Photo Gallery (18)

SLAUGHTER, LYNCH MOB In Houston Photo Gallery (17)

SLAUGHTER, LYNCH MOB In Houston Photo Gallery (16)

SLAUGHTER, LYNCH MOB In Houston Photo Gallery (15)

SLAUGHTER, LYNCH MOB In Houston Photo Gallery (14)

SLAUGHTER, LYNCH MOB In Houston Photo Gallery (13)

SLAUGHTER, LYNCH MOB In Houston Photo Gallery (12)

SLAUGHTER, LYNCH MOB In Houston Photo Gallery (11)

SLAUGHTER, LYNCH MOB In Houston Photo Gallery (10)

SLAUGHTER, LYNCH MOB In Houston Photo Gallery (9)

SLAUGHTER, LYNCH MOB In Houston Photo Gallery (8)

SLAUGHTER, LYNCH MOB In Houston Photo Gallery (7)

SLAUGHTER, LYNCH MOB In Houston Photo Gallery (6)

SLAUGHTER, LYNCH MOB In Houston Photo Gallery (5)

SLAUGHTER, LYNCH MOB In Houston Photo Gallery (4)

SLAUGHTER, LYNCH MOB In Houston Photo Gallery (3)

SLAUGHTER, LYNCH MOB In Houston Photo Gallery (2)

SLAUGHTER, LYNCH MOB In Houston Photo Gallery (1)