IHSAHN
Arktis
Candlelight Music




Always the chameleon, ex-EMPEROR frontman Ihsahn follows up one of the most experimental and abstract albums of his solo career – 2013's Das Seelenbrechen – with one of his most accessible. His sixth solo outing, Arktis harks back to his solo debut in 2006, The Adversary, which blended progressive and classic/power metal with fits of melodic black metal that was not too far removed from EMPEROR's swan-song Prometheus.

But where The Adversary seemed scattershot, even disjointed, going this way and that with sometimes jarring transitions, Arktis is more centered, offering the finesse and nuance Ihsahn has honed over his subsequent, and always divergent, releases. And where Das Seelenbrechen was built around improvisation and had a wide-ranging, unstructured sound, Arktis is remarkably "songy" and relatable.

That doesn't mean it still won't challenge the listener. "Disassembled" gets things started by contrasting Ihsahn's ominously hushed growl with winsome guitar strains, soaring choruses and clean vocal accompaniment by frequent guest Einar Solberg of LEPROUS – who also happens to be his brother-in-law. Solberg returns for the album's stirring finale "Celestial Violence".

"My Heart Is In The North" and its apparent counterpart "South Winds" bring ample keyboards and electronics into play. The organ peels on "North" give it the sort of classic rock vibe OPETH has been aiming for of late while "South Winds" is almost techno-fied with its bubbly synths and a throbbing electronic rhythm that is downright hypnotic. "Frail" repeats this to a degree later on, though with a shuffling drum beat from SHINING's Tobias Ornes Andersen and some added guitar muscle.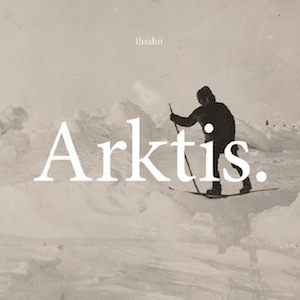 "Until I Too Dissolve", on the other hand, is a straight up, though moody, hard rocker with shimmering licks that sound like something out of Bark At The Moon-era Ozzy, while "Mass Darkness" opens with JUDAS PRIEST-like guitar harmonies that descend into almost djenty droning riffs before taking off on a speed metal sprint with TRIVIUM's Matt Heafy joining in on vocals for the anthemic choruses. The epic "Pressure" offers a mid-song burst from Ihsahn's own past with its symphonic black metal flourish. For a few fleeting moments, it's like In The Nightside Eclipse all over again. Awesome.
Flipping the script, the initially stark, ballad-like "Into The Vaults" jockeys between piano and synths at the outset before the crashing guitars and vocal harmonies – which in this case are all Ihsahn - build in and bring it to a rousing crescendo. "Crooked Red Line" sandwiches jazzy forays from SHINING frontman Jorgen Munkeby's smoky sax wail around its decidedly metallic center.
So there is plenty to digest on Arktis. But with its well-crafted and ably executed songs – which smooth out The Adversary's rough patches and erratic turns - it's also remarkably easy to digest, certainly moreso than the deliberately difficult Das Seelenbrechen. And after pushing the envelope so far last time out, it's good to hear Ihsahn opting for a more traditional direction with Arktis this time around instead of going even farther afield. It's one thing to be idiosyncratic and unpredictable, it's another to wander up one's own ass in the name of experimentation or creative indulgence. And as gifted a songwriter and performer as he is, Ihsahn thankfully knows the difference.
4.5 Out Of 5.0
Grab your copy of Arktis in the KNAC.COM More Store right HERE.