Hello tortured world... are you ready for another serving of unbridled, unyielding Death Metal from Belgium's favourite gore-horde? Well, ready or not, here they come...

ABORTED are proud to let-loose on the world yet another brand new track off their upcoming album, Retrogore. This time the sonic offerings come in the shape of a video for the track "Divine Impediment"!

Check out the great new video on KNAC.COM right HERE.

Pre-sale options for Retrogore are now up and running worldwide with various options available.

Get your copy at CM Distro: http://smarturl.it/retrogoreCMD

Or order one of many limited bundles directly from the band: http://smarturl.it/abortedmerchandise

Retrogore will be released in the following versions:
Ltd. Box Set - With the album as limited CD Digipak plus 2 bonus tracks, an additional CD Digipak of the Termination Redux EP (previously unreleased on CD) as well as a big size poster flag of the cover artwork.
Gatefold LP - With the entire album on CD (plus 2 bonus tracks) and a square size poster of the cover artwork
CD Jewelcase - The standard CD edition offered for a fan-friendly price
Digital download/stream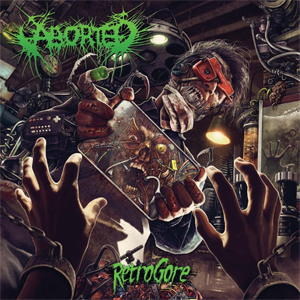 Retrogore tracklist:
"Dellamorte Dellamore"
"Retrogore"
"Cadaverous Banquet"
"Whoremageddon"
"Termination Redux" (alternate version)
"Bit By Bit"
"Divine Impediment"
"Coven Of Ignorance"
"The Mephitic Conundrum"
"Forged For Decrepitude"
"From Beyond (The Grave)"
"In Avernus"
"Slasher Hysteria" *
"Les Miserables" *
* bonus tracks featured on the Digipak CD version of Retrogore (included in the limited box set) and on the CD included in the LP

Termination Redux tracklist (as part of the limited Retrogore box set):
"Liberate Me Ex Inferis"
"Termination Redux"
"Vestal Disfigurement Upon The Sacred Chantry"
"Bound In Acrimony"
"The Holocaust Re-Incarnate"
Retrogore features an incredible artwork with a great attention to detail by the one and only Christopher Lovell: www.christopherlovell.com.