LEAVES' EYES, Vocalist LIV KRISTINE Part Ways


By Larry Petro, News Monkey
Tuesday, April 19, 2016 @ 10:51 AM


| | | |
| --- | --- | --- |
| | | Elina Siirala Announced As Replacement |
LEAVES' EYES and vocalist Liv Kristine have parted ways. The band issued the following initial statement:

"Dear Fans and Friends,

With the upcoming shows, tours and releases LEAVES' EYES will introduce their new female singer: Elina Siirala, Finnish vocalist living in London. LEAVES' EYES and former vocalist Liv Kristine will part ways.

Liv was the female voice of the band since the beginning in 2003. Together we toured through 50 countries and 5 continents, moreover we recorded 6 studio albums with outstanding singer Liv. We are full of pride in what we have reached together! From the bottom of our hearts we want to thank Liv for amazing 13 years of being our front lady, the work we have done together and all the passion for music that we shared all these years! We wish Liv all the best for the future, her solo career and other projects! Liv will always be an important part of the LEAVES' EYES history but now we are looking forward to a new chapter and the new musical adventures of LEAVES' EYES!"

Liv Kristine had this repsonse:

"I am highly proud of having been founding member and front lady of LEAVES' EYES, which has played a vital role in my life since 2003. Good luck guys, thank you for the amazing music, outstanding moments with our worldwide audiences, moreover, the passion we all share. Love, Liv"

New frontwoman Elina Siirala had this to say:

"I can't quite express how grateful and honored I am for being asked to join LEAVES' EYES, one of the most iconic bands in symphonic metal! I have the utmost respect for Liv and the band and what they've achieved over the years! I take on this challenge with a huge excitement and look forward to the new chapter in my career. It's truly thrilling to be working with such talented musicians who also are some of the nicest people I've met. My biggest passion is to make music and perform, so right now I can't wait to see what the future will bring!"

However, that doesn't appear to be all there is to the story.....

The band has been catching a bit of flak for the sudden announcement and replacement news and have once again issued another statement rearding the matter:

"We are just back from a great weekend in Indonesia. Our first show with Elina went awesome! Despite a heavy tropical storm before the gig, 21,000 people showed up in front of the stage!

We understand that many fans and friends are surprised and shocked about the change in our band. We all know Liv had an important role for the band in the past, and we understand people are sad as it was not an easy decision for every one involved. But since a lot of hateful and disrespectful comments are in the social media, we would like to take the opportunity to make some points very clear: LEAVES' EYES has always been a band, and not a project, nor a Liv Kristine solo project at all. We always worked as a team in LEAVES' EYES. In the last decade Tosso (guitarist Thorsten Bauer) and Alex (Krull, LEAVES' EYES co-vocalist and Liv's husband) wrote the music for LEAVES' EYES and Liv took care of the lyrics.

Liv's solo project is called Liv Kristine. We supported Liv also in her solo career, writing music, recording and producing albums and doing management in the past.

The decision to part ways with Liv was taken by all LEAVES' EYES members, including Liv. A mediator — a friend of Liv and Alex — was at the band meeting who can witness that the decision of parting ways was agreed by all members. Liv was happy to have the opportunity to plan changes in her future life and she does not have to go on tour so much anymore. The idea to go separated ways came up already in January. Elina was not part of this decision or process. It was also agreed to help Liv for her solo project, Liv Kristine, and record her new demo songs and her further projects at the studio just like in the past.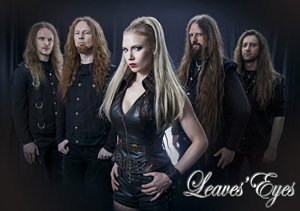 Please respect the privacy of Liv and Alex. Disrespectful postings and bashing is harming their family situation and their son Leon. Liv and Alex don't want to split fans — don't give false rumors, haters and bashers a chance! At the moment, we can't tell you more details as legal actions are in process.
To our worldwide fans who are there for the music and not the gossip: Let the music talk!
We are looking forward to present new material with Elina soon! Stay tuned for news of our upcoming video clip, music and tour updates."
Liv Kristine then issued her own response and take on the matter:
"Dear fans and friends, without you I wouldn't have the strength to continue with music. What you all have done for me with all your endless support and passion keeps me going on in these difficult times. Thank you for warning me concerning new postings by someone in LEAVES' EYES, done to harm me and make my situation even worse.
I have nothing to hide, nothing to fear. I was told a bit longer than a week ago that I am not preferred as the band's singer for further tours and recordings anymore. I asked for the situation concerning Indonesia and the soon-to-happen up-coming shows. The answer was 'no.' I asked if there's a replacement and I got no clear answer.
I can't believe this process happened behind my back, parallel to a huge disappointment in my private life.
A few days later, there certainly was a replacement. I must say — that was 'quick'!
I still see LEAVES' EYES as 'my baby' and I will miss playing these gigs, feeling the good vibes, sensing the real Norwegian Viking power with the audiences. Inside my heart I will always treasure LEAVES' EYES for all the good music, tunes, themes, concept and true Viking power. The melodies I used to sing will always stay alive in my ears.
I can't wait to unveil good news for you soon. There will be good news coming from Norway!"
It's also been revealed that there will be an Earbook tour edition of King Of Kings released in June, including a new version and video clip of "Edge Of Steel" featuring new singer Elina. On top of that, there will be an US Edition of King Of Kings including the new version of "Edge Of Steel" as a bonus track.
LEAVES' EYES current tour schedule:
4.28 - Rider's Café - Lübeck, Germany
4.29 - High Voltage, Copenhagen, Denmark
4.30 - Effenaar - Eindhoven, Netherlands
5.1 - De Verlichte Geest - Roeselare, Belgium
5.12 - Colos-Saal, Germany - Aschaffenburg, Germany
5.13 - Wave Gotik Treffen - Leipzig, Germany (Viking Show)
5.14 - Masters of Symphonic Metal - Pratteln, Switzerland
6.10 - Rockfels - Loreley, Germany
7.8 - Zobens un Lemess Festival - Lone, Latvia
8.21 - Rechitsa, Belarus - Metal Crowd Festival
10.22 - Metal Female Voices Festival - Wieze, Belgium (Viking Show)
11.6 - The Fillmore - Charlotte, NC*
11.7 - The Fillmore - Silver Spring, MD*
11.8 - Upstate Concert Hall - Clifton Park, NY*
11.9 - The Trocadero - Philadelphia, PA*
11.11 - Starland Ballroom - Sayreville, NJ*
11.12 - Webster Theater - Hartford, CT*
11.13 - Club Soda - Montreal, QC*
11.14 - Mavericks - Ottawa, ON*
11.16 - Dallas - Kitchener, ON*
11.17 - Park Street Saloon - Columbus, OH*
11.18 - Token Lounge - Westland, MI*
11.19 - Altar Bar - Pittsburgh, PA*
11.21 - Rave - Milwaukee, WI*
11.22 - Mill City Nights - Minneapolis, MN*
11.24 - The Exchange - Regina, SK Canada*
11.25 - Dickens - Calgary, AB Canada*
11.26 - Starlite Room - Edmonton, AB Canada*
11.28 - The Venue - Vancouver, BC Canada*
11.29 - El Corazon - Seattle, WA*
11.30 - Hawthorne Theatre - Portland, OR*
12.2 - Slim's - San Francisco, CA*
12.3 - Brick by Brick - San Diego, CA*
12.4 - The Grove - Anaheim, CA*
12.5 - Club Red - Tempe, AZ*
12.6 - Tricky Falls - El Paso, TX*
12.8 - Gothic Theater - Englewood, CO*
12.9 - Granada - Lawrence, KS*
12.10 - Trees - Dallas, TX*
12.11 - Cine el Rey - McAllen, TX*
12.13 - Alamo Music Hall - San Antonio, TX*
12.14 - Scout Bar - Houston, TX*
12.16 - House of Blues - Lake Buena Vista, FL*
12.17 - The Masquerade - Atlanta, GA*
* - With SONATA ARCTICA




Please log in to view RANTS

If you don't have a username, click here to create an account!