PUNKY MEADOWS Fallen Angel


By Larry Petro, News Monkey
Friday, May 6, 2016 @ 5:03 PM


| | | |
| --- | --- | --- |
| | | |
PUNKY MEADOWS
Fallen Angel
Main Man Records




Review By Stephen Bowering a.k.a. sgtB

A big shout out and thanks to the News Monkey, Larry Petro for giving me the opportunity to write another CD review for a former member of one of my favorite bands of all time, ANGEL.

May 20, 1016 is the set date for Punky Meadows' (THE CHERRY PEOPLE, BUX, ANGEL) first ever solo release, Fallen Angel on Main Man Records. After a 35 year hiatus from the music industry, Punky and close friend Danny ďThe FarrowĒ Anniello (LORDS OF MERCY) teamed up to write 15 new songs. Punkyís new band also includes former ANGEL bandmate Felix Robinson (ANGEL, WHITE LION) on bass, Bobby Pantella (MONSTER MAGNET) on drums, Charlie Calv (SHOTGUN SYMPHONY, THE BRONX CASKET CO. & LIBERTY Ní JUSTICE) on keyboards and Chandler Mogel (OUTLOUD) on vocals.

Fallen Angel kicks off with "Descent", a GOD-like, spoken word introduction of the Angelic Guitar Virtuoso, Punky Meadows. If you ever seen ANGEL live in concert (pre-1980), this type of intro was done for each band member as they took stage. "The Price You Pay" is a very catchy tune with rich harmonics and a smooth guitar solo. "Straight Shooter" is another great song that has you singing along with the chorus. "Breathless And Jaded" along with the prior two songs reminds me of the Ď70ís style of rock; not too pop and not too hard, just awesome tunes.

Now for one of my personal favorites, "Loaded Gun", a solid, hard rock riff that will get your head banging and wanting to hear it over and over (no pun intended, ANGEL fans will know what I mean). The next two songs, Lost And Lonely" and "Home Wrecker" definitely sound like they would have (should have) been on ANGELís Sinful (Bad Publicity ) album. These songs are a wanted flashback that will get Punky fans excited. "I Wanna Be Your Drug" is kind of a corny song with that 70ís vibe; this is probably my least favorite songs. Itís not a bad song, I guess itís the drug/love comparisons that remind me of songs like HUEY LEWISí "I Want A New Drug" or BON JOVIís "You Give Love A Bad Name". Iíll give it credit with its solo, very cool. "Leaving Tonight" is an acoustic love song that I can visualize being done live when Punky goes on tour. Get the spotlight ready for the electrified blazing solo.

Next are what I call the 5 Sís, "Searchiní", "Something Strange", "Shadow Man", "Shake Shake" and "Summertime Love". With Summer just around the corner, these 5 songs will get you in the beach party mood. On "Shadow Man", "Shake Shake" and "Summertime Love", you can tell the guys are having fun playing these tracks. Finishing off this release is the title track, "Fallen Angel", an instrumental rock anthem that showcases the legend that is Punky Meadows. This kick-ass piece will get you wanting to jump on your seat and start jamming on the air guitar and breaking out your lighters. Well worth the wait for the last track.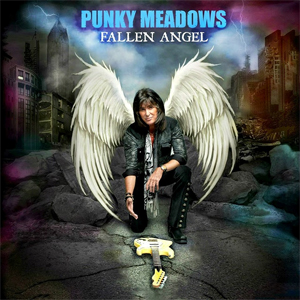 If I had to compare this release to someone who might not know who Punky Meadows is, I would have to say itís a cross between THE RASPBERRIES and Y & T. Very 70ís/80ís power pop to hard rock with memorable riffs and choruses. Fans will not be disappointed; Punky is playing better than ever and put together one hell of a band (again, no pun intended). Felix Robinson is solid and with the history between him and Punky, I couldnít see anyone else on the bass. Bobby Pantella does a killer job with his thunderous drumming. This is my first time hearing Charlie Calv on the keys and I have no complaints here, great job. The vocalist, Chandler Mogel was an excellent find; his range is spot on for Punkyís genre. He has that 70ís tone with todayís vibe. Danny Annielloís guitar work is a great match to Punkyís style, just straight up rock solid rhythms. Once you listen to this album, you would never imagine that itís been 35 years since Punky released any material.
Fallen Angel will be available in two formats. The standard CD will include a 16-page booklet which features previously unreleased images of Punky Meadows throughout the years. A very special limited edition will also be available which is autographed by Punky and includes two bonus tracks, one with ANGEL lead singer Frank Dimino, as well as an exclusive Punky Meadows guitar pick. Both formats are available for sale at http://www.mainmanrecords.com/products/punky-meadows-fallen-angel. In other news, Punky Meadows will play an exclusive album release party in New York City on June 14th at BB King's.
On a personal note and as a die-hard ANGEL fan, I want to give a very heart-full 'Thank You' to ďThe FarrowĒ Danny Anniello for teaming up with and convincing Punky Meadows to release this solo album. Canít wait to see you guys on the road.
4.5 Out Of 5.0
Pre-order your copy of Fallen Angel in the KNAC.COM More Store right HERE.




Please log in to view RANTS

If you don't have a username, click here to create an account!