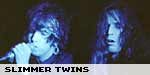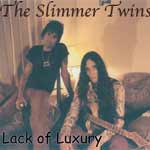 This album came out a while ago but I just became aware of it recently and felt it deserved a review anyways. The Slimmer Twins are former KIX guitarist Ronnie "10/10" Younkins and partner in crime Jeremy L White (Jeremy and the Suicides), produced and assisted by former Guns N' Roses guitarist/modern day Ronnie Wood in the making Gilby Clarke. The sound is pure Stones meets Johnny Thunders rock 'n roll, straight ahead, no chaser. If you took Some Girls and Que Sera Sera and mushed them together you'd get Lack Of Luxury, an 11-song cocktail of whiskey blues, gypsy glam swagger, and hard rock riffing. Get it?

The opener, "Anonymous," is probably the most KIX sounding thing here, with its "Burning Love"-style guitar growl, though "Closin' Doors" has that quirky country ballad vibe they had back on the self-titled debut and Cool Kids. "Transformation Man" is just pure '78 Stones ala "When The Whip Comes Down" or "Shattered," right down to talking verses and phased out guitars. There's also a lot of that good ol' fashioned barroom junk rock ala Johnny Thunders or my main man Jeff Dahl in the forms of "Can't Let You get Away From Me" or the VERY New York Dolls sounding "California" (can you say "Showdown"???). The best tune here though is definitely "Smokescreen," a sleazy, funky little number with a way cool falsetto chorus ala Jagger or even Lenny Kravitz or something.

Ronnie plays understated leads that basically begins at Chuck Berry and ends at Joe Perry and it works. You get the sense that he could scream through a lead at top speed if he wanted but that he's taking a backseat to the song, the feel and the vibe. That's the stuff most '80s hard rockers still don't get. Ronnie has obviously decided to return to the good old fashioned sound that inspired him in the first place…but also happens to play the shit out of the six string. Check out the blazin' leads on "Send Me Back Home." Meanwhile, Jeremy plays a mean blues harp and definitely has that junkie blooze vocal style down pat. While he never exactly lights you on fire, he does the job just fine and sells the tune on his personality with ease. If anything tough, this album could use a more powerhouse vocalist to push it over the edge. A Jagger or Tyler style howler would likely push this right over the top. And KIX fans will probably tell ya, he ain't no Steve Whiteman either. Like I said though, he does the job just fine and I ain't complainin'.

Basically, if you took KIX and separated the pomp hard rock sound and the trashy glam rock vibe you'd get two bands: Steve Whiteman's Funny Money and The Slimmer Twins. Funny Money have the power and the punch while the Twins have the gutter rock attitude. Either ways, your likely in for a treat. And yeah sure, it's only rock n' roll but, godammit, I still like it. Tthere ain't a lot of cats these days besides these guys and Gilby and Izzy Stardlin' who are still playin' songs like "One Eye Open" or the title track. The Georgia Satellites ain't around no more. Jason and the Scorchers haven' been making noise lately. Johnny Thunders is dead. And you can only se Mick and Keef from 300 feet away at a friggin' football arena. So go down to your local bar and catch The Slimmer Twins…or Jeremy and the Suicides…or whatever the hell they're calling it these days, and go check out the real deal soon…while you still have a chance.

****






Please log in to view RANTS

If you don't have a username, click here to create an account!