VOLBEAT have checked in with the following message:

"We are happy to announce that Kaspar Boye Larsen is officially now the new bass player in VOLBEAT. We just got back from a great US tour and Kaspar showed as we expected that he's the real deal. The fans love him and we can't wait for the rest of you to hook up with us as a full band again on our coming shows."

Kaspar has previously been part of punk rock outfit THE HITCHCOCKS and alt metal THE KANDIDATE, and even went on a tour with us as a support act in 2010. Kaspar will have his European debut on Rock am Ring June 3rd, same day as the upcoming album is released worldwide. Kaspar elaborates:

"10 years ago I returned from VOLBEAT's very first European tour that I joined as a tour session bass player. I was so proud of playing with one of my favorite bands and loaded with great memories of good times but also sad that it was over. A lot of things have happened in the meantime but the songs are as great as ever and I'm super stoked to be joining one of my favorite bands on stage, only this time on a permanent basis! I'm very grateful that the guys thought of me after all these years and I can't wait to see you all out there!"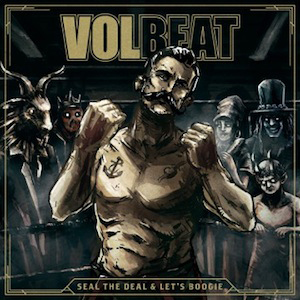 You will also see Kaspar Boye Larsen featured in the brand new music video to "Devil's Bleeding Crown" which is out now. Check it out now on KNAC.COM right HERE.
The video was filmed in an old country house, that was just about to be demolished – a perfect setting for a rock party with a New Orleans underworld twist and a crowd on fire. Directed by Plastic Kid, whom the band worked with previously on "16 Dollars", "Cape Of Our Hero" and "Lonesome Rider".
The new album is released worldwide June 3rd.
Pre-Order now from www.volbeat.dk