STEPHEN PEARCY, RUSTED Live In Ottawa


By Andrew Depedro, Ottawa Corespondent
Monday, May 23, 2016 @ 12:28 AM


| | | |
| --- | --- | --- |
| | | Hello From Out Of The Cellar: The Voice Of RATT Invades The Brass Monkey's Privacy Along With RUSTED, Ottawa, Canada, April 28, 2016 |
After 7 months of exhaustive reading, late night cramming for exams and wondering whether my laptop would hold out from countless QuickBooks and Medical Language Lab programs before the term was up, my Office Administrative Medical course and my 2-year program at Algonquin College had finally ended - literally hours before this concert.

(I thought the exam was at 10 AM)

Anyway, having tired of hearing my class colleague Katie a.k.a. The Pretend Voice Of Adele try her umpteenth attempt at warbling "Hello", I settled for The Real Voice Of RATT, as did two of my closest friends Jason and Rob. Tickets might've appeared a bit steep upon first viewing at $35 apiece but as they also included hanging out with assorted band members (and Jason and Rob would repay me in copious amounts of beer anyway), the price was more than justifiable.

And we got a decent opening band in the form of Montreal's RUSTED who themselves were *ahem* back for more opening slots in the nation's capital playing alongside their begotten heavy metal heroes of the 80's. You'll remember my previous reviews of AUTOGRAPH and SKID ROW when the ambitious quintet opened both shows back in 2014. That year they'd already toured with several other bands (STEEL PANTHER, MICHAEL MONROE, L.A. GUNS, etc.) following the release of their debut album Rock Patrol. And the buzz on RUSTED caught on well in Europe as they spent most of their summer there last year as headliners playing (and patrolling) shows in 12 countries. The French, Belgians and Swiss in particular know what's up with the Quebec glam metal scene.

Luckily, so does the crowd at the Brass Monkey as they welcome the band who start their show off with "True Eyes Of Love" and "Partners In Crime". In between, they introduce a new song titled "Restless Gypsies" which depicts the band's nomadic life on the road as frontman Tony Rust takes a break from his onstage aerobics and dons an acoustic guitar for the number. It may be "Wanted Dead Or Alive" to the untrained ear but for many of the Rusted faithful, this song resonated well amongst the crowd; the band had been away for most of last summer in Europe after all. Closing with "Young, Wild And Free", RUSTED climaxed their high-energy show and promised us another visit in the near future. Headliners or co-headliners, they still remained a band whose goodwill with their audience shows no sign of corroding anytime soon.

https://www.facebook.com/rustedrock/?fref=ts
http://rusted.believeband.com/

The house lights dim and the sound of what appears to be a video cassette rewinding echoes the Brass Monkey's hall.....

*vip-vip-vip-vip-vip-vip-vip-vip-vip-vip-vip-vip-vip-vip - then cue Warren DeMartini and Robbin Crosby's dual downtuning riff on the E chord*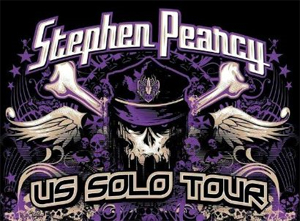 It's the intro to RATT's 1984 hit "Wanted Man" sung by the Voice himself, one Stephen Pearcy, as him and his entourage give the song a proper homage note for note. He not only has managed to retain his 80's Sunset Strip metal look and attitude (not to mention he's always reminded me of Michael Hutchence for some reason; I think it's the John Lennon sunglasses he wears) but his voice has also kept with him throughout the years. I'm guessing that his workout session involves water, cucumber slices and a copy of BAD COMPANY's 10 From 6 because given how many of his contemporaries have either allowed for their talent to drastically wane to the point of no return or have had to retire from music altogether, Stephen Pearcy has actually fared well over the years. He'd make small talk with the audience and pose for selfies with them; meanwhile his backing band kept to their schedule and honored the RATT catalogue with such diligence it was almost as if that public breakup of 2014 never happened. That said, Pearcy's kept himself busy for the last couple of decades with being an acclaimed producer, writer, TV director, avid drag car enthusiast (he had early aspirations of being a professional race car driver in his teens before a bike accident changed everything) and fronting several other bands such as ARCADE, VICIOUS DELITE and VERTEX as well as his own solo career (3 albums and counting, with album #4 Smash! on the way). Somewhere in between that time period he found time to sing on two of RATT's comeback albums (their self-titled album from 1999 and 2010's Infestation). The guy can afford to indulge a bit into his back catalogue every now and then, right?
And he did. With the exception of two solo cuts - "Drive Me Crazy" and "U Got It" - and a solid rendition of JUDAS PRIEST's "Heading Out To The Highway", Pearcy ensured that the setlist really was RATT all the time. Top marks for including the underrated cuts "Dangerous But Worth The Risk" and "You Think You're Tough" amongst the RATT regulars. Rob was certainly digging it, proclaiming Stephen Pearcy to be one of his top singers from that era other than Vince Neil; he even got to shake Pearcy's hand as he exited the stage after the band closed with "Round And Round", urging him to "keep on doin' what you're doin' brother!". Pearcy acknowledged his kind words with a quiet smile and a firm handshake back. Shame we didn't get a chance to pose for pics or get an autograph as he was very noticeably and understandably exhausted after putting on a killer show but we got some pics with one of his guitarists, so that made up for it.

In short, while RATT and Stephen Pearcy's split wasn't exactly amicable and may have, for some, almost tainted the legacy of the famed LA metal band altogether, its voice at least lives on with one wanted man willing to stick his neck out and keep the spirit and momentum alive. Low dealers and gun fighters best think twice otherwise in questioning his dedication.

Thanks again to Dion, Skotti and the Brass Monkey for making this show happen.

http://stephen-pearcy.com/home
https://www.facebook.com/SEPearcy

Setlist:
"Wanted Man"
"Way Cool Jr."
"Drive Me Crazy"
"Dangerous But Worth The Risk"
"You Think You're Tough"
"Givin' Yourself Away"
"Slip Of The Lip"
"I'm Insane"
"You're In Love "
"Lay It Down"
"Lack Of Communication"
"U Got It"
"Back For More"
"Heading Out To The Highway" (JUDAS PRIEST cover, naturally)
"Round And Round"




Please log in to view RANTS

If you don't have a username, click here to create an account!