DEATH ANGEL The Evil Divide


By Peter Atkinson, Contributor
Thursday, June 2, 2016 @ 8:15 AM


| | | |
| --- | --- | --- |
| | | |
DEATH ANGEL
The Evil Divide
Nuclear Blast Records




Since getting back in the game in 2001, DEATH ANGEL has run a bit hot and cold with its four studio albums. The Bay Area thrash quintet's 2004 comeback effort, The Art Of Dying, had plenty of spunk, but the songs were kinda weak and the production thin. 2007's Killing Season, by contrast, was thick, punchy and loaded with infectious grooves. 2010's Relentless Retribution took a bit of a step back – despite the addition of the dynamite new rhythm section of bassist Damien Sisson and drummer Will Carroll - with, again, disjointed songs, and somewhat sterile production.

But everything then came back together big time on 2013's The Dream Calls For Blood, with tighter, more ferocious material to go along with the band's typical unbridled energy and a fittingly natural sounding production as Jason Suecof made the requisite tweaks to his work on Retribution and really brought the crunch. It was easily the best of the bunch so far.

The Evil Divide, fortunately, bucks the off-again/on-again trend and avoids stepping backward. It does, however, take something of a step to the side. Divide is the most varied and well-rounded of the recent DEATH ANGEL albums, but at the loss of some of the balls out thrash intensity that made Blood such a resounding triumph. And while that's not necessarily a bad thing, since it allows the elastic rhythms of Sisson and Carroll to really swing – and the searing leadwork of founding guitarist Rob Cavestany and guests like SEPULTURA's Andreas Kisser to resonate - Divide doesn't offer quite the visceral thrill as its predecessor, even with its slightly rawer edge.

Still, Divide is solid, often stirring stuff, and shows off its athleticism right off the bat. The back-and-forth, chug-and-thrash pace of the opener "The Moth" is followed by the straight-up thrasher "Cause For Alarm" with its surging riffs and shout-along backing vocals that then yields to "Lost", a meditative power ballad where frontman Mark Osegueda's soaring highs recall Sebastian Bach – and I mean that as a complement.

This remains the modus operandi throughout, with just about every track offering a different mood or sonic approach than the one before, which speaks to the band's confidence now that the same lineup has recorded its third album together. "Father Of Lies" boasts a rollicking groove to tie together its relatively complex construction whereas "Hell To Pay" is short, brisk and simple – save for the lead tradeoffs by Cavestany and Ted Aguilar. The swaggering bottom end of "It Can't Be This" gives it a more menacing tone than the brisker paced "Hatred United, United Hate" despite a seemingly less ominous narrative.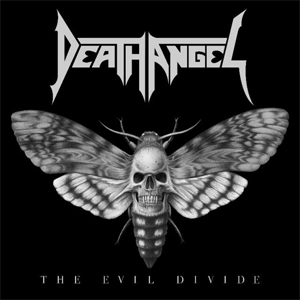 "Breakaway" is the album's genuine thrash anthem with its go-for-the-throat delivery and super-catchy rallying cry chorus. And it's here where DEATH ANGEL go back to back for really the only time on Divide, with "The Electric Cell" maintaining the vigorous tempo and bracing riffs, but forgoing the money-shot chorus. It's too bad they weren't flipped with album closer "Let The Pieces Fall" to make for a more rousing finale. Despite its crunchy, determined chug, "Pieces" is jammy and overlong and might have been a better fit anywhere else but at the end.
Divide's loose, freewheeling vibe harkens back to DEATH ANGEL's second album Frolic Through The Park – from all the way back in 1988. Though some of the members were still teenagers at the time, Frolic brought a spirit of adventure and even whimsy that cut through thrash metal's often rigid veneer and stylistic confines and was a breath of fresh air. While the present day DEATH ANGEL lineup is quite different – with only Osegueda and Cavestany remaining – and obviously more seasoned, it's good to see that that spirit remains. And what the album might lack in sheer relentlessness, it makes up for in depth and guile, which is a pretty even trade.
4.0 Out Of 5.0
Grab your copy of The Evil Divide in the KNAC.COM More Store right HERE.




Please log in to view RANTS

If you don't have a username, click here to create an account!