British heavy metal legend TANK released today the first video from their most recent and also one of their best-selling studio albums, Valley Of Tears. "Make A Little Time" was filmed in the desert hills just outside the town of Mojacar in Southern Spain and the production was handled by MGV Productions. You can stream the video on KNAC.COM right HERE.

Cliff Evans comments: "We didn't want to make the usual low budget, derelict warehouse style video that so many bands seem to go for these days so in order to do the song justice we decided to find a more interesting location. We contacted Dale Webb at MGV and he found the ideal backdrop that provided the essential vibe that goes so well with the song. Unusually for this part of Spain the weather was stormy and overcast but that added a great atmosphere to the performance. The video really captures the raw energy but also the laid back side of the band.

We like nothing better than playing our own brand of rock 'n' roll and drinking beer together!"

Mick Tucker adds: "We're so pleased with the amazing response that we've had for our Valley Of Tears album which was released at the end of last year. We wanted to portray the songs visually so we decided to invest in making a couple of top quality videos for our fans to enjoy and share the experience of what we're doing. We only had one day to film everything we needed so it was hard work but we had plenty of cold Estrella beer close to hand to keep us going."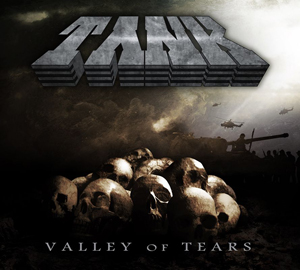 A second video filmed for the title track of the album "Valley Of Tears" is scheduled for release later this Summer.
Valley Of Tears, the most recent album by the British heavy metal legend TANK, was released in late September 2015. It is their first album release featuring the amazing vocal talents of former DRAGONFORCE frontman ZP Theart. The vocalist injected new energy and inspiration into the band since joining them in 2013 and now it's time to capture this sound on the new record! To complement ZP's vocals TANK now have one of the best rhythm sections in metal: Bobby Schottkowski, formerly drumming with SODOM and current BLIND GUARDIAN member - Barend Courbois on bass. Together with Mick Tucker and Cliff Evans on guitars they ready to take another big step forward in the evolution of TANK and make another metal album of great quality that will surely stand the test of time.
The band's last two releases War Machine and War Nation (both released on Metal Mind Productions) were two of their bestselling albums and featured amazing performances from former RAINBOW/MALMSTEEN and current SCHENKER vocalist - Doogie White. Valley Of Tears is heading in a much heavier direction and as always will be driven to the max by their trademark Gibson Les Paul/Marshall stack wall of sound. The album was produced by Phil Kinman.