Love, Lies, And Therapy: An Exclusive Interview With BOBBY AMARU Of SALIVA


By Charlie Steffens aka Gnarly Charlie, Writer/Photographer
Thursday, June 30, 2016 @ 1:56 PM


| | | |
| --- | --- | --- |
| | | "You look at the band's history and it's definitely been like a rock and roll carnival or something." |
It seemed that SALIVA may have been on the verge of drying up when original singer Josey Scott left the band in 2011. But in that same year—when it all could have ended for the Memphis hard rockers—things took a turn for the better when SALIVA hired a new front man, Bobby Amaru.

"Originally they were just going to disband and go to other projects," says Amaru, who up until that time was singing in his eponymous band, as well as drumming for BURN SEASON. "Then they were like, 'Dude, all these other bands are getting new singers. Why don't we go try it? It's worth a shot.' That's kind of where their heads were at. So they put their feelers out."

It was through a mutual friend that Amaru and SALIVA connected. After hearing some of the singer's songs, SALIVA drummer Paul Crosby reached out to Amaru and the deal was sealed. "There was no real interview", says Amaru. "They all flew to Jacksonville, we went into the studio and did three songs, and then we toured for fuckin' 97,000 years or whatever it was."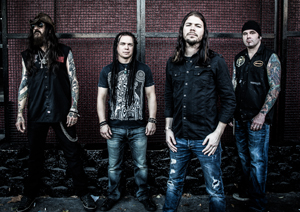 He adds: "You look at the band's history and it's definitely been like a rock and roll carnival or something," (laughs) alluding to the origin of the album title. Of course, Amaru's own strife bleeds out in the lyrics. "A lot of things have happened. But the band's still trying to prove that we can still kick ass live, write cool songs, and keep this thing going."
In 2015 Brad Stewart (FUEL, SHINEDOWN) replaced bassist Dave Novotny. "Brad's one of those all-around great guys," says Amaru. "If you've never met him, he's like the coolest dude, ever. All positive. He smiles the whole night. He's a killer bass player and he looks cool. He's just an all-around good dude."
Love, Lies & Therapy, released on June 10, is the second SALIVA album featuring Amaru behind the microphone: "Blood, sweat, and tears went into this record," Amaru says of the follow-up to the 2014 release Rise Up. "We didn't just throw it together. We definitely thought it out. It's a little different, man. I think the title of the record kind of sums it up. There's a little bit of everything for everybody. There's some kickass songs. There's some heavy stuff and there's some softer stuff, too. "Breakdown" is like one of the songs that the band has never done. It's really cool. We're stoked about it. We're proud of it and hope the fans enjoy it the way we do."
A Michael Jackson cover song might seem like an oddity on a SALIVA album, yet the hard-rocking version of "They Don't Care About Us" does the King of Pop proud. Amaru, who admits "I'm one of those juke box dudes. I know every song," explains how the song made the album: "That was one of those songs that, to me, was one of the coolest Michael Jackson songs ever, man. The thing was, how were we going to do it? It's not easy to cover Michael Jackson at all. With that one I wanted to make sure I didn't step on anything of his. The vocals had to be just like the way he did it, as far as the delivery and everything. I tried to match that, because people will roast you (when you) start doing shit all jacked up, changing dudes' melodies around." Amaru jokes that he and his band mates haven't worked out any dance moves to the song yet, but they might get there sometime.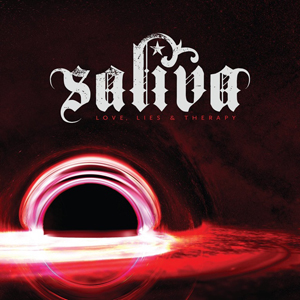 Love, Lies & Therapy is a strong musical statement and an album that will win acclaim from SALIVA fans, as well as any lover of the well-defined late '90s nu/alternative rock sound.
"All in all, it took about a year for the whole thing to be completed because we just did pieces at a time. I think that was cool because we didn't rush the process of songwriting. I think that's why there's a really good solid front to back record…there's enough hooks, there's enough melody, and there's enough balls and depth melodically to make the thing pop and stand out."
SALIVA will be joining forces with TRAPT, SAVING ABEL, ALIEN ANT FARM, and others on the "Make America Rock Again" tour which starts in Columbus, MN on August 4th.
"We have a lot of shows coming up and a lot of radio markets," Amaru says, "where we're able to hang with a lot of people who have supported the band through all these years. That's all positive stuff to us. As far as going out and selling thousands and thousands of records—that would be awesome. But I don't think that's what we're trying to accomplish. We make music, we play rock and roll. Obviously, you make a record, you want people to like it—it's your hard work. If it touches people, that's what music is supposed to be about."




Please log in to view RANTS

If you don't have a username, click here to create an account!