TED NUGENT In Phoenix, AZ With Photos!


By CrpnDeth, Staff Photographer/Writer
Monday, July 4, 2016 @ 3:39 PM


| | | |
| --- | --- | --- |
| | | Kickoff Of The Sonic Baptizm 2016 Summer Tour |
All Photos By CrpnDeth Photography LLC
@crpndeth / instagram.com/crpndeth TED NUGENT is back in town, so once again I find myself trekking back to the Celebrity Theater in Phoenix. How I loathe this place. It's an in-the-round venue (although not for this show), which might not be a bad thing to some, but half the venue gets cut off (ie., tickets not sold). Great place to meet up with friends and enjoy the actual show, but every time I am here (which I only reserve for Ted) I am reminded of the worst security Nazis in the Arizona area. Seriously, none of them at the Celebrity ever know what the other is doing, creating a mound of contradiction and making themselves look beyond stupid in the process. For photographers, there is no photo pit so you have to shoot from the isles (no biggy for me, I can make it work) but that's IF you get in. Tonight, right on cue it seems, I was given my photo pass and then stopped and had to wait for someone to come and clear me. One security guard is yelling "Dude, he HAS the pass! He's OK'd" to which the other one was yelling back "Nope, we have to clear it". Huh?

Whatever, it's about the riffing tonight, the onslaught brought by Uncle Ted. The last time he toured was in support of Shut Up & Jam, a tour marked by controversy and cancellations. Only, I think he left some of the riffs at home. Starting off in Phoenix for his Sonic Baptizm 2016 tour, the setlist is heavily stuck in the 70's. "I Still Believe" from Shut Up & Jam and "Fred Bear" from Spirit Of The Wild are the only two songs not from the 70's.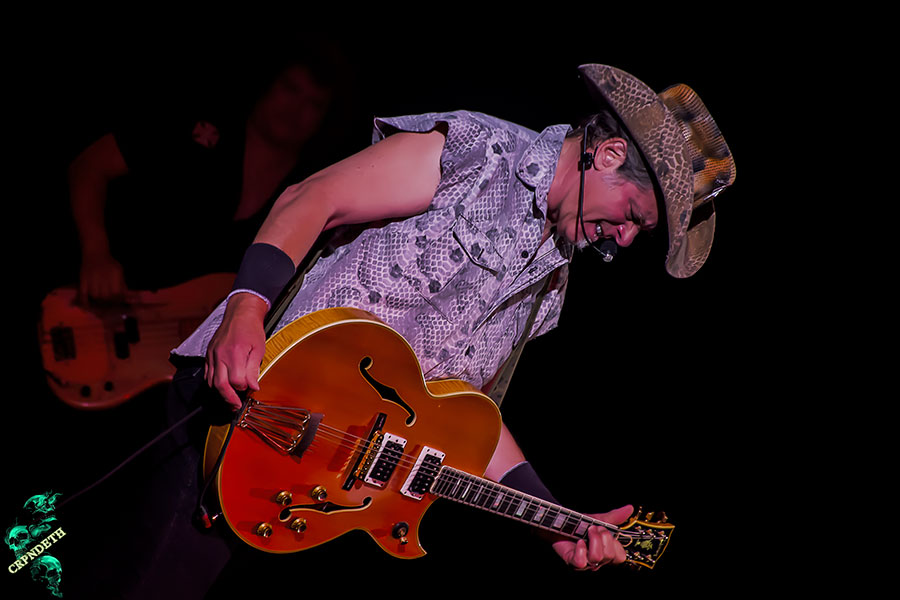 The legend of course ripped through "Cat Scratch Fever", "Stranglehold", and "Wang Dang Sweet Poontang" as expected, thrilling the crowd. Other obvious inclusions were "Snakeskin Cowboys" and "Free For All", being the two oldest songs tonight.
I was hoping he would kick off some of the dust, liven up the crowd a little with such tasty morsels as "Love Grenade", "Still Raising Hell" or even "Funk U" (all from Love Grenade). Even some "Klstrphnky" or "Rawdogs & Warhogs" (both from Craveman). There was only one song from his catalog between 1979 and 2014.
There is no arguing Ted's legendary status or supreme riffing, but leaving this show I felt like I only got the dusty part of it.
Set List:
Intro - "Street Fighting Man" (ROLLING STONES cover)
"The Star-Spangled Banner"
"Gonzo"
"Yank Me, Crank Me"
"Snakeskin Cowboys"
"Wang Dang Sweet Poontang"/"Red House"
"Free-For-All"
"Good Friends And A Bottle Of Wine"
"I Still Believe"
"Fred Bear"
"Cat Scratch Fever"
"Stranglehold"
"The Great White Buffalo"
Check out a few photos from the show!
All Photos By CrpnDeth Photography LLC




Please log in to view RANTS

If you don't have a username, click here to create an account!





ARMORED SAINT, ACT OF DEFIANCE In Allston, MA

KNAC.COM Reviews The VINNIE PAUL CELEBRATION OF LIFE Event In Dallas, Texas

DEVILDRIVER Outlaws 'Til The End Vol. 1

DEVIN TOWNSEND PROJECT Ocean Machine: Live At The Ancient Roman Theatre Plovdiv

OPERATION: MINDCRIME In Houston, TX With Photos!

MONUMENT Hellhound

THE IRON MAIDENS In New Bedford, MA With Photos!

BULLETS AND OCTANE Waking Up Dead

TAD MOROSE Chapter X

KATAKLYSM Meditations

DIO DISCIPLES In Houston, TX With Photos!

IMMORTAL Northern Chaos Gods

SEBASTIAN BACH, THE STANDSTILLS And INIRE In Ottawa, Canada

SALTY DOG Lost Treasure

STYX, JOAN JETT, TESLA In Tampa, FL With Photos!

THE NIGHT FLIGHT ORCHESTRA Sometimes The World Ainít Enough

HALCYON WAY Bloody But Unbowed

MADBALL For The Cause

GRUESOME Twisted Prayers

FRANK HANNON From One Place...To Another - Volume 2

SAXON Saxon Reissue